Dying to know more about YouTube SEO?
If you're a content creator or even just a YouTube hobbyist, you probably want more people to watch your videos. Of course, creating great content is important, but did you know other factors within your video determine who sees it and when?
Like most search engines and social networks, YouTube uses a variety of elements to determine the placement of your video in search results. YouTube SEO is all about optimizing these different elements to ensure your videos are shown to more people more often.
If you're ready to learn more about YouTube SEO, here are some proven tactics and best practices to follow.
Free YouTube Growth Checklist: Find out how one YouTuber grew his channel to nearly 400,000 followers in 4 years and how you can gain 100,000 followers a year too.
What is YouTube SEO?
YouTube SEO is the process of optimizing YouTube videos and channels to rank higher in YouTube search results. YouTube SEO includes various strategies, such as keyword research, script optimization, link building, and more.
SEO stands for "search engine optimization" and is typically used for
Web pages that want to rank in search engines like Google.
How does SEO on YouTube work? Well, YouTube's algorithm evaluates various SEO factors when ranking YouTube videos and channels. These include video titles, descriptions, metadata, tags, thumbnails, how long people watch your video, view count, and more.
What the algorithm wants to do is to show viewers the most relevant and useful YouTube videos. And entice them to stay on the platform longer.
But YouTube isn't the only search engine you should be optimizing for. YouTube videos can rank in search engines like Google, too! YouTube videos show up in Google's main search results, video search results, Google Images, and the Discover tab.
Source: Google
In short, a strong YouTube SEO strategy includes two components:
YouTube optimization
External SEO
If you can combine these two search engine optimization techniques together, you're looking at some serious YouTube success.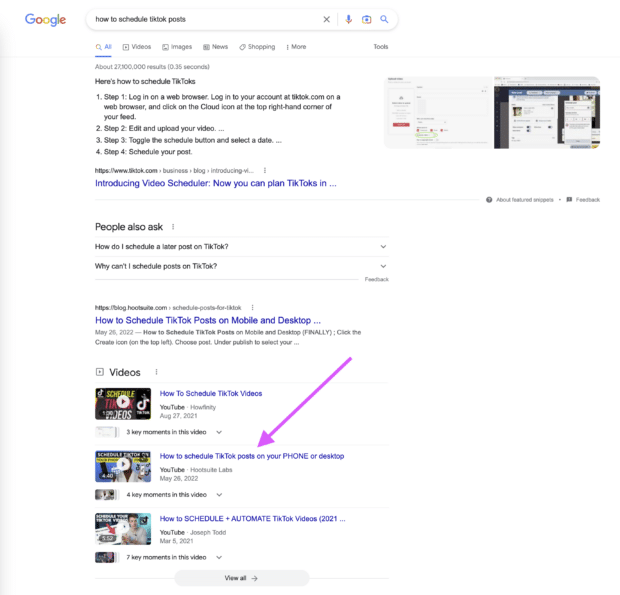 Why is YouTube SEO important?
YouTube SEO is important for a few reasons.
More views: Turning up in top search results means more people will have the opportunity to click on and view your videos. You worked hard on them! So, give them a chance to shine.
More chances to convert: More eyes mean more views, shares, and engagement. Plus, more possible subscriptions and revenue down the line.
Boost organic website traffic: Having your videos show up in online searches helps increase click-through rates to your website, build brand awareness and loyalty, and drive organic traffic from YouTube.
Cost-effective: YouTube SEO doesn't cost much. All you need to invest is your time and maybe a little extra for the right tools and software (we'll outline our favorite YouTube SEO tools later in this blog).
Competitive advantage: Showing up in top YouTube (and Google) search results means your content is seen before your competitors. This competitive advantage can help you solidify your place as an industry leader.

13 proven YouTube SEO tactics
Wondering how to rank YouTube videos? Here are 13 proven YouTube SEO tips that Hootsuite's own YouTube channel producers use to get their videos to show up at the top of the SERPs.
1. Find primary, secondary, and long-tail keywords
Like on Google, keyword research is an essential part of SEO for YouTube. Keywords represent the words and phrases your audience will most likely use when searching for content like yours.
YouTube's search bar also suggests related queries as users type, so using various keywords in your video will help it get found more often.
When conducting YouTube keyword research, start by identifying primary, secondary, and long-tail keywords.
Primary keywords have higher search volume, but they tend to be more competitive and difficult to rank for.
Secondary keywords have lower search volume, but they have less competition, which makes them easier to rank for.
Long-tail keywords are longer and more niche phrases, generally related to your primary and secondary keywords. For example, if your keyword is "boost Instagram post," a longtail keyword might be "boost Instagram post from ads manager"
You can use the same keyword research tools you're already using for external SEO. This includes SEMRush, Ahrefs, Google Keyword Planner, and the like.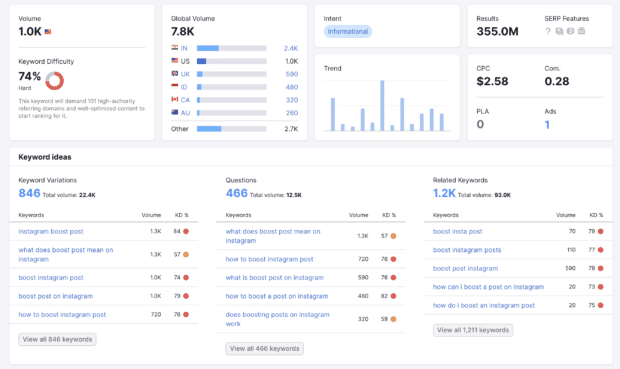 Keep in mind these tools aren't pulling data from YouTube specifically.
Unfortunately, there are no YouTube-specific keyword research tools just yet.
That said, they do reflect the overall sentiment of online searches. Plus, they give you a leg up when it comes to ranking on Google.
2. Boost keyword research with the YouTube search bar
To further optimize your keyword strategy, our YouTube experts recommend leveraging the YouTube search bar to find related search terms, in addition to your general keyword research.

Recency does seem to matter on YouTube. So, if the top YouTube videos have a lot of views but are old, it means there is potential for you to create a successful new video with those topics.
Additionally, look at the size of competitors' YouTube channels versus the video's views. If channels with small followings have a lot of traffic, it's a sign that the keyword is popular and gaining traction.
3. Add keywords strategically to videos
Now that you have your target keywords, it's time to add them to your video. Keywords should be included in the following places:
File name
Video title
Video description
Tags
Title cards & overlays
Video chapters
In video script
Google recommends using the target keyword as close to the beginning of the title, description, and tags as possible. Additionally, try to use a combination of long-tail keywords, synonyms, or related terms when writing descriptions and adding tags.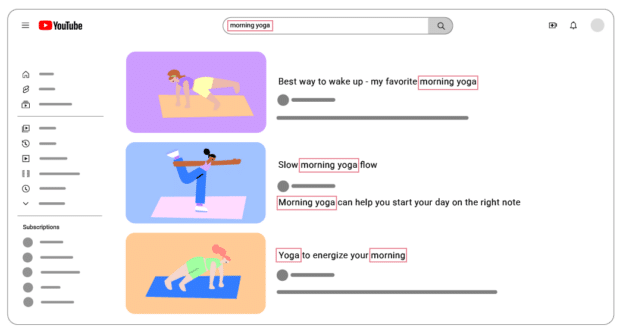 Source: Google
As with any SEO strategy, don't keyword stuff. YouTube SEO is about making your content easier for your viewers to find, and for YouTube's algorithm to understand. If you overuse your keywords, you risk confusing your audience. Or worse–getting penalized by YouTube and Google.
4. Use captions
Captions are an essential part of social media accessibility. Not only do they benefit your viewers with hearing impairments, but they also add context and fill in any audio gaps that viewers might miss. In fact, a survey from Verizon Media found that 80% of people are more likely to watch a video when captions are available.
On top of improving accessibility and user experience, captions let you include important keywords that YouTube can easily pick up on.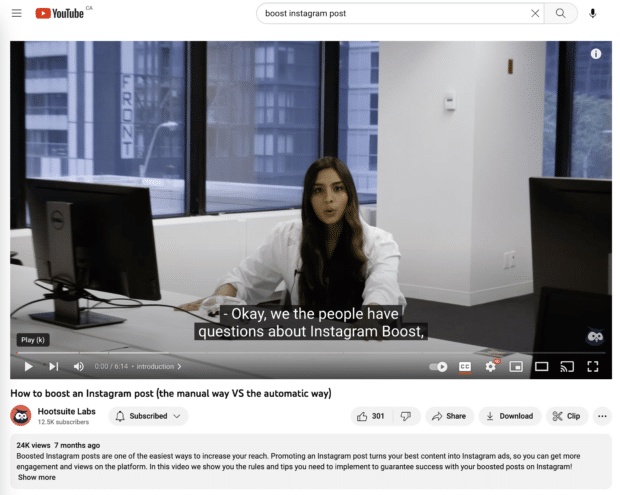 Captions can be added manually by uploading a text transcript or a timed subtitles file. YouTube also offers the option to directly enter transcript text, allowing the subtitles and timings to be automatically synced with your video.
The best way to ensure your keywords are included in your captions is to have them present in your script. We don't recommend adding keywords after the fact, as that will negatively impact the experience for your viewers.
In some cases, automatic captions may be added through YouTube's speech recognition technology after you upload your video. We recommend not counting on this, though, as automated captions tend to be less accurate than manually created ones.
5. Use cards and end screens
YouTube cards are the little interactive boxes you see at in YouTube videos, asking you to watch other videos or subscribe. Cards are a great way to keep viewers engaged, as well as direct traffic to related videos.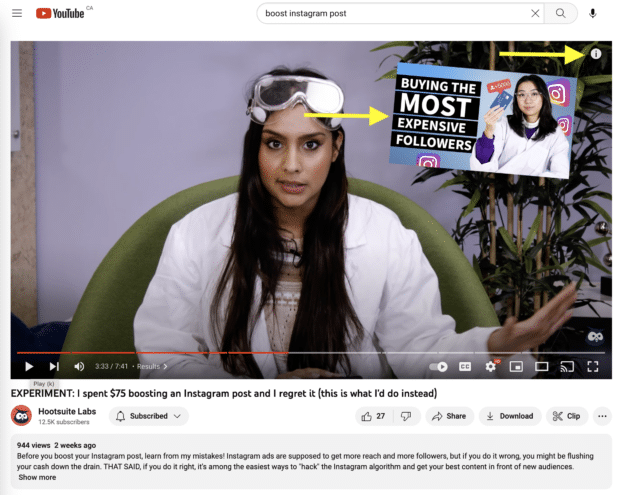 End screens are similar to cards, but they appear during the last 5-20 seconds of a video. End screens give you a chance to promote other videos, encourage subscriptions, or point users toward your most popular playlists.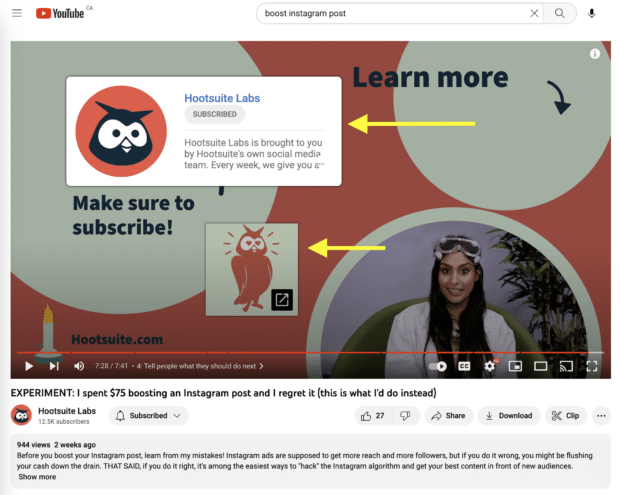 From an SEO standpoint, both cards and end screens keep viewers engaged with your content longer. While we don't know everything about what makes a YouTube video rank higher or lower, we do know that the video's success plays a part. In this way, the more you can keep your audience interested in your content, the better your SEO YouTube performance will be.
6. Add timestamps to your video
YouTube timestamps let YouTube know where the important parts of your video begin and end. This allows YouTube to understand the content of your video even better–and in turn, gives you a stronger YouTube SEO ranking signal.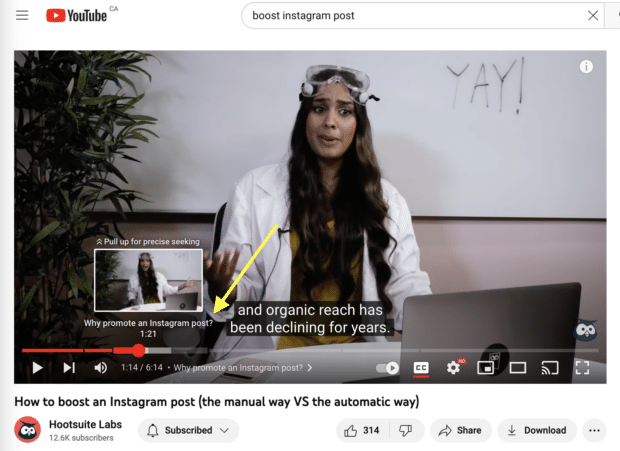 In Google search results, timestamps are shown below video search results in a "key moments" section. If a user searches for a particular phrase and Google sees that this phrase is used as a timestamp, Google will direct the user to the exact part of your video where they can find the answer.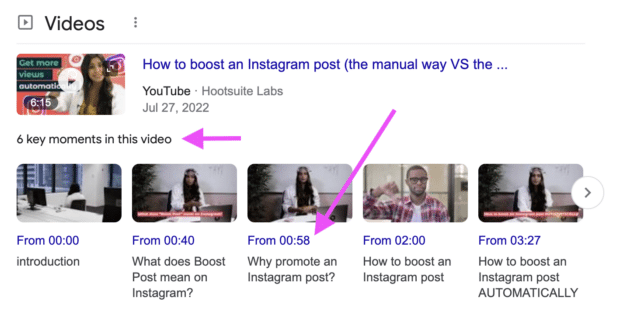 We suggest adding timestamps (sometimes called chapters) to your video description, as well as the video itself, to make it easy for viewers to navigate your content.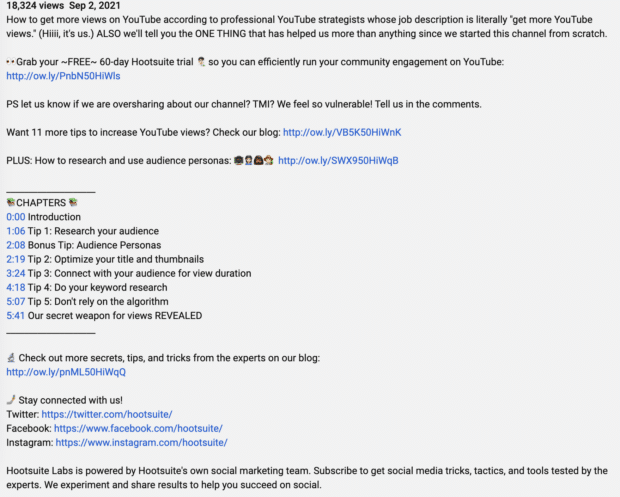 7. Use categories
YouTube uses categories to group videos into broad topics, like "Sports" or "Technology". This makes it easier to find related content and shows YouTube which channels are producing the best quality content in that space.
By selecting the appropriate category for each video you upload, you are giving YouTube a clear signal about what your video is about. This information will be used by YouTube to determine if it should appear in search results for certain topics.
8. Include custom thumbnails
It's always important to be aware of how your content appears in search results, as this will influence whether or not viewers click on your video. YouTube titles should be accurate and descriptive, while thumbnails should be visually appealing enough to stand out from the crowd.
Thumbnails impact how many times your video is viewed or clicked, which in turn affects your SEO on YouTube.
If you have a verified account, we suggest creating custom thumbnails rather than relying on YouTube's auto-generated options. YouTube recommends:
Thumbnails have a resolution of 1280×720 (minimum width of 640 pixels).
Be uploaded in image formats such as JPG, GIF, or PNG.
Be under 2MB for videos or 10MB for podcasts.

9. Embed videos in your blog
Just like with any social media platform, cross-promotion matters on YouTube. An experiment done by our in-house YouTube experts found that embedding YouTube videos in a blog post can boost SEO for both your YouTube channel and the blog.
(Of course, this assumes you already have an active blog.)
That said, our experts did note that embedding YouTube videos in microblogs (like Twitter or Tumblr) can also have a positive SEO impact.
When embedding blogs, make sure all videos are relevant to the URL and keywords they are linked to.
10. Use hashtags
Hashtags are a great way to make sure your YouTube content is discoverable. Not only are hashtags in your titles and descriptions clickable, but you can also search for specific hashtags in YouTube search.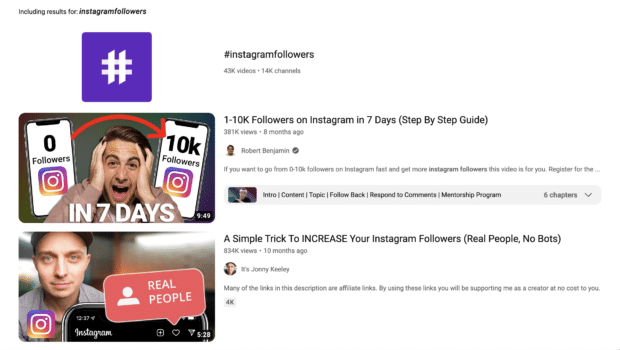 When selecting hashtags for YouTube video SEO, use keywords related to the content you're publishing, and consider using your brand name as well, if it's relevant. It's also a good idea to include multiple hashtags in YouTube descriptions, but don't overdo it. YouTube's algorithm sees the overuse of hashtags as spammy.
11. Build playlists
As YouTube is a database of video content, it's important to organize your videos into keyword-optimized playlists. This helps YouTube understand what topics your channel covers and helps viewers navigate the content more easily.
For example, if you create a playlist for "YouTube SEO tutorials", don't include videos about gardening or makeup. This seems obvious, but… you'd be surprised.
Instead, titles like "Ultimate YouTube SEO Guide", "10 YouTube SEO Tips", and "How to Optimize YouTube Videos for SEO" will help YouTube direct viewers to your content.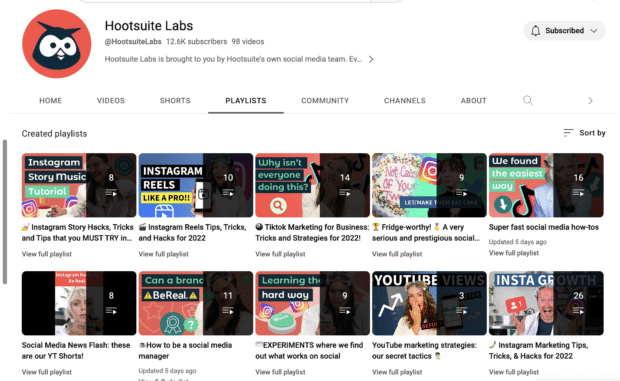 12. Post and edit videos consistently
Posting and regularly editing videos is one of the best ways to ensure YouTube's algorithm recognizes you as an active user.
If you have an older video that hasn't gotten much traction, consider updating the title, description, tags, or even the thumbnail image to help YouTube's algorithm find it again.
YouTube will also let you cut or edit a segment of an existing video only once. Apart from that, the content should be evergreen–so don't age it with a specific year in the script if you can avoid it.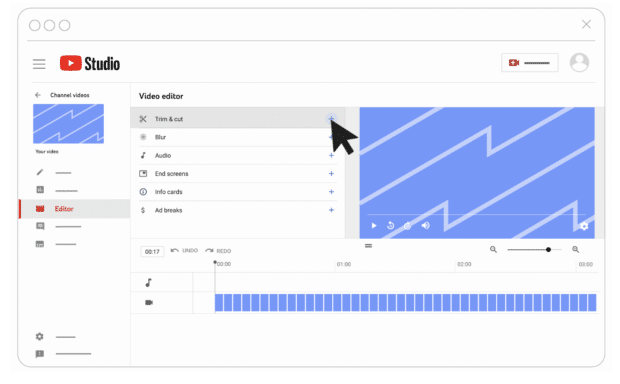 Source: Google
13. Don't be afraid to rank twice
YouTube isn't like Google when it comes to SEO; you can go after the same keyword multiple times without running into cannibalization issues.
As well, YouTube videos aren't judged as webpages, so you won't be penalized if you have multiple videos ranking for the same keyword on Google, either.
In fact, our research found that both Google and YouTube are more than happy to rank different videos from the same channel twice, as you can see below.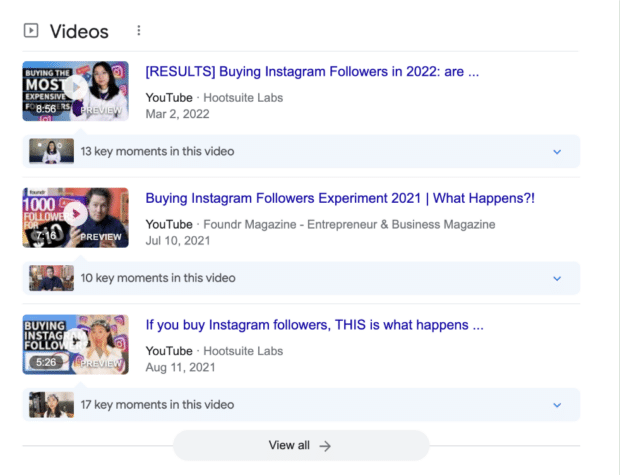 Helpful YouTube SEO tools
There are several helpful YouTube SEO tools on the market today. These tools can help you optimize your YouTube channel, analyze the performance of individual videos, track keyword rankings, and more.
Here's a breakdown of our top six.
1. SEMRush
The Keyword Overview tool from SEMRush is incredibly useful for ranking in YouTube search results. It provides specific keyword data such as monthly volume of searches, competition, and SERP placement. Plus, it compiles a master list of related keywords based on similar search queries.
Keep in mind, all keyword research tools pull data from search engines (not YouTube). That said, in our experience, this data is generally applicable to YouTube as well.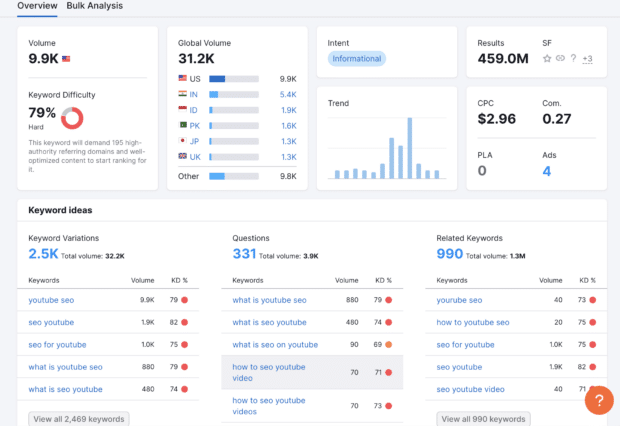 2. Ahrefs
Ahrefs is another great tool for keyword research and provides the same data and caveats as SEMRush.
One thing to note is that plugging a YouTube URL into Ahrefs gives you YouTube keyword data as well, including what keywords your YouTube video is currently ranking for and any other YouTube videos linking to it. This can be incredibly helpful if you're looking to optimize an existing video.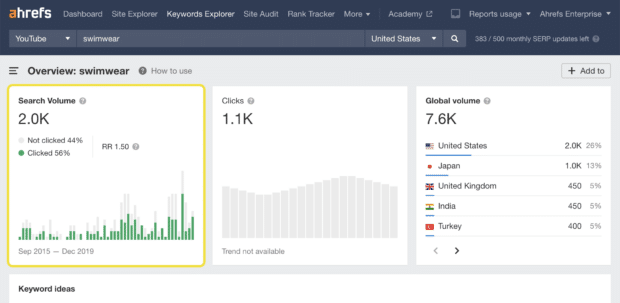 Source: Ahrefs
3. TubeBuddy
Browser extension TubeBuddy is an absolute must-have tool for YouTube SEO. This free tool integrates with your YouTube account and provides comprehensive YouTube SEO data, including:
A YouTube keyword research tool
A translator for video titles and descriptions
A best practice audit to make sure that your content is YouTube-approved
A/B testing for YouTube titles and descriptions
Detailed analytics and usage statistics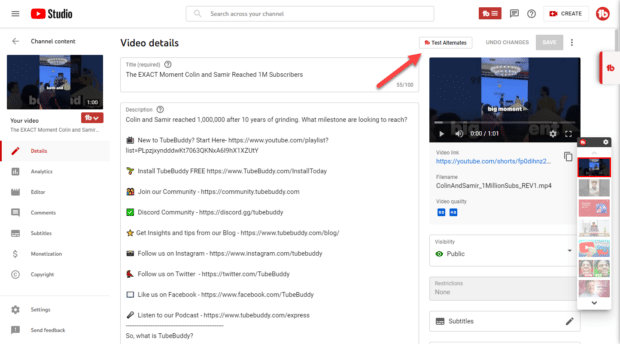 Source: TubeBuddy
VidIQ
The keyword research suite in VidIQ provides everything a YouTube content creator needs to get their videos seen and ranking in YouTube search results.
With VidIQ you can:
Research YouTube keywords
See competitor tags
Translate keywords
View average views and subscribers
Autocomplete tags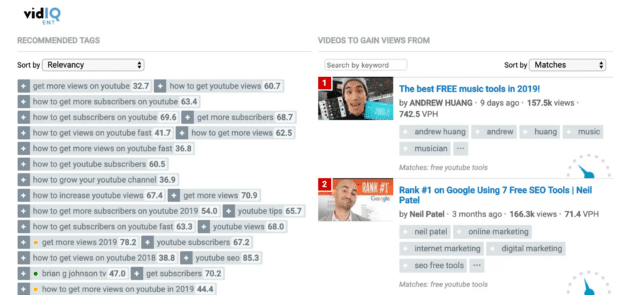 Source: VidIQ
YouTube Analytics
YouTube Analytics is YouTube's native keyword research panel. It provides insights on YouTube search terms and also flags content gaps.
This YouTube SEO tool shows you the searches YouTube viewers are making and how popular each keyword is relative to others. You can also see location data, device data, which cards were clicked, if subtitles were used, and more.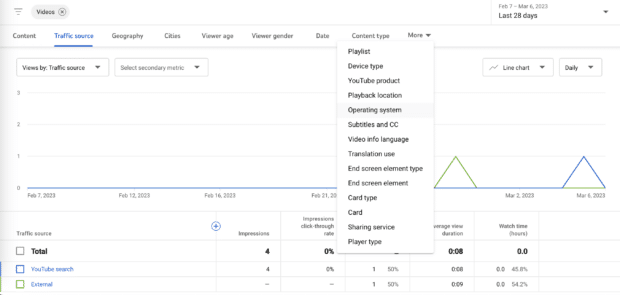 Google Search Console
Google Search Console is the best YouTube SEO tool for understanding how your videos are performing in organic search rankings. You can find YouTube impressions and clicks data, plus other related SERP information like total search queries, average rank position, video title/description updates, and more.
YouTube SEO FAQs
What is SEO on YouTube?
SEO on YouTube is the practice of optimizing YouTube videos and channels for YouTube's search engine as well as other search engines like Google, Bing, and Yahoo. By using the right keywords in your titles, descriptions, and tags, you can help make sure that your YouTube videos are more likely to be found by viewers.
Does SEO really work for YouTube?
Yes, SEO really works on YouTube. Hootsuite's own experiments have found that simple tactics like keyword research, optimizing video elements, and creating chapters can lead to higher YouTube rankings.
Grow your YouTube channel faster with Hootsuite. Schedule and promote your videos and engage with your audience from one dashboard. Sign up free today.
Get Started
Do it better with Hootsuite, the all-in-one social media tool. Stay on top of things, grow, and beat the competition.
ENGRMKS & CO – #Proven #YouTube #SEO #Tactics #Practices
Published: 2023-05-03 20:30:36 ,