If you work in social media, you may be wondering, "What is Discord — and wait, why should I care?"
Discord may not be on your radar as a social media marketing tool. But this flexible platform has a lot to offer businesses looking for new ways to engage with their audience.
Whether you're a Discord power user or still wondering what Discord is, we'll help you make it work for your business.
In this article, we'll look at what Discord is used for (and who uses it), how you can use it for your business, and how to get started on the platform.
Bonus: Get a free social media strategy template to quickly and easily plan your own strategy. Also use it to track results and present the plan to your boss, teammates, and clients.
What is the Discord app?
Discord is a platform for hosting real-time text, video, and voice chat. While other social platforms are oriented around one central community, Discord is divided into servers or many smaller communities.
Servers can be public or private spaces. You can join a big community for people who share a common interest or start a smaller private server for a group of friends.
Unlike most social media platforms, Discord doesn't sell ads. Instead, it makes money by selling upgrades for users' accounts or servers.
How did Discord get started?
Discord launched in 2015, and its initial growth was largely thanks to its widespread adoption by gamers. However, it wasn't until the COVID-19 pandemic that it began to attract a broader audience.
The company embraced its newfound audience, changing its motto from "Chat for Gamers" to "Chat for Communities and Friends" in May 2020 to reflect its more inclusive direction.
Who uses Discord now?
The platform's user base continues to grow beyond gamers. In Spring 2021, 70% of Discord users reported using it for more than just gaming, up from just 30% in 2020. And the platform has grown from 2.9 million users in 2016 to 150 million active monthly users in 2022.
Today, Discord offers a platform for people interested in your business to come together and interact in real time.
Discord's users tend to skew young. As of 2021, 5% of US teens said that Discord was their favorite social media platform. That's a long way behind third-place Instagram (24%) but still beats Twitter (3%) and Facebook (2%).
Source: eMarketer
How to use Discord for your business
Discord is decentralized and ad-free, so it's not always obvious how to use it for your business. That doesn't mean it can't be part of your marketing strategy.
Here are some concrete examples of how Discord can contribute to your business's social media marketing.
1. Build community
Compared to other social media platforms, Discord's main value is real-time interaction between users.
Think about what aspects of your business or product benefit when customers communicate, and make channels about these features on your server.
For example, Fortnite leverages the platform's strength in real-time community building with its "lfg" (looking for group) channels, where users can find other people to play the game with.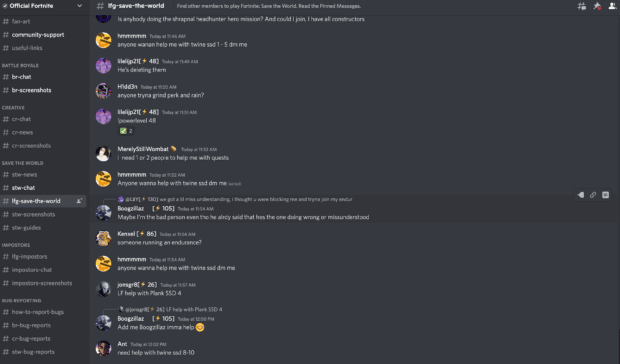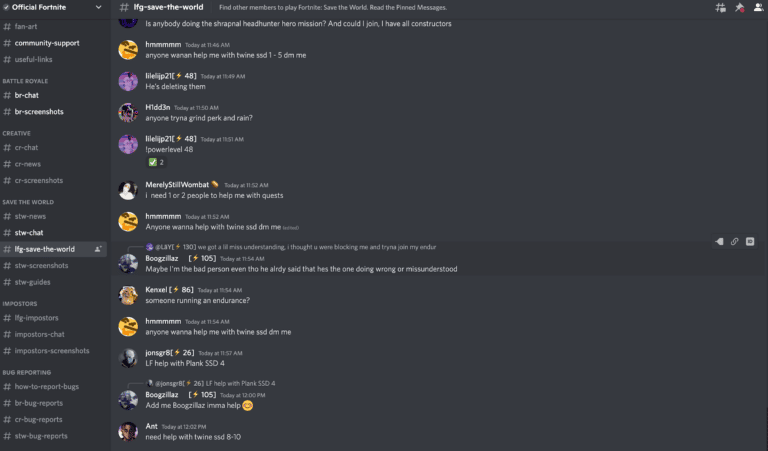 These lfg channels accomplish two things for Fortnite. First, they build a community around the brand by making it easier for fans to connect. And they make it easier for players to use their product.
In this case, Discord doesn't just help Fortnite players connect outside the game. It improves their experience of the product itself.
2. Use roles to customize your audience's Discord experience
Because it isn't an ad-driven platform, Discord doesn't have the tools to target specific audiences that other platforms do. However, once you learn to use roles, you can use them to give users personalized experiences.
(Discord roles are a defined set of permissions that you can grant to users. They're handy for plenty of reasons, including customizing your community's experience on your server)
Here are a few ways to use roles in your server:
Flair: Use roles to give users aesthetic perks, like changing the color of their usernames or giving them custom icons.
Custom alerts: Use "@role" in the chat bar to notify all users with the role. This allows you to send messages to specific segments of your audience.
Role-based channels: Grant users access to exclusive channels open only to users with certain roles.
VIP roles: Reward paying subscribers or customers with a VIP role. Combined with role-based channels, you can make subscriber-only channels.
Identity roles: Discord profiles are pretty bare bones. With roles, users can let each other know what their pronouns are or what country they're from.
Terraria's server uses roles to give its members the information they're interested in.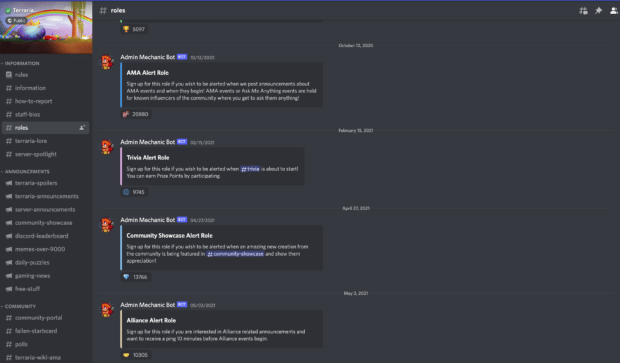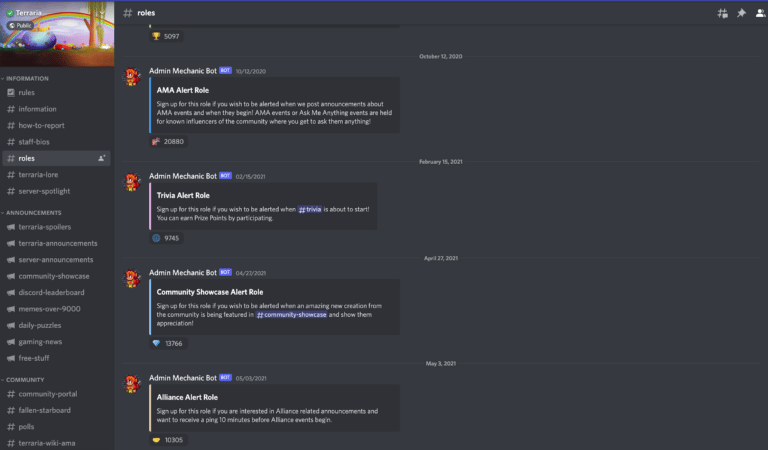 Users can sign up for roles that receive alerts for the activities they care about. These roles let Terraria keep users up to date without spamming them with unwanted notifications.
3. Host Discord Events
Discord servers already bring people together for real-time interactions. That makes the platform a natural fit for real-time events.
Discord Events remind users when the event is happening and allow users to mark that they're interested in attending.
Because of Discord's history with gamers, you might just think of it as a place to stream games. But you can use Discord to promote all kinds of events for your business.
You could also try:
Quiz nights and trivia: Whether it's a once-a-month trivia extravaganza or one question at the same time every day, quizzes get users involved and paying attention.
Classes: Do you sell something that takes skill to use? Host classes or workshops about how to use your product.
Contests and giveaways: Livestream a raffle for a product giveaway to increase the excitement. Announce contest winners over a livestream.
Live podcasts: Give fans a behind-the-scenes look at your podcast livestreaming the record over Discord.
Your event doesn't even have to take place on Discord. You can use Server Events to promote your activities on other social media platforms or in person.
The Minecraft server uses Discord Events to host in-game contests. Although users create their contest entries outside the server, the dedicated event channel lets them talk about what they're making.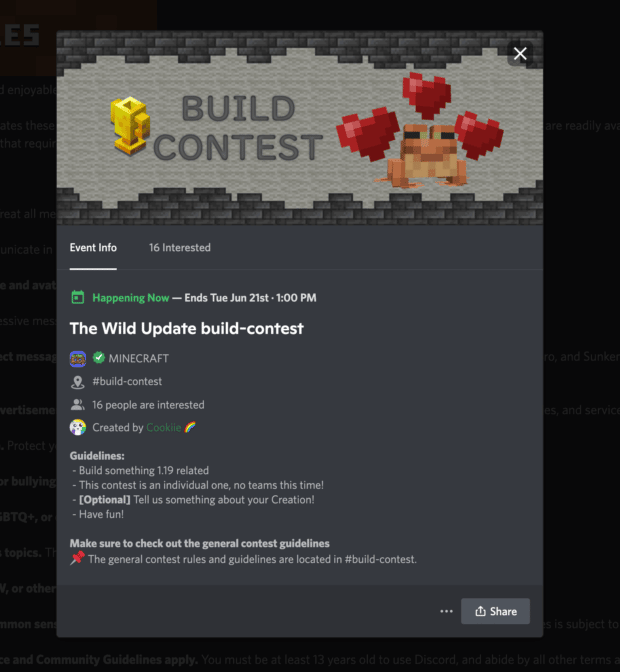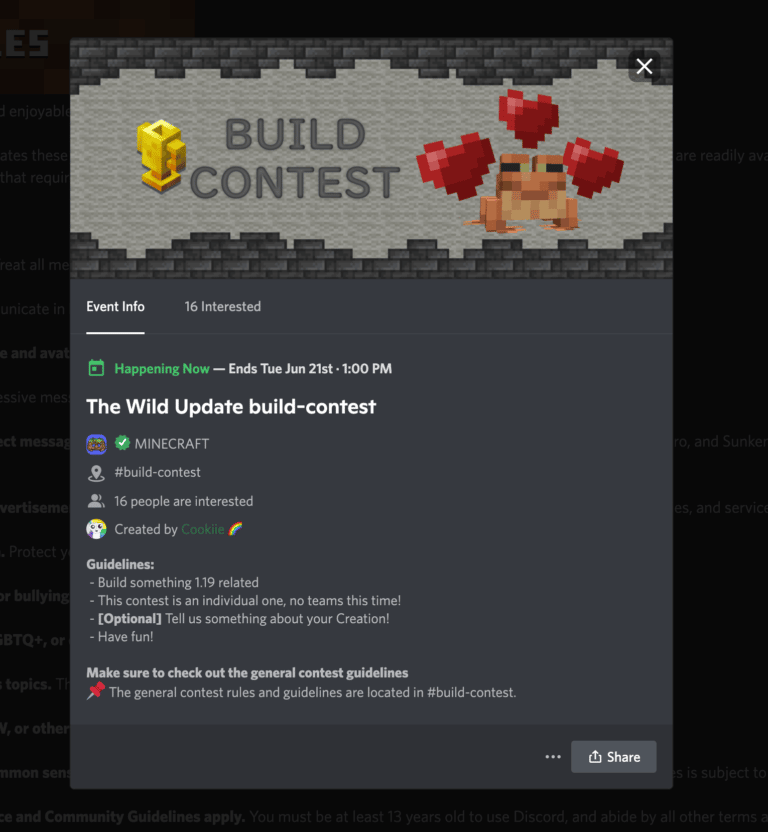 Discord Events lets Minecraft reach its users. And the Event's channel gives participants a place to connect.
4. Get insights about your community
Once your server has verified or community status, you have access to the Server Insights tab.
Insights allows you to view stats like server growth and member retention to channel-specific analytics and engagement metrics.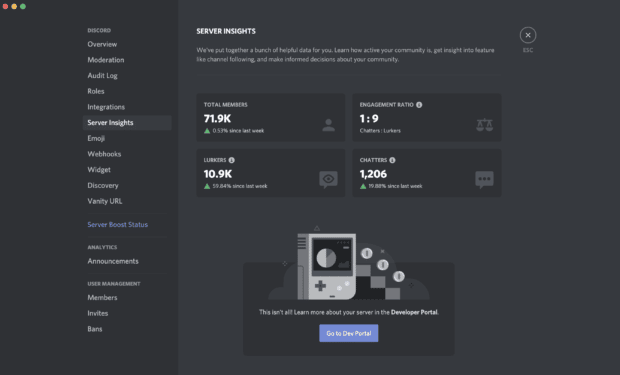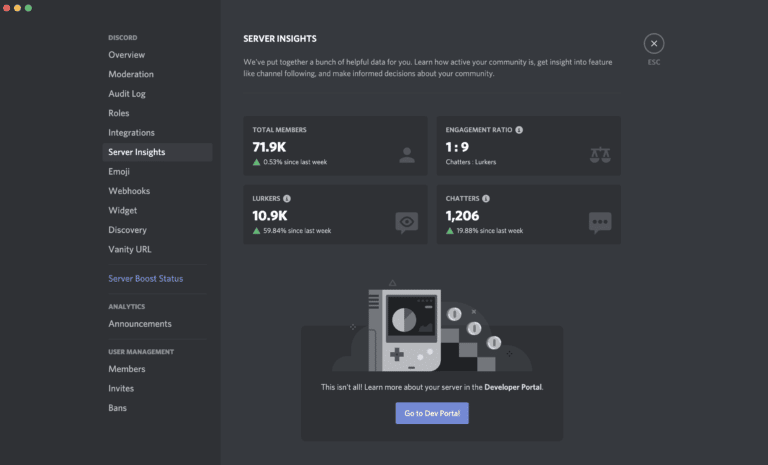 Source: Discord Server Insights FAQ
Not sure what kinds of metrics you should be looking at? Check out Hootsuite's guides to social media metrics and social media analytics.
5. Use Discord as a reward for customers
Content creators have figured out that their fans love to connect with each other. That's why they've started using access to branded Discord servers as a reward for subscribing to their content on crowdfunding platforms like Patreon.
If you sell content online, you can use a private Discord server to reward your customers. This gives your fans an incentive to subscribe. And unlike one-off subscription rewards, access to a Discord server encourages fans not to let their subscription lapse.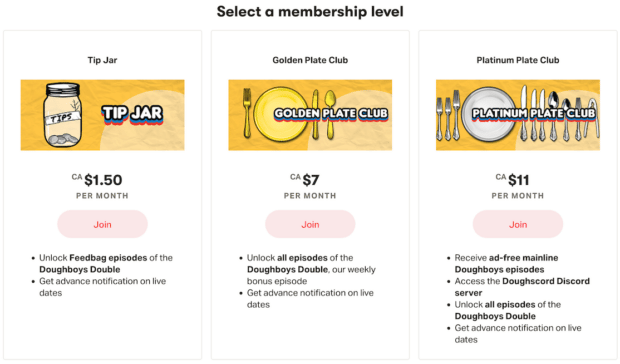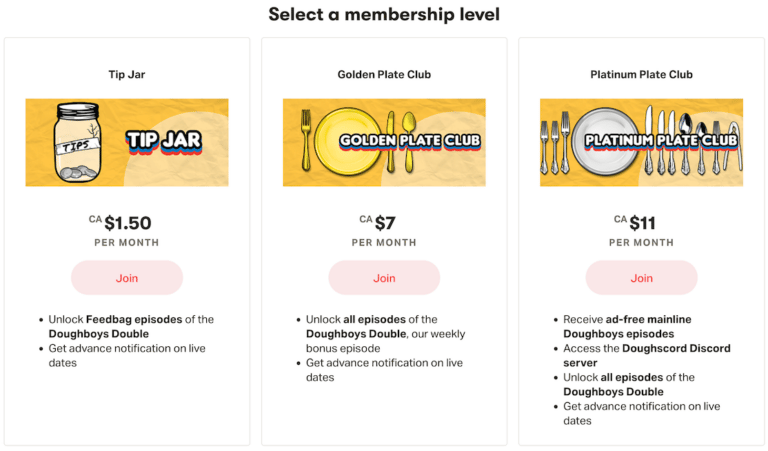 Source: Doughboys Patreon
The Doughboys podcast allows their premium Patreon subscribers access to a private, branded Discord server. An ongoing perk like this gives their fans a reason to pay a little more each month.
How does Discord work?
Before you start using Discord for your business, you'll need to know how the platform works. Here's what you need to know to get your Discord empire up and running.
First, a caveat: Discord is a very flexible platform. Consider this an intro guide, not a comprehensive one. For details on the technical side of running a server, check out Discord's own beginner's guide.
Getting started
To begin using Discord, you'll need to create an account. All you need to get started is an email address, a username, your date of birth, and a password.
Once you're signed up, it's time to download the app. It's possible to run Discord in your browser, but the app version has more features.
How to join a Discord server
There are two ways to join an existing Discord server:
If you have an invite link, click the  Add a Server button on the left-hand menu. Then click on Join a server and input the link.
You can browse public servers by clicking the  Explore Public Servers button on the left-hand menu. You can browse servers by theme or search for one with the communities search bar.
How to create a Discord server
You'll probably want to create your own server for your business at some point. Luckily, it's pretty easy to get started.
Click on the Add a Server button.
Choose a template or create your own server from scratch.
Name your server and add an icon.
Hit Create, and you're in business.
How your Discord server works
A server is divided into channels. Think of channels as individual chat rooms — these can be either

text or

 voice. A voice channel supports both audio-only and video chat.
To make navigating your server easier, you can group your channels into categories.
Categories also make it easier for you to manage your server. Changes you make to a category's settings will automatically apply to all the channels inside it.

If you choose a template when starting your server, your new server will have pre-built categories and channels. But you can create and delete categories and channels at any time.
If you want to move a category or channel, just drag and drop it.
Moderate your server
Discord's strengths are also its weaknesses. Users can connect and bond with each other in real time. But they can also harass and scam each other in real time too.
If your server's successful, at some point, you'll need to think about how to moderate it when you're not around. You can either appoint human moderators or install bot moderators.
Humans are imperfect, but they're still the best at interpreting and responding to human behavior. You can create roles for administrators and moderators to help keep an eye on your community.
Discord has a bit of a reputation for bad user behavior. As a result, the company has in-depth documentation on good moderation.
Unfortunately, humans sometimes need to do things like eat, sleep, or sometimes not look at screens. Discord bots have none of these drawbacks. Bots like MEE6 or ProBot have tools to detect unwanted behavior and respond by warning or booting offending users.
Verify your server
You'll want to verify your server if you're using Discord for your business. Verification is simple, though — just make sure you meet the requirements and fill out a short form.
Once you're verified, you'll have access to two great features: Server Discovery and Server Insights.
Enabling Server Discovery means your server will be publicly available on the Discover page.
Server Insights gives you access to better data on your server's users.
Frequently asked questions about Discord
How much does Discord cost?
Most features on Discord are free. It doesn't cost anything to join and create servers. But there are some services that cost money.
You can pay to upgrade your account with Discord Nitro or Nitro Classic, which costs a little less and provides fewer features than the full version.
Nitro upgrades are linked to your account, not your server. And most of their features benefit your account rather than your profile. However, Nitro does give you access to perks that help you run your server, like better resolution when you livestream and more backgrounds in video calls.
To unlock all the features for your server, you need to spend Server Boosts on it. Higher boost levels give your server benefits like higher audio quality and more customization options.
You get two free Boosts with a Nitro subscription. But to unlock the highest tiers, you'll need to buy more Boosts or get other users to spend them on your server.
What are Discord bots?
Bots are little programs that look similar to users on your server that automate some kind of activity. Think of them as helpful little droids that can handle tasks for you. For example, some bots give you better server analytics or help you manage your server. There are even bots for building bots.
What is a server template?
A server template provides a Discord server's basic structure. Templates define a server's channels, channel topics, roles, permissions, and default settings.
You can use one of Discord's pre-made templates, one from a third-party site, or create your own.
Can I advertise on Discord?
No, Discord is an ad-free social platform. That means if you want to use Discord for your brand, you'll have to create a server for your community.
Save time managing your social media presence with Hootsuite. Publish and schedule posts, find relevant conversions, engage the audience, measure results, and more — all from one dashboard. Try it free today.
Get Started
ENGRMKS & CO – #Discord #Beginners #Guide #Discord #Business
Published: 2022-06-27 19:54:48 ,