Sony's The Last of Us franchise was briefly riding high in the early part of the year. Following generally positive buzz from the sequel in 2020 and the PS5 remaster in 2022, it gained cross-media acclaim thanks to a faithfully recreated HBO show starring Pedro "the guy under the Mandalorian helmet" Pascal and Bella "the other kickass little girl from Game of Thrones" Ramsey. But the story-heavy zombie shooter seems to have missed a step in its PC debut, as players decry that the PC port suffers from an all-too-familiar array of performance issues.
The day after its official release, the game is sitting at a "Mostly Negative" user rating on Steam. Despite the port's purported PC enhancements, like an unlocked framerate, ultrawide resolutions, and support for AMD's FSR 2 upscaling, players are complaining of horrible performance, frequent bugs, freezes, and crashes to the desktop. Some players are seeing the game gobble up an incredible 11GB of video RAM even at a relatively tame 1080p resolution. That's the kind of memory usage that would choke an RTX 3070. The fact that Sony wants sixty bucks for what's basically a graphical punch-up for a ten-year-old PS3 game probably isn't helping things.
The game's shader compilation is a particularly nasty surprise, with some players reporting wait times of up to an hour for the lengthy, hardware-intensive process to complete before the game loads properly. In the words of one PCWorld staff member who shall remain Adam, it's "f#$%ing brutal on the system," shooting a 24-core, top-of-the-line Core i9-13900 to 100% CPU usage.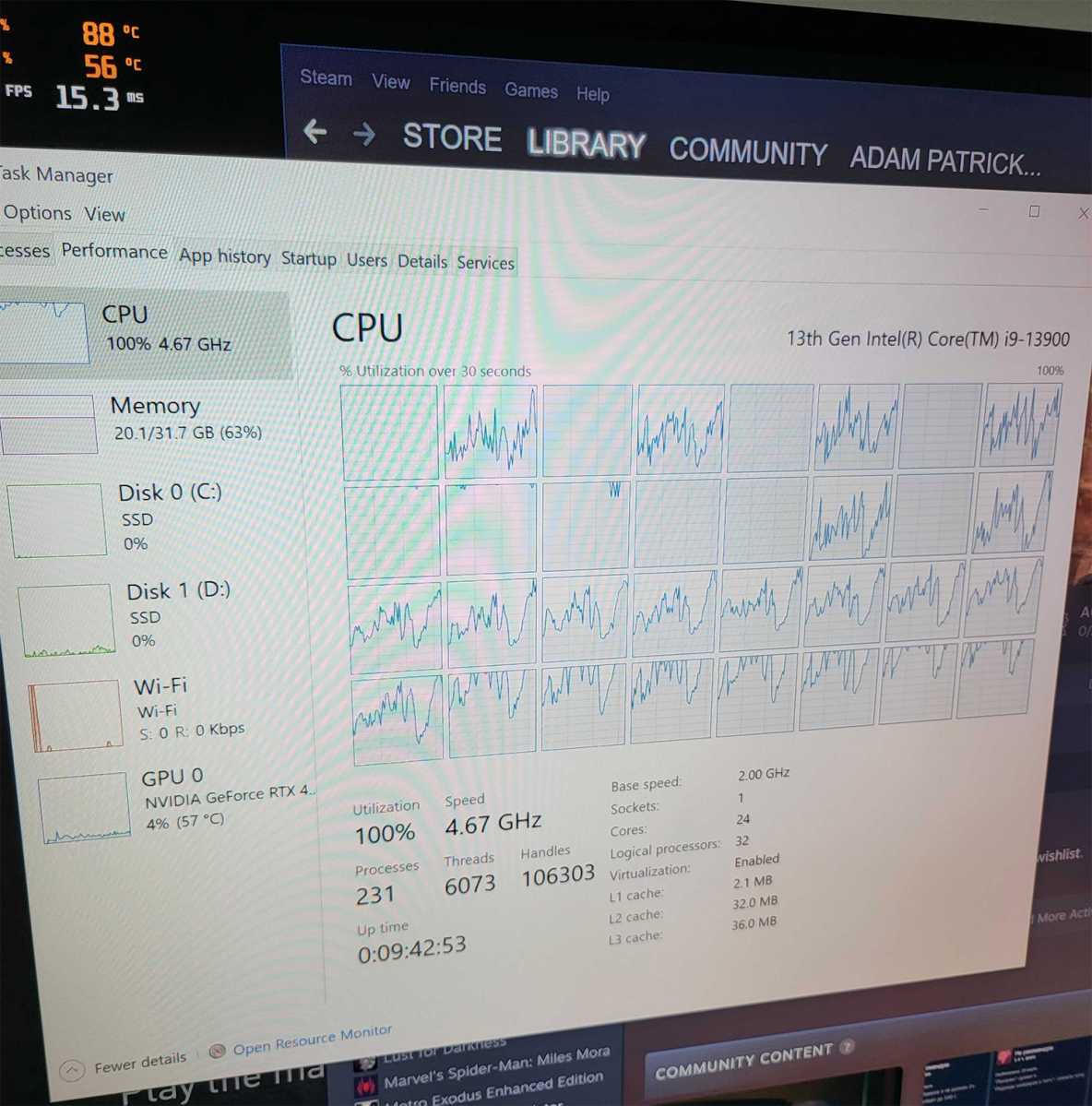 Adam Patrick Murray/IDG
The Last of Us Part I's poor performance is particularly disappointing, and not just because it's a highly-anticipated game in its own right (it's the first time this franchise has come to any non-PlayStation system). It's the latest PC port from PlayStation Studios, whose work has been generally good if not perfect so far. Horizon: Zero Dawn, Spider-Man, God of War, and Uncharted: Legacy of Thieves were all released to generally good reviews. Some are laying the blame at Iron Galaxy Studios, they of the infamously problematic Batman: Arkham Knight PC release, which worked on the PC version of TLOU along with the original developers at Naughty Dog.
Late last night Naughty Dog released a short message on its support page, acknowledging the general performance, stability, booting, and shader issues, along with a possible memory leak. The developers are actively working on patches.