At a glance
Expert's Rating
Pros
Quieter than reference model
Excellent 1440p and 4K gaming performance
Dual HDMI outputs to go with dual DisplayPorts
Simple, appealing design
20GB of GDDR6 memory
Better value than rival RTX 4070 Ti
Cons
7900 XT isn't a great value compared to last-gen offerings still available
Larger than reference 7900 XT
Ray tracing performance is fine but lags far behind Nvidia GPUs
No extras like RGB, dual-BIOS switches, etc.
Our Verdict
The Sapphire Pulse costs the same or less than reference Radeon RX 7900 XT models while delivering superior acoustic results and a more desirable configuration of ports. It's larger than the reference card, but more pleasant to have in your system.
Price When Reviewed
$899.99
Best Prices Today: Sapphire Pulse Radeon RX 7900 XT
$921.60
While enthusiasts drool over the ultra-premium, no-compromises experience offered by Sapphire's luxurious Nitro+ graphics cards, the company delivers the goods for PC gamers on a budget, too. Rather than loading up on nifty but cost-adding features like RGB and dual-BIOS switches, Sapphire's Pulse series of GPUs instead focuses on giving a great, straightforward gaming experience without breaking the bank.
Case in point: The Sapphire Pulse Radeon RX 7900 XT we're reviewing today. Ostensibly priced at the same $899 as AMD's reference 7900 XT, we've seen it going for as low as $849 on the streets. In exchange for that lower price, the Pulse offers a mild factory overclock, quieter fan noise, and a more compelling display output configuration than the stock model—plus, through April 28, you can get a free copy of Sony's The Last Of Us Part I for PC if you buy the card from an authorized seller.
That's pretty rad. Let's dig in.
Note: See our roundup of the best GPUs for gaming to learn about competing products, what to look for in a GPU, and buying recommendations.
Sapphire Pulse Radeon RX 7900 XT features, specs, and design
The Sapphire Pulse is built using the same basic configuration as the reference GPU. You can wade deeper into that in our original Radeon RX 7900 XTX and 7900 XT review, but in a nutshell, this is a great graphics card for 1440p and 4K/60 gaming alike, loaded with 20GB of GDDR6 VRAM, AMD's awesome Infinity Cache technology, AV1 encoding, DisplayPort 2.1 (unlike Nvidia), and support for game-enhancing Radeon features like Smart Access Memory, Radeon Super Resolution, and FSR 2. And the new RDNA 3 graphics architecture finally made Radeon useful for content creators!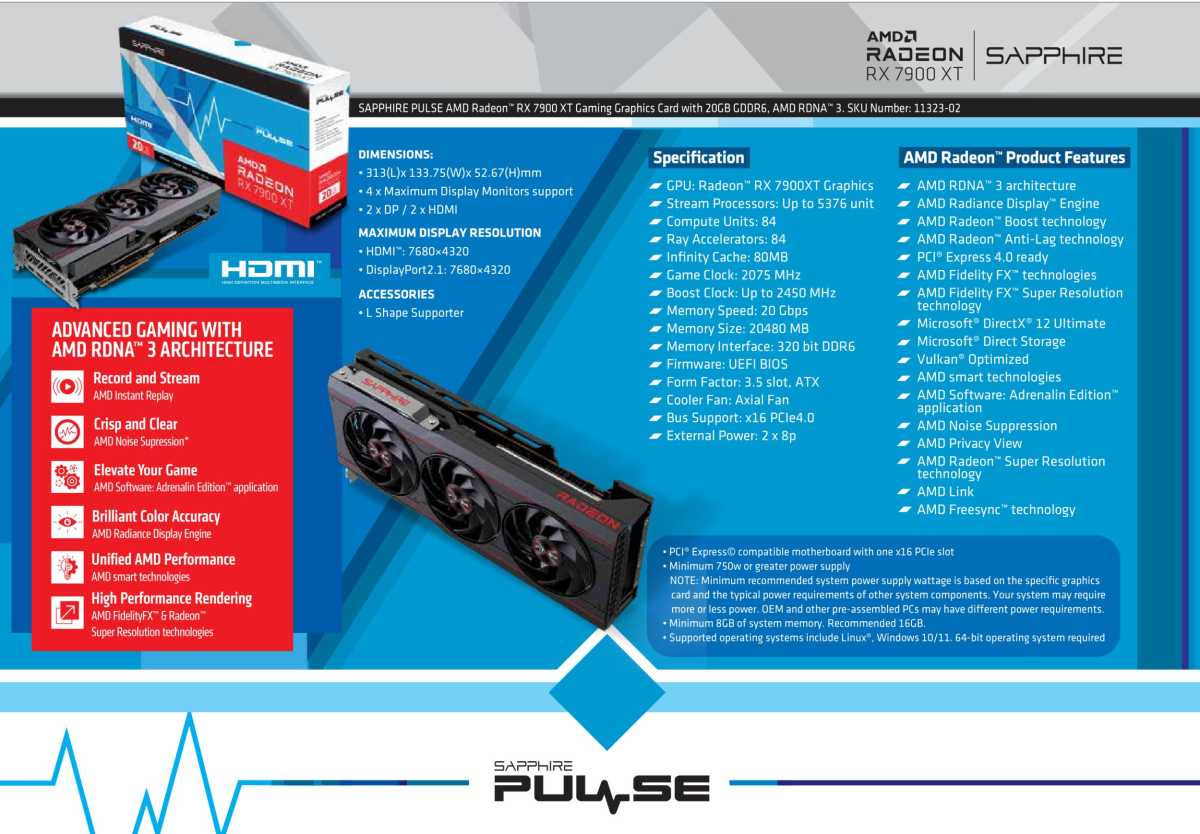 Sapphire
Sapphire didn't change much under the hood. The Pulse 7900 XT offers a mild overclock, hitting 2,075MHz rather than 2,025MHz, but that doesn't practically change performance aside from sipping a bit more power (though the Pulse still only requires a pair of standard 8-pin power connectors to run).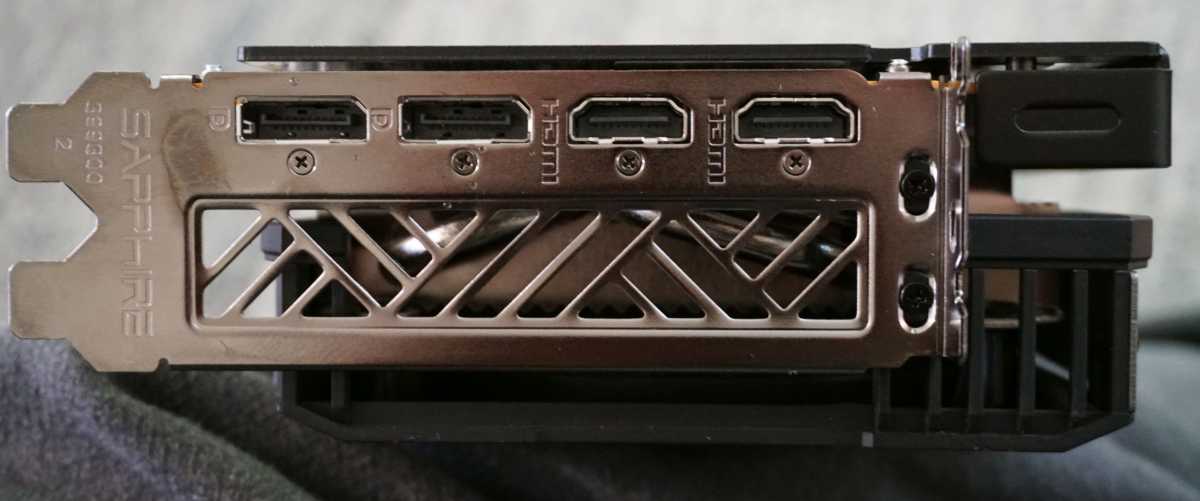 Brad Chacos/IDG
The most exciting technical tweak may be its port configuration. While the reference model includes dual DisplayPort 2.1 connections, an HDMI 2.1a port, and USB-C, the Sapphire Pulse 7900 XT instead ditches the USB-C port for a second HDMI offering. That's handy for monitor flexibility and VR headset users alike. It's also a rare find these days.
But Sapphire revamped things over the hood completely, to welcome effect.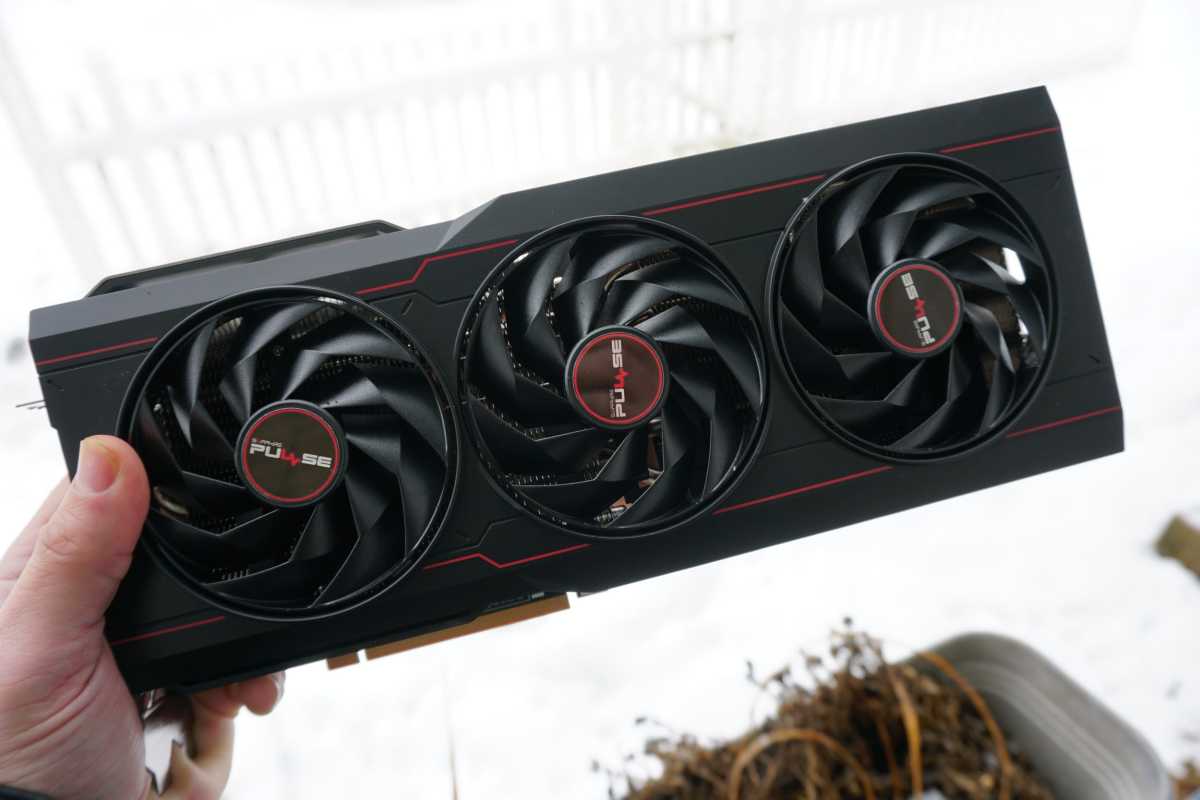 Brad Chacos/IDG
The Sapphire Pulse Radeon RX 7900 XT's custom cooling design works in several components and features designed to improve reliability and thermals. Those include a metal backplate loaded with thermal pads to help dissipate heat, a trio of "angular velocity fan blades" with two-ball bearings that Sapphire claims "results in 44% more downward air pressure and up to 19% more airflow" compared to previous generations, and intelligent fan control paired with ultra-accurate rotation speed for those blades. Add it all up and the Pulse delivers a pleasantly quiet gaming experience.
Sapphire also graced the Pulse 7900 XT with beefed-up circuitry and internal parts, such as "ultra-high performance conductive polymer aluminum capacitors" to enable a 20-phase power delivery, a high-density PCB with copper mixed in, and fuse protection to safeguard your precious GPU if a component gives up the ghost. Sapphire even tosses a support bracket into the box to combat potential GPU sag while this beast lurks in your PC case.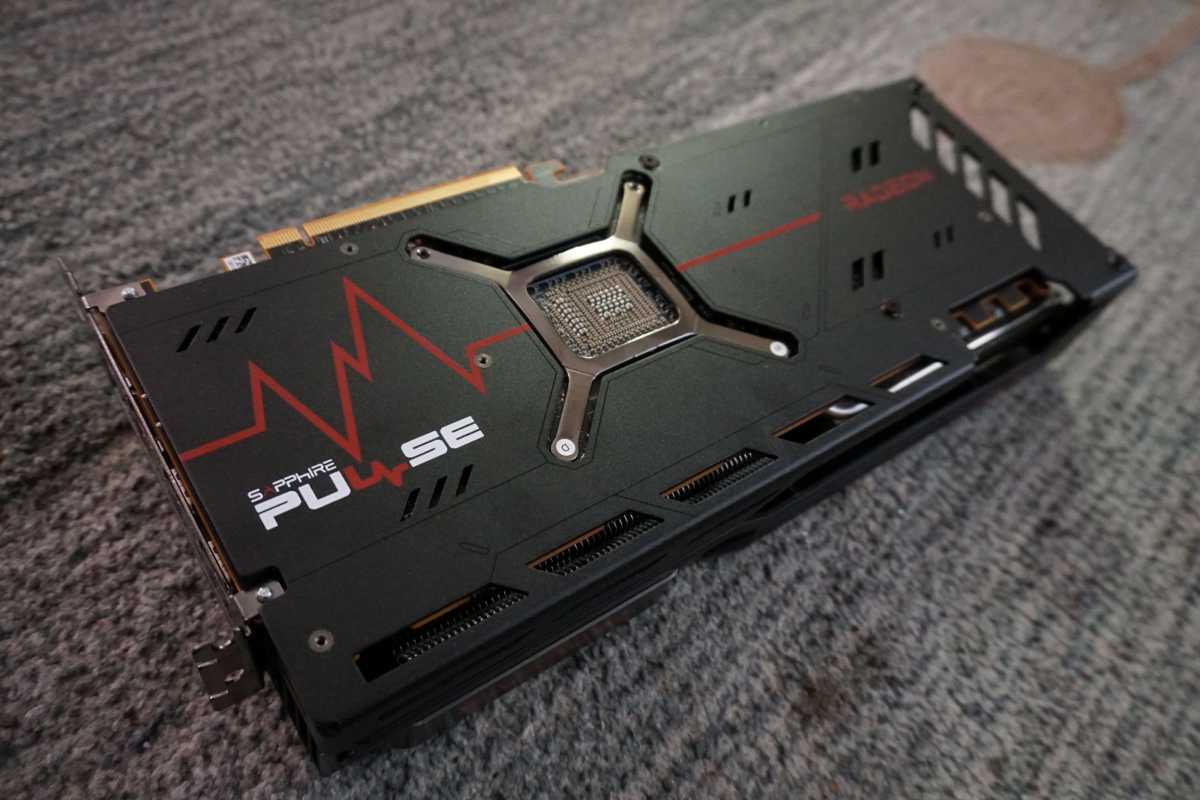 Brad Chacos/IDG
You might need it. While the Sapphire Pulse's 2.7-slot width looks downright reasonable next to the 3- and 4-slot behemoths so common today, it's notably thicker than the svelte 2-slot AMD reference Radeon RX 7900 XT. The extra heft and ample cooling hardware make the Pulse run noticeably quieter than the reference card, however.
What you won't find with the Sapphire Pulse Radeon RX 7900 XT: extras. Look elsewhere if you're an enthusiast that desires fancy features like RGB, GPU fan headers, and dual-BIOS switches. While certainly welcome, features like those add significant extra cost, and the Pulse line is laser-focused on solid, straightforward performance that beats what you normally get in budget-priced versions of a GPU. If you want enthusiast-focused extras, strongly consider Sapphire's premium Nitro+ line instead. It's always fantastic but especially impressive this generation.
Enough talk. Let's dig into performance.
Our test system
We test graphics cards on an AMD Ryzen 5900X PC used exclusively for benchmarking GPUs. We now test with PCIe Resizable BAR (also known as Smart Access Memory on Ryzen systems) active, as most modern gaming PCs released in the last four years support the performance-boosting feature, either natively or via a motherboard firmware update. Nvidia also recommends turning on the optional "Hardware-accelerated GPU scheduling" option in Windows to let the RTX 40-series stretch its legs to the fullest, so we've made that tweak as well. Most of the hardware was provided by the manufacturers, but we purchased the storage ourselves.
We usually test a variety of games spanning various engines, genres, vendor sponsorships (Nvidia, AMD, and Intel), and graphics APIs (DirectX 9, 11, DX12, and Vulkan), to try to represent a full range of performance potential. Since the 7900 XT's performance is already well established and the Sapphire Pulse doesn't come with a fierce overclock, we spot-checked a smaller handful of titles spanning those various APIs to show the performance differences between the Pulse and the reference card.
Spoiler alert: They're negligible. Check out our original Radeon RX 7900 XTX and 7900 XT review for a deeper set of benchmarks and general AMD RDNA 3 analysis if you're interested. We'll be presenting these results without much commentary. 
Each game is tested using its in-game benchmark, sanity checked by Nvidia's FrameView tool, at the highest possible graphics presets unless otherwise noted, with VSync, frame rate caps, real-time ray tracing or DLSS effects, and FreeSync/G-Sync disabled, along with any other vendor-specific technologies like FidelityFX tools or Nvidia Reflex. We've also enabled temporal anti-aliasing (TAA) when available.
We run each benchmark at least three times and list the average result for each test. Outside of esports, we've limited our benchmarks to 4K and 1440p resolutions, as those are the natural fits for these juggernaut GPUs.
Sapphire Pulse Radeon RX 7900 XT gaming performance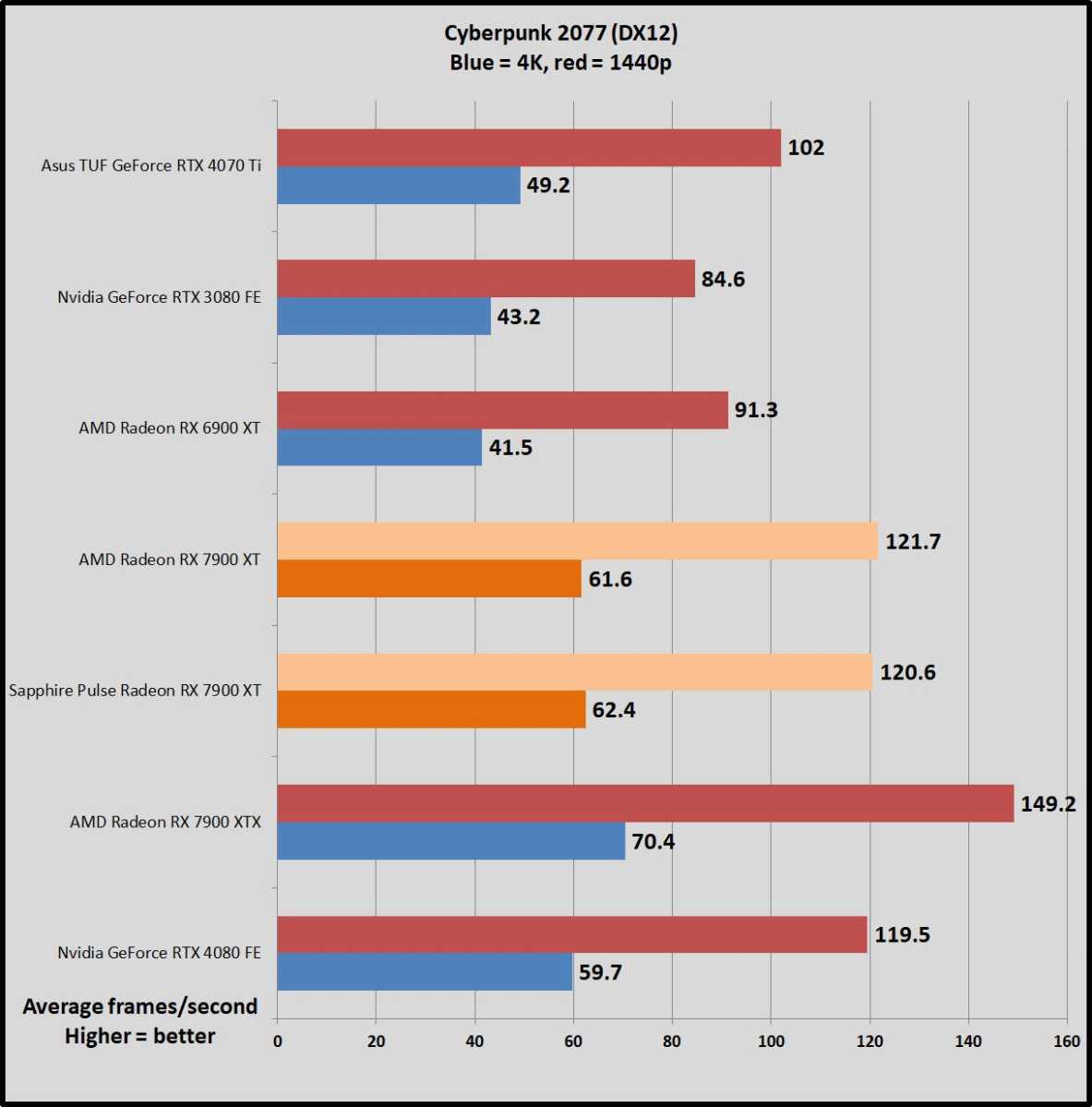 Brad Chacos/IDG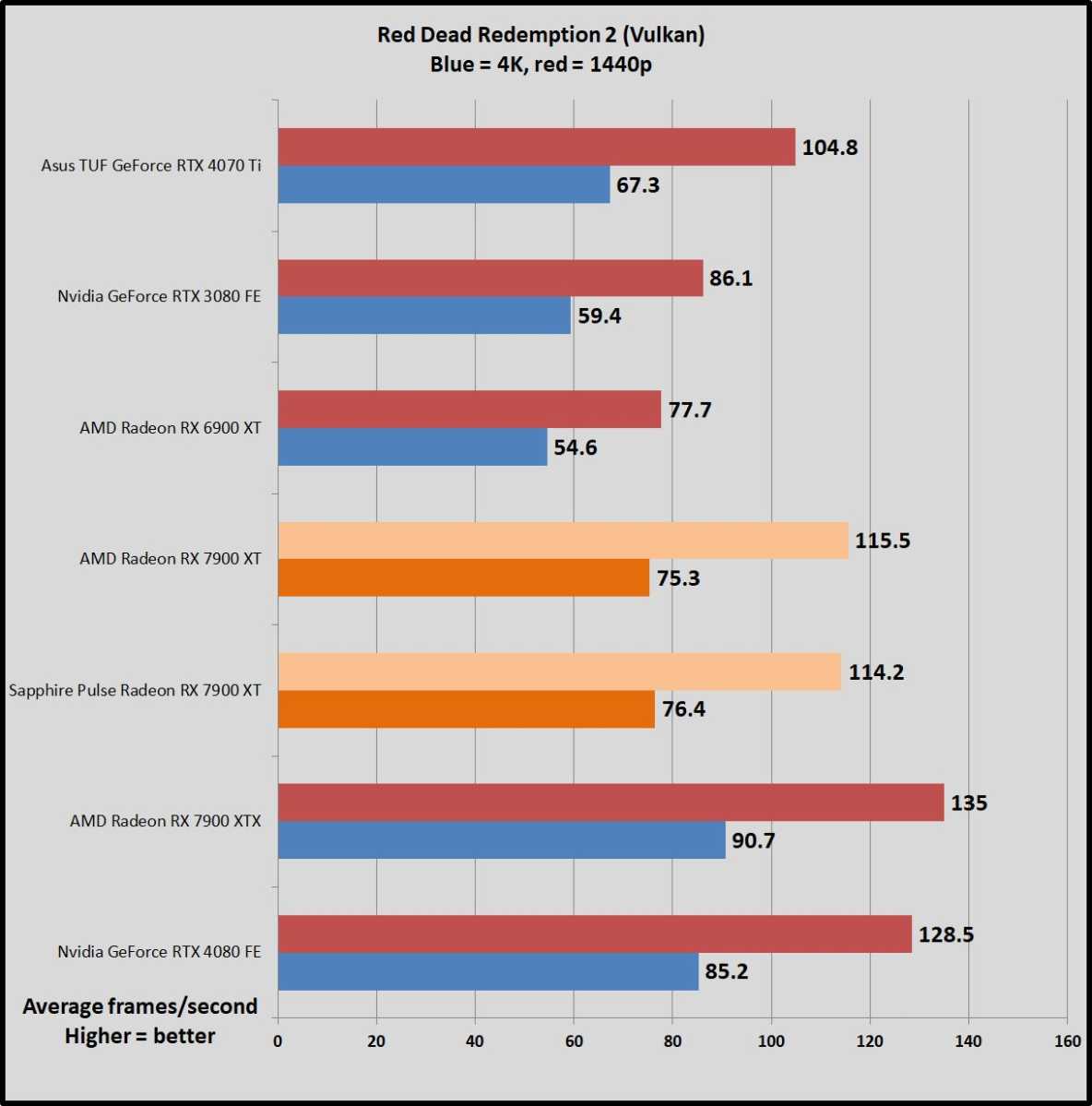 Brad Chacos/IDG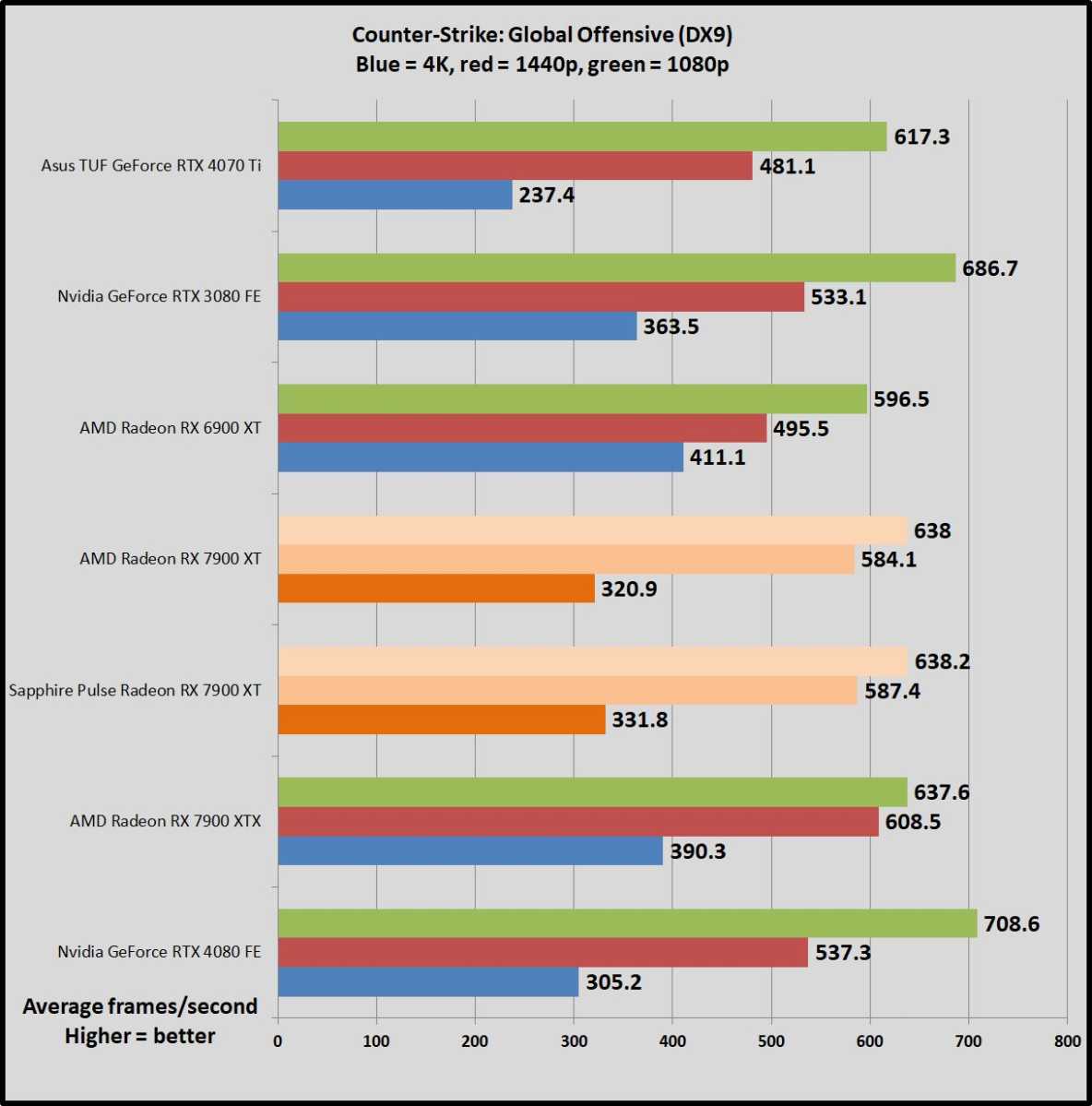 Brad Chacos/IDG
Brad Chacos/IDG
Sapphire Pulse Radeon RX 7900 XT power and thermals
Here's where the key differences between the AMD reference design and the Sapphire Pulse will truly shine. AMD designed the reference Radeon RX 7900 XT to fit into a tiny two-slot design; Sapphire engineered the Pulse for better acoustic performance.
We test power draw by looping the F1 22 benchmark at 4K for about 20 minutes after we've benchmarked everything else (to warm up the GPU) and noting the highest reading on our Watts Up Pro meter, which measures the power consumption of our entire test system. The initial part of the race, where all competing cars are onscreen simultaneously, tends to be the most demanding portion. 
This isn't a worst-case test; this is a GPU-bound game running at a GPU-bound resolution to gauge performance when the graphics card is sweating hard. If you're playing a game that also hammers the CPU, you could see higher overall system power draws. Consider yourself warned.
Brad Chacos/IDG
The Sapphire Pulse offers largely the same performance as the reference 7900 XT, so it's no surprise to see it draw roughly similar levels of power as well. All of these high-end GPUs are relatively voracious, however. Power requires power.
We test thermals by leaving GPU-Z open during the F1 22 power-draw test, noting the highest maximum temperature at the end.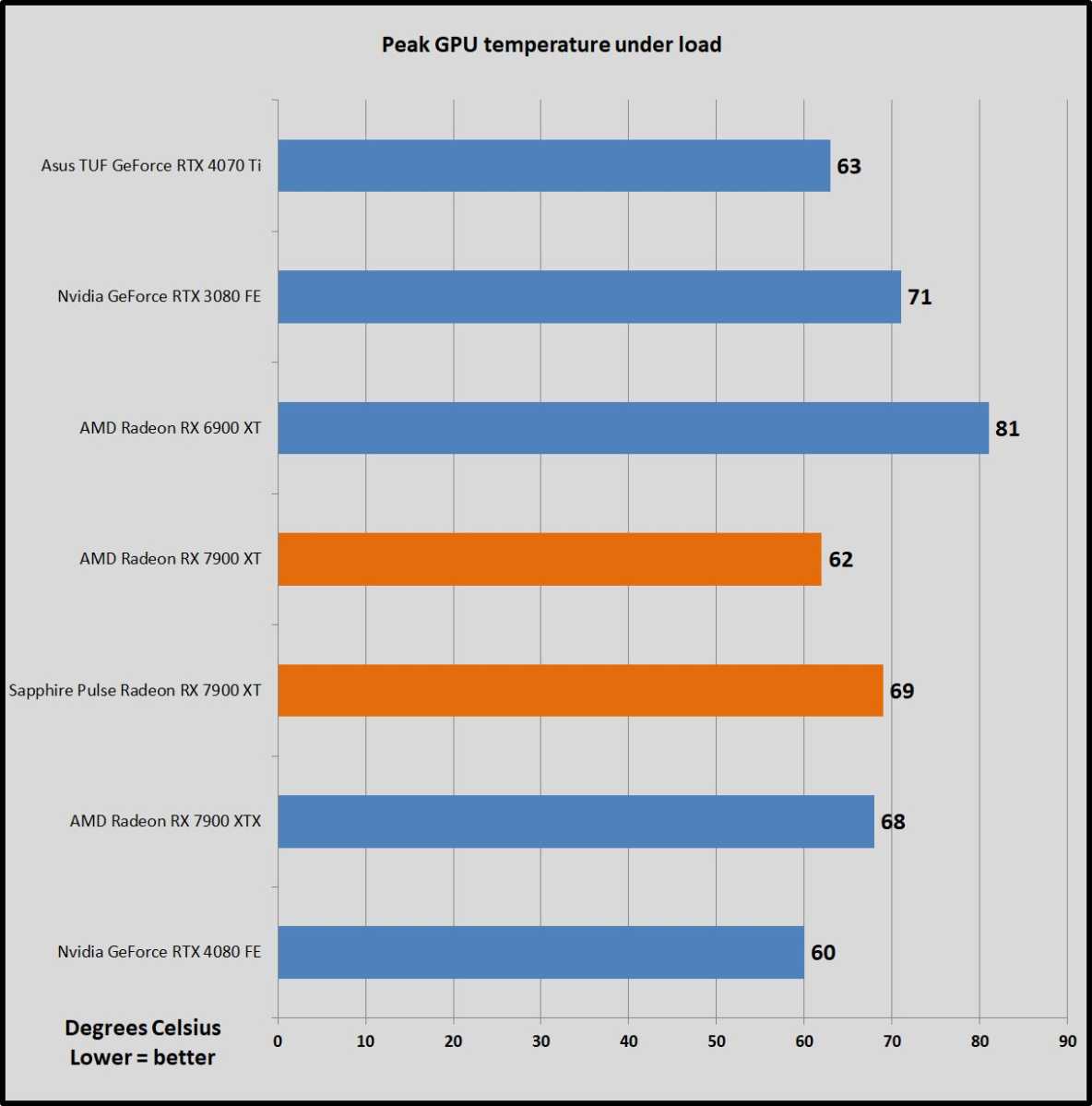 Brad Chacos/IDG
The Sapphire Pulse delivers slightly higher thermals than the reference 7900 XT, but temperatures remain excellent, and the reason those thermals are higher is because the Pulse's extra heatsink bulk and slower-spinning angular velocity fans run much quieter than the reference card.
Should you buy the Sapphire Pulse Radeon RX 7900 XT?
When AMD launched its new RNDA 3-powered Radeon 7000-series, the $899 Radeon RX 7900 XT didn't provide compelling enough value to recommend. You'd be better off spending another $100 and grabbing the superior Radeon RX 7900 XTX instead.
Now that we're starting to see discounts (and an awesome Last of Us PC game bundle) trickle in, the Radeon RX 7900 XT shines a bit brighter. We've seen the Sapphire Pulse available as low as $849, and other models for even less. That pits the 7900 XT directly against custom GeForce RTX 4070 Ti models, and the Radeon card wins that battle every time with its faster 1440p/4K performance and ample 20GB of memory. Nvidia wins on ray tracing and content creation, but for pure gaming, the Radeon RX 7900 XT delivers much more bang for your buck.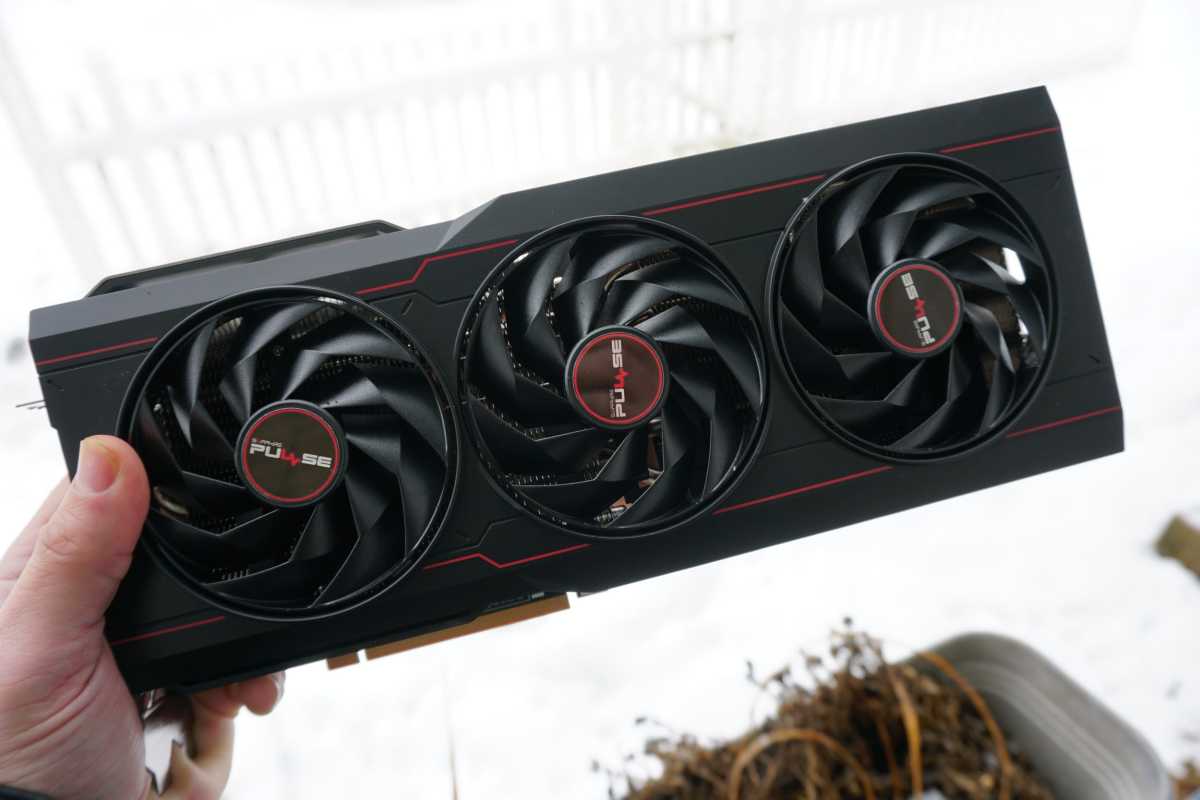 Brad Chacos/IDG
And if you're looking for a solid, straightforward Radeon RX 7900 XT that won't break the bank, strongly consider the Sapphire Pulse. The Sapphire Pulse Radeon RX 7900 XT delivers a fast, pixel-packed gaming experience at noticeably lower noise levels than the reference 7900 XT—exactly what Sapphire set out to do. Investing in Sapphire's rock-solid custom cooling for the same or less than a reference model makes it a no-brainer. It's a bit thicker in your case, sure, and you won't get extra features like RGB or dual-BIOS switches, but the Sapphire Pulse is powerful, pleasantly quiet, and comes with a welcome dual-HDMI port configuration that you won't find on most other graphics cards.
With modern graphics cards costing so much, however, you should be able to get a solid high refresh-rate 1440p and 4K/60 gaming for even less with a last-gen GPU like the Radeon RX 6800 XT, which can be found for as little as $579 these days. It's definitely slower than AMD's latest and greatest offerings but shop around if you can—while the Sapphire Pulse Radeon RX 7900 XT offers compelling value versus its direct modern competitors, in today's GPU market, last-gen is where you'll find the best deals.