At a glance
Expert's Rating
Pros
Excellent 1440p and ray tracing performance
Excellent power efficiency
Excellent Nvidia features: DLSS 3 Frame Gen, DLSS, Reflex, Broadcast, RTX Video Super Resolution, and more
DLSS 3 Frame Gen delivers transformative frame rates in compatible games
Gorgeous Founders Edition is adorably tiny
Cons
Not well-suited for long-term 4K gaming due to memory design
Poor value versus last-generation GPUs
No extra features (like RGB and dual BIOS) on Nvidia Founders Edition model
Paying $599+ for a 1440p graphics card in 2023 hurts
Our Verdict
Nvidia's $599 GeForce RTX 4070 delivers superb 1440p gaming and ray tracing performance backed by excellent features like DLSS 3 Frame Generation and Nvidia Reflex. It's less well-suited for 4K gaming due to its memory design, but the power efficiency and diminutive size of the Founders Edition impresses.
Price When Reviewed
$599
Best Prices Today: GeForce RTX 4070
Finally, Nvidia's 70-class GeForce graphics cards get more than 8GB of memory. And finally, there's a member of the RTX 40-series possibly worth buying other than the $1,600 flagship. Meet the 12GB GeForce RTX 4070. It's hitting the streets for $599 on April 13.
The GeForce RTX 4070 delivers exceptionally fast 1440p gaming performance while sipping power, a combination that let Nvidia create an adorably tiny Founders Edition version of the GPU. Those frame rates climb even higher in games that support Nvidia's DLSS upscaling technology, and astronomically higher in games embracing DLSS 3 Frame Generation—even with ray tracing flipped on. Exceptional software features like Nvidia Broadcast, Reflex, and RTX Video Super Resolution help sweeten the pot.
The RTX 4070 may be worth considering but it's not a slam-dunk recommendation. Paying $599 for a 70-class graphics card explicitly marketed for 1440p gaming deeply aches, especially when Nvidia made technical decisions that actively hurt the GPU's 4K gaming prowess. We'd also like to see 16GB of memory in a $600 graphics card in 2023. Still, while the RTX 4070 costs $100 more than its predecessor, it's nowhere near as insultingly overpriced as the $800 RTX 4070 Ti and $1,200 RTX 4080 are.
With those broad-strokes impressions out of the way, let's dig into the details.
Further reading: The best graphics cards for PC gaming
What are the GeForce RTX 4070's specs?
Nvidia's $599 GeForce RTX 4070 uses a cut-down version of the 4N "Ada Lovelace" AD104 GPU found in the RTX 4070 Ti. Here's a look at its core specifications:
Graphics Processing Clusters: 4
Texture Processing Clusters: 23
Streaming Multiprocessors: 46
CUDA Cores: 5888
Tensor Cores: 184 (4th Generation)
RT Cores: 46 (3rd Generation)
Texture Units: 184
ROP Units: 64
Base Clock: 1920MHz
Boost Clock: 2475MHz
Memory Clock: 10500MHz
Memory Data Rate: 21Gb/s
Total Video Memory: 12GB GDDR6X
Memory Interface: 192-bit
Total Memory Bandwidth: 504GB/s
Transistor Count: 35.8 billion
Connectors: 3x DisplayPort, 1x HDMI
Power Connectors: 2x PCIe 8-pin cables (adapter in box) OR 300W or greater PCIe Gen 5 cable
Power Supply Required:650W
This all represents solid advances over the technology inside last generation's $499 RTX 3070 and $599 RTX 3070 Ti, though it's a significant step back from the 4070 Ti's might—that card runs roughly 15 to 25 percent faster, depending on the game and resolution. The performance gap widens slightly at 4K resolution.
You don't really want the GeForce RTX 4070 for 4K gaming anyway—a conclusion that's supported by Nvidia's decision to market this GPU around playing games at 100 frames per second at 1440p resolution. As we discussed extensively in the RTX 4070 Ti's review, Nvidia equipped the AD104 GPU used by both 4070 cards with a surprisingly narrow 192-bit memory bus, which constrains overall memory bandwidth. The RTX 4070 comes with GDDR6X, faster memory than its predecessor, as well as a much larger L2 cache (36.8K) for keeping more tasks on the GPU itself. Both of those help boost memory performance but I wouldn't buy this card for 4K gaming—only 1440p.
By contrast, the RTX 3080—which, again, was a higher-tier card that cost $100 less than the 4070 Ti—wielded a 320-bit bus, which is typical for a high-end GPU. Even the already-pandemic-overpriced $600 RTX 3070 Ti had a 256-bit bus. You had to go all the way down to the $330 RTX 3060 to find an Nvidia GPU with a 192-bit bus last generation.

From PCWorld's RTX 4070 Ti review
That goes doubly so given its 12GB memory capacity—a very welcome upgrade over the 8GB that Nvidia's 70-class remained stuck on since the GTX 1070's launch in 2016. That said, with games gobbling ever-increasing amounts of VRAM now that the latest console generation (and 16GB of shared memory) are the standard, I'd be nervous about buying a graphics card for 4K gaming with less than 16GB of memory. The RTX 4070's 12GB should be fine for most games at 1440p, though note that flipping on ray-tracing effects eats heavily into VRAM as well.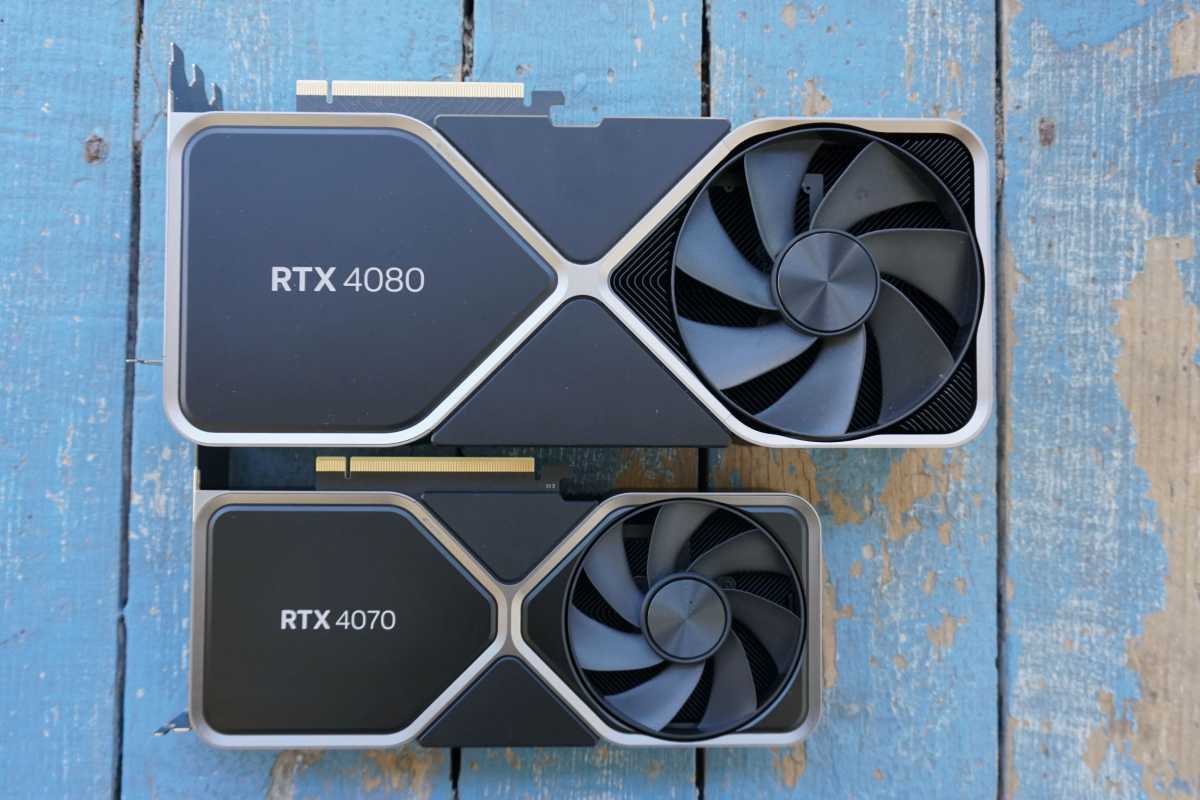 Brad Chacos/IDG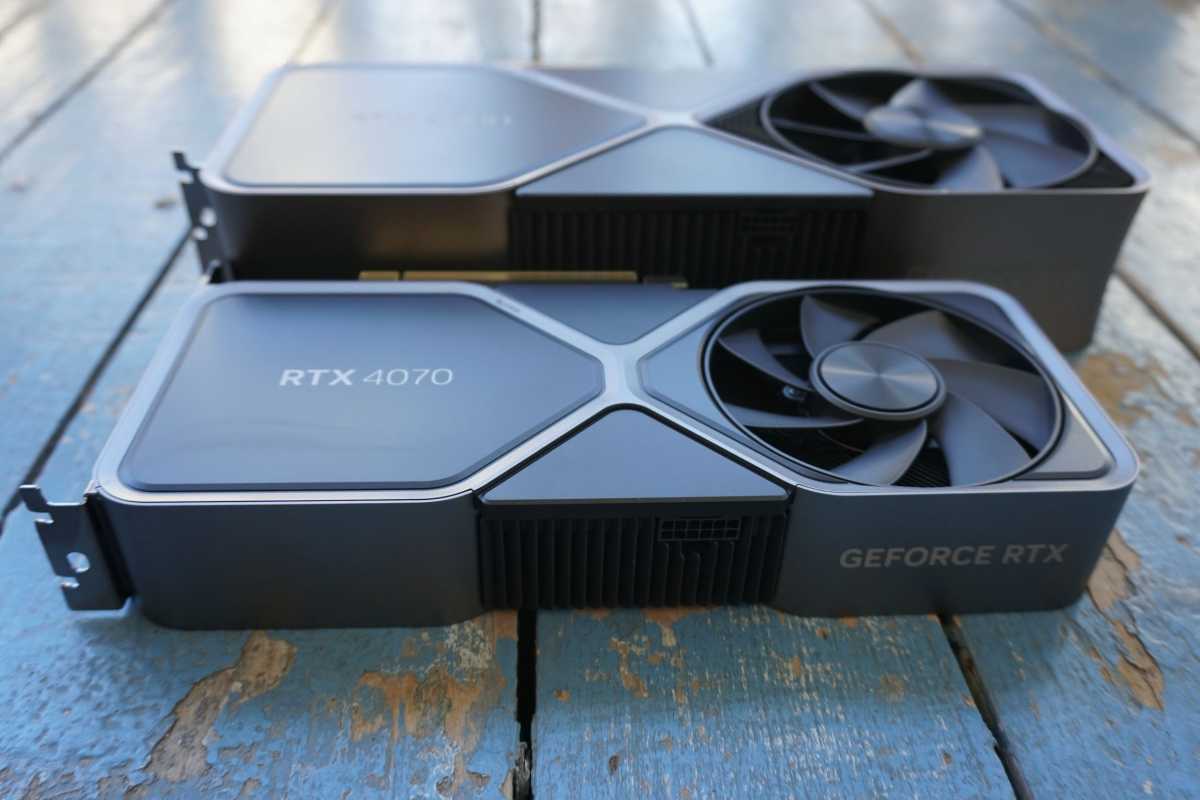 Brad Chacos/IDG
This is a tremendously energy-efficient graphics card, which let Nvidia craft a smaller, totally adorable dual-slot version of its Founders Edition board. Nvidia's fantastic-looking FE designs treat almost every part of the card as a heatsink and utilize unorthodox flow-through fan cooling. That all holds true with the RTX 4070 FE—it's just so much smaller than its triple-slot siblings. This beast will be popular in high-end small form-factor gaming builds.
Nvidia equipped the RTX 4070 Founders Edition with a single HDMI 2.1 port as well as three DisplayPort 1.4a connections. It also uses the new 16-pin 12VHPWR connector despite its relatively modest power demands—you only need a 650W supply—so be prepared to look at the unsightly too-short adapter plugs in your case if you don't want to invest in a new ATX 3.0 power supply (or at least custom 12VHPWR cords). FE cards don't include extra features like dual-BIOS switches or customizable RGB lighting.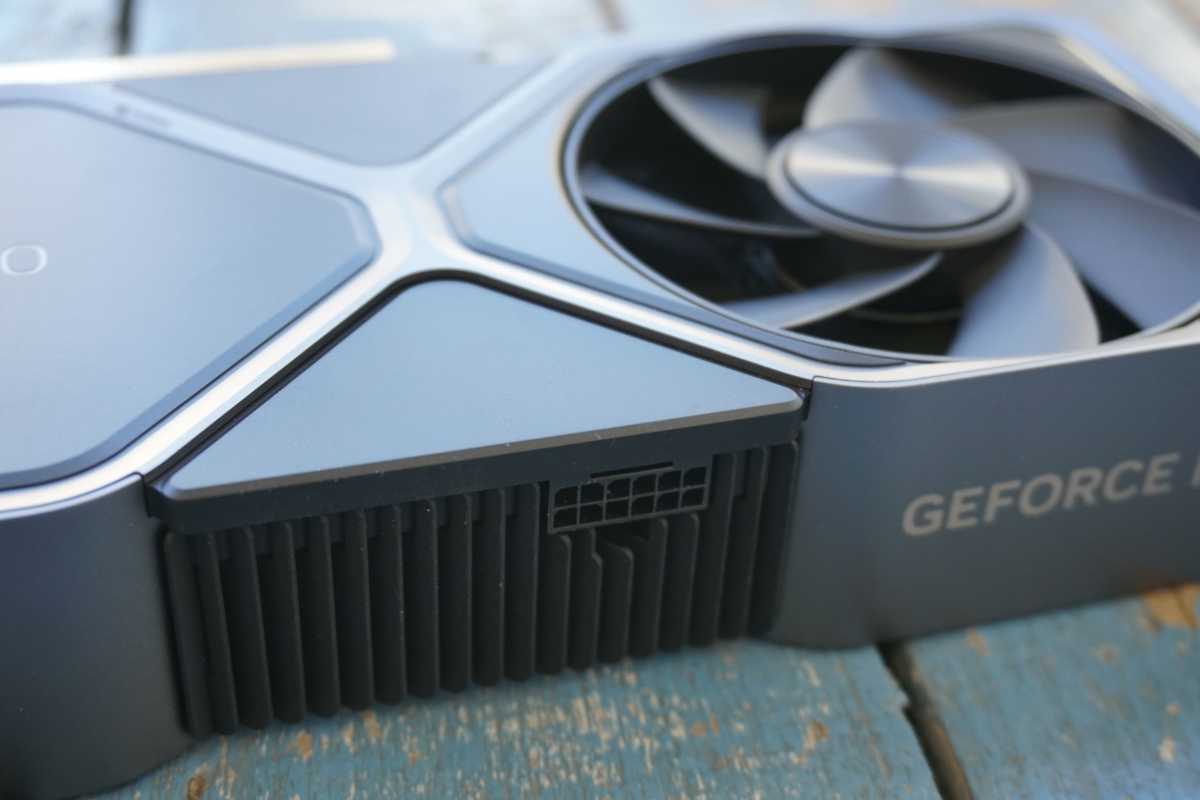 Brad Chacos/IDG
As an RTX 40-series "Ada Lovelace" graphics card, the GeForce RTX 4070 also supports Nvidia's staggering arsenal of features, including DLSS, DLSS 3 Frame Generation, Nvidia Broadcast, RTX Video Super Resolution, superb ray-tracing prowess, Nvidia Reflex, and more. Nvidia's software stack is a major feather in its cap. It's worth noting that while the RTX 4070 supports AV1 encoding, new to GeForce this generation, product manager Justin Walker told me the 4070 only includes a single AV1 encoder rather than the pair found in higher-priced RTX 40-series offerings.
Got it? Good. Let's get to the benchmarks.
Our test system
We test graphics cards on an AMD Ryzen 5900X PC used exclusively for benchmarking GPUs. We now test with PCIe Resizable BAR (also known as Smart Access Memory on Ryzen systems) active, as most modern gaming PCs released in the last four years support the performance-boosting feature, either natively or via a motherboard firmware update. Nvidia also recommends turning on the optional "Hardware-accelerated GPU scheduling" option in Windows to let the RTX 40-series stretch its legs to the fullest, so we've made that tweak as well. Most of the hardware was provided by the manufacturers, but we purchased the storage ourselves.
We test a variety of games spanning various engines, genres, vendor sponsorships (Nvidia, AMD, and Intel), and graphics APIs (DirectX 9, 11, DX12, and Vulkan), to try to represent a full range of performance potential. Each game is tested using its in-game benchmark, sanity checked by Nvidia's FrameView tool, at the highest possible graphics presets unless otherwise noted, with VSync, frame rate caps, real-time ray tracing or DLSS effects, and FreeSync/G-Sync disabled, along with any other vendor-specific technologies like FidelityFX tools or Nvidia Reflex. We've also enabled temporal anti-aliasing (TAA) to push these cards to their limits.
We run each benchmark at least three times and list the average result for each test. Outside of esports, we've limited our benchmarks to 4K and 1440p resolutions, as those are the natural fits for these juggernaut GPUs (despite the 4070 Ti's paltry bus width). We test features like ray tracing and DLSS in a separate section, as upscaling features like DLSS and AMD's rival FSR tweak the look of games to help them run faster.  
We're going to show these benchmarks without individual game commentary. In addition to paying attention to how the RTX 4070 performs in relation to the 4070 Ti, 3080, and 3070, also note how it compares against AMD's Radeon RX 6800 XT and 6900 XT—two last-generation models that are faster and more memory-packed than Nvidia's new offering, and can often be found for less on the street. Nvidia's GPUs womp in ray tracing and extra features, though they lag behind Radeon in raw esports frame rates.
How fast is the GeForce RTX 4070?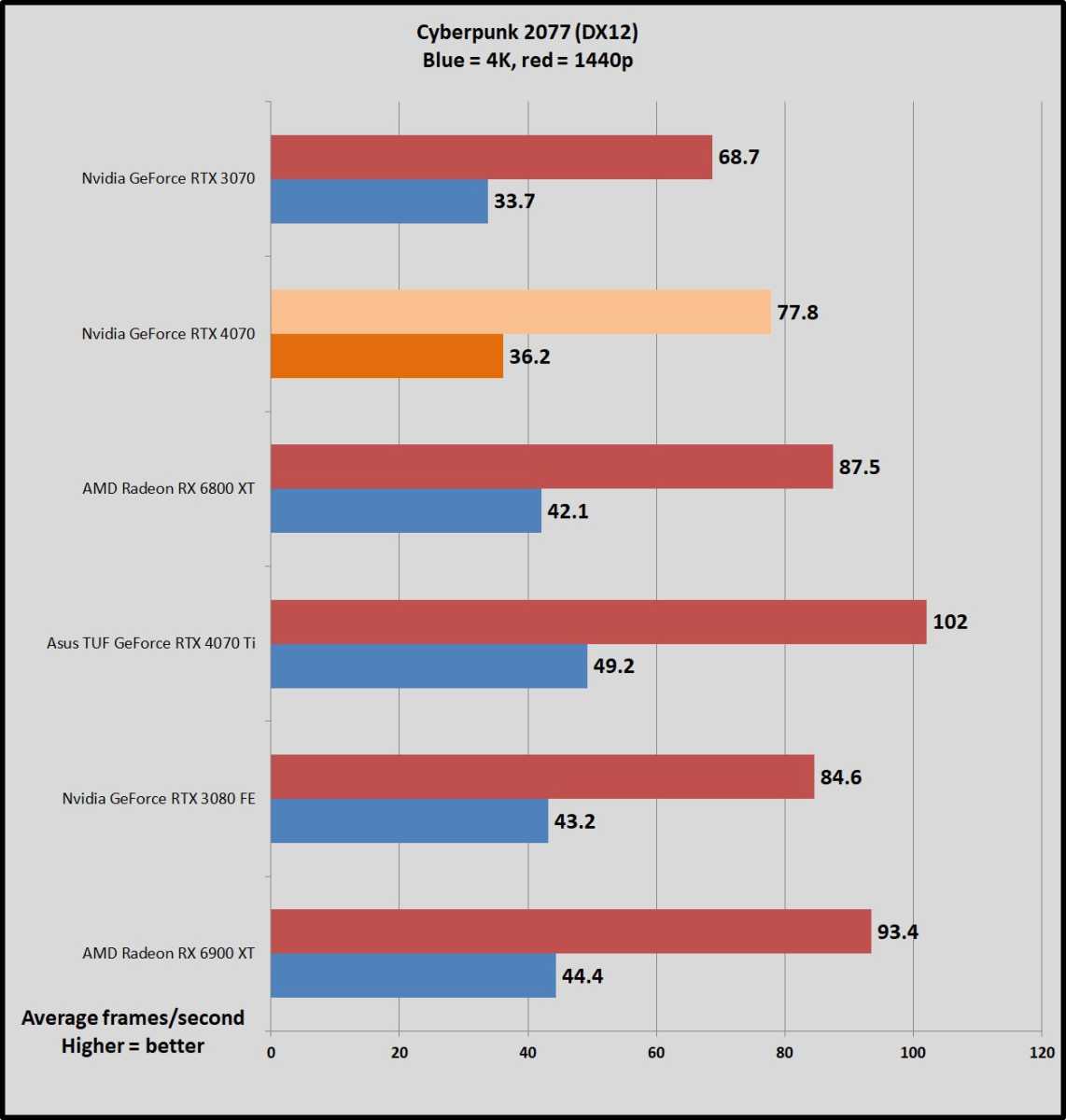 Brad Chacos/IDG
Brad Chacos/IDG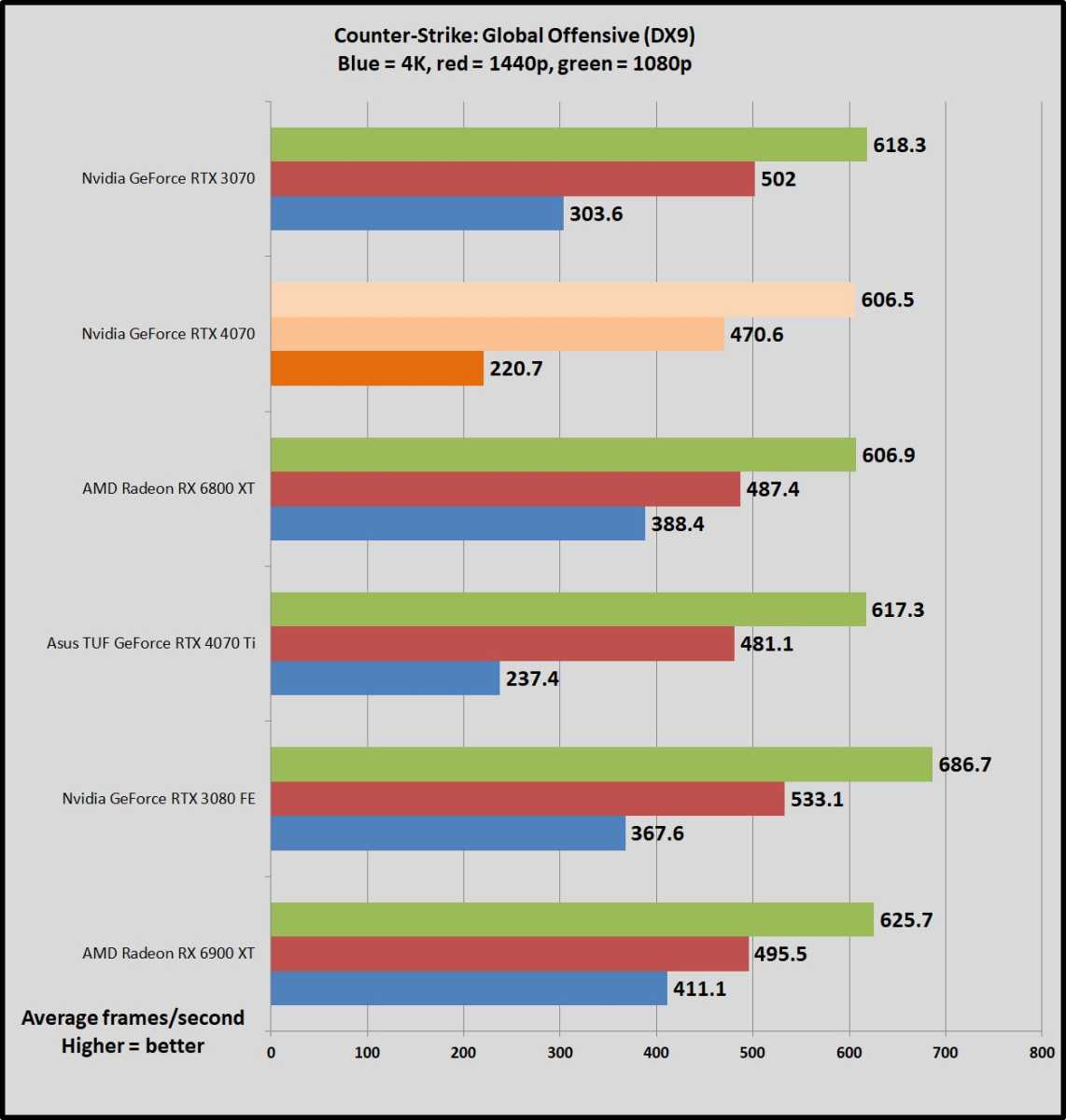 Brad Chacos/IDG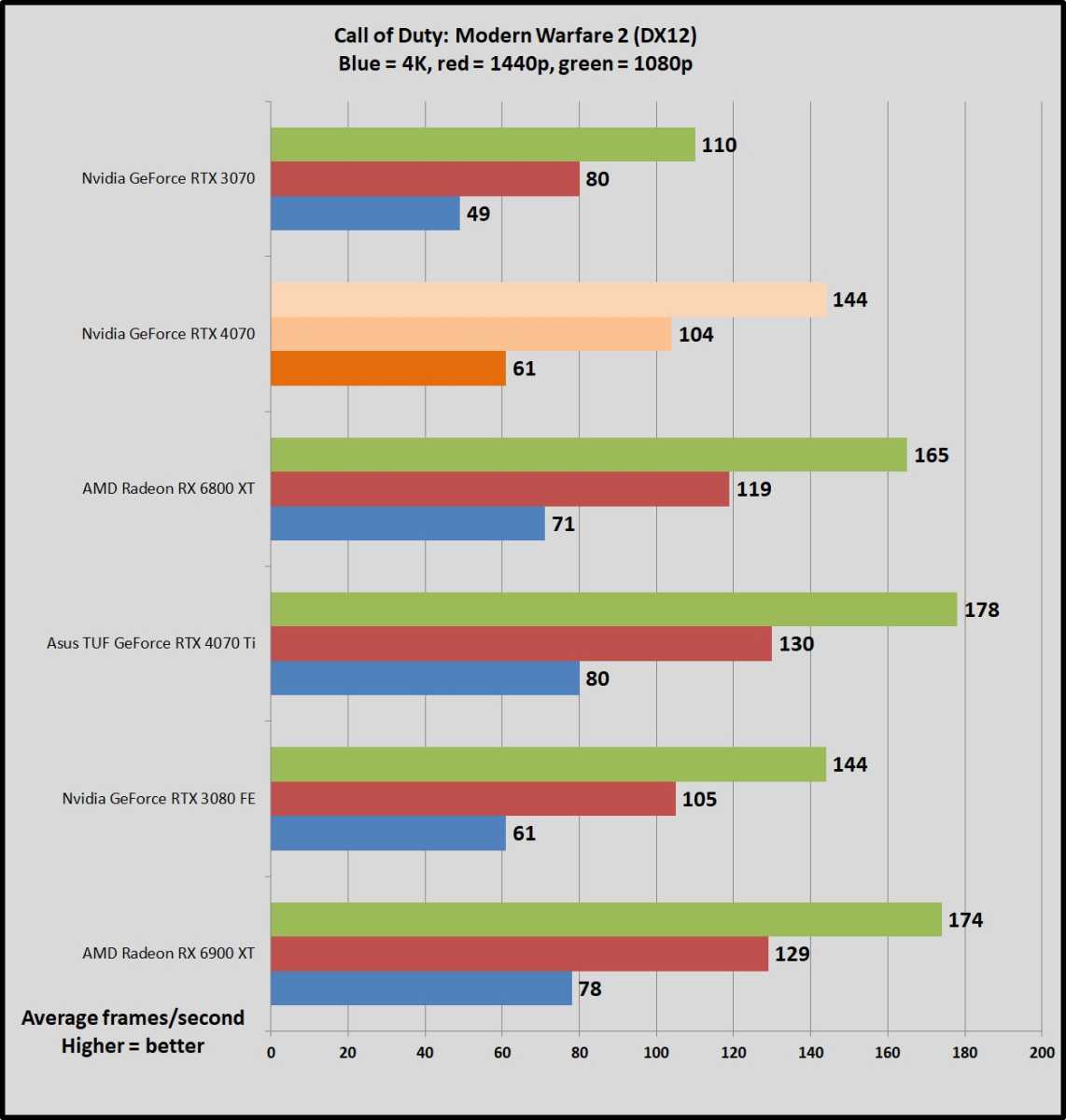 Brad Chacos/IDG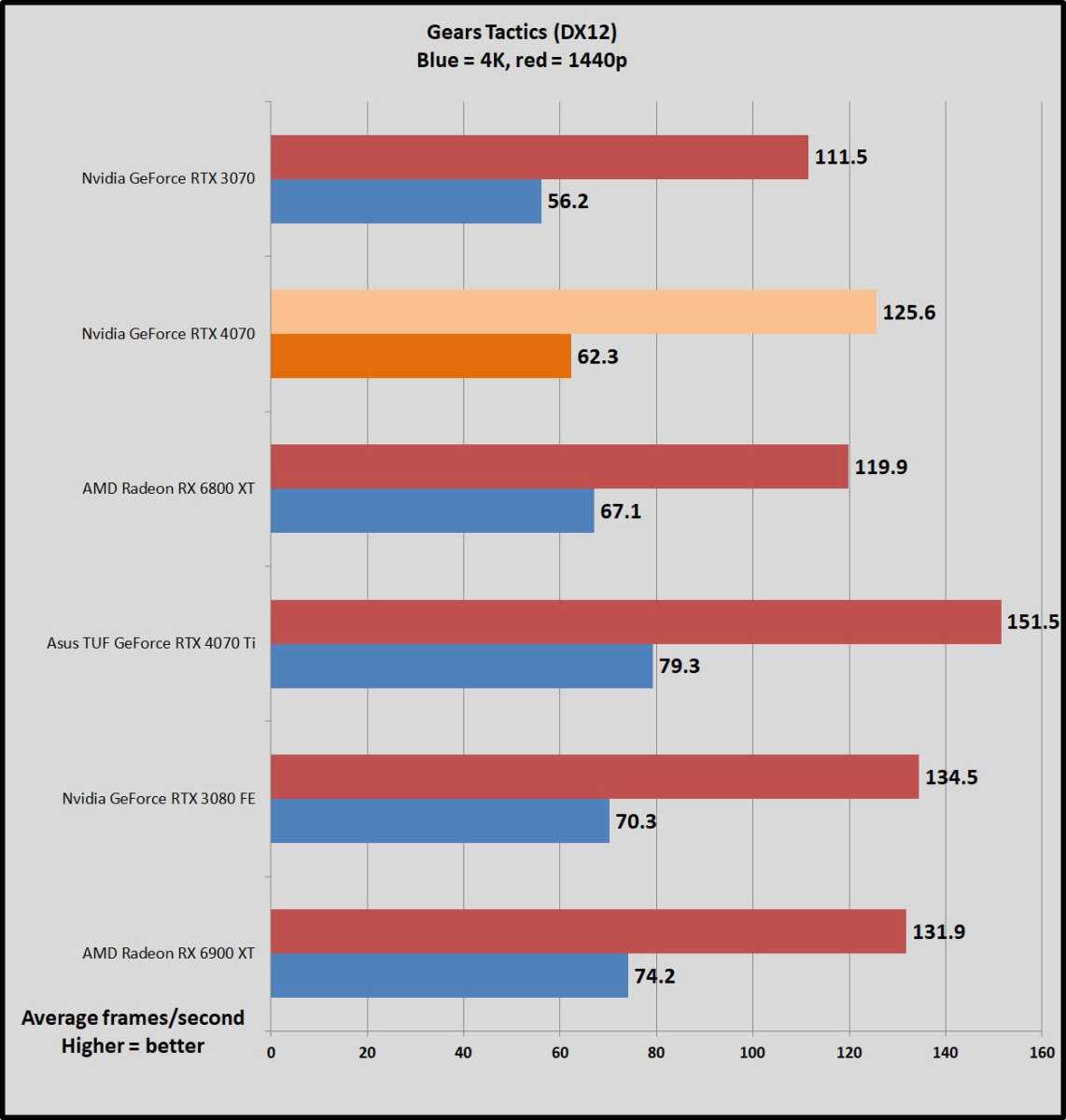 Brad Chacos/IDG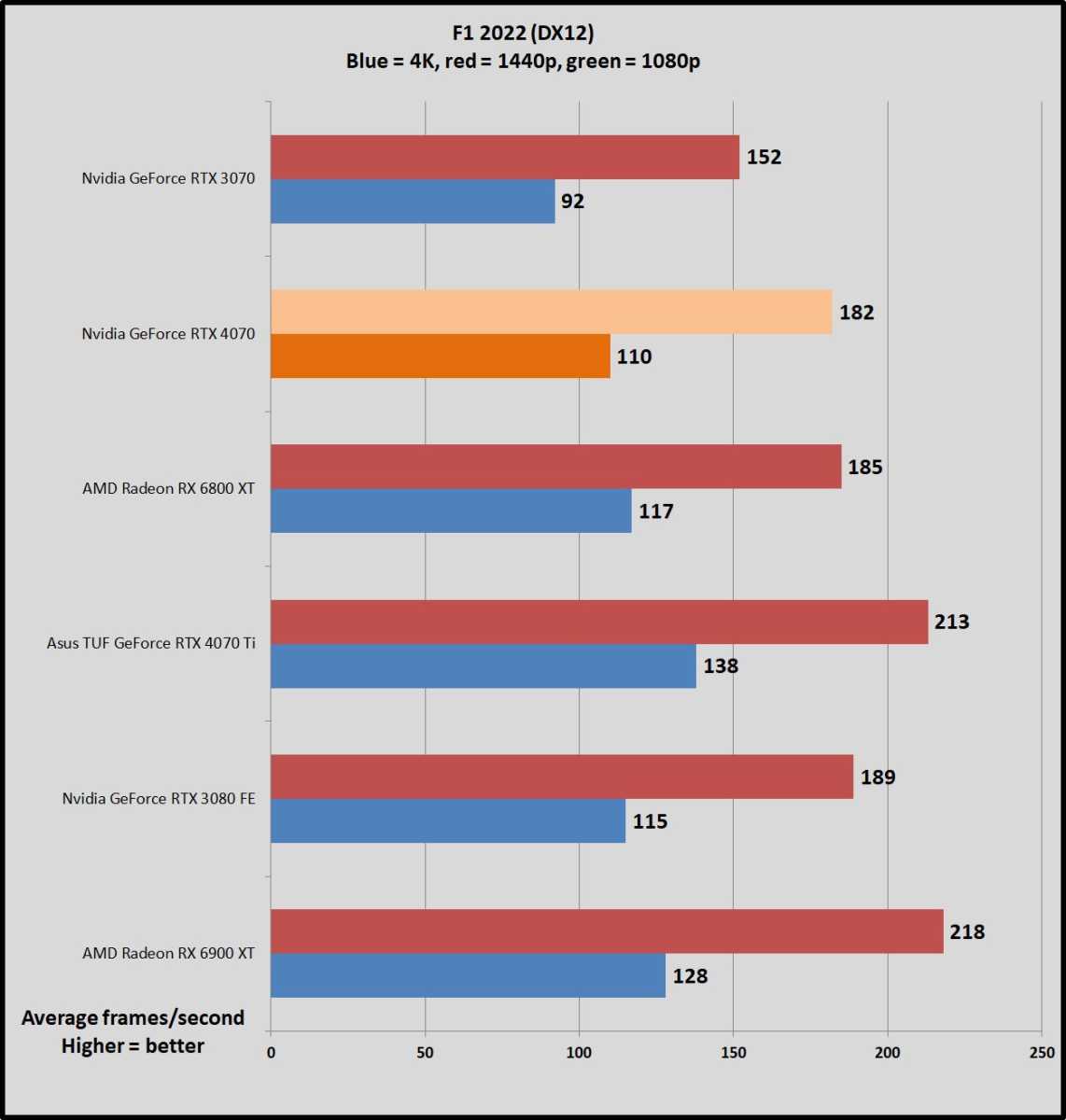 Brad Chacos/IDG
Brad Chacos/IDG
Brad Chacos/IDG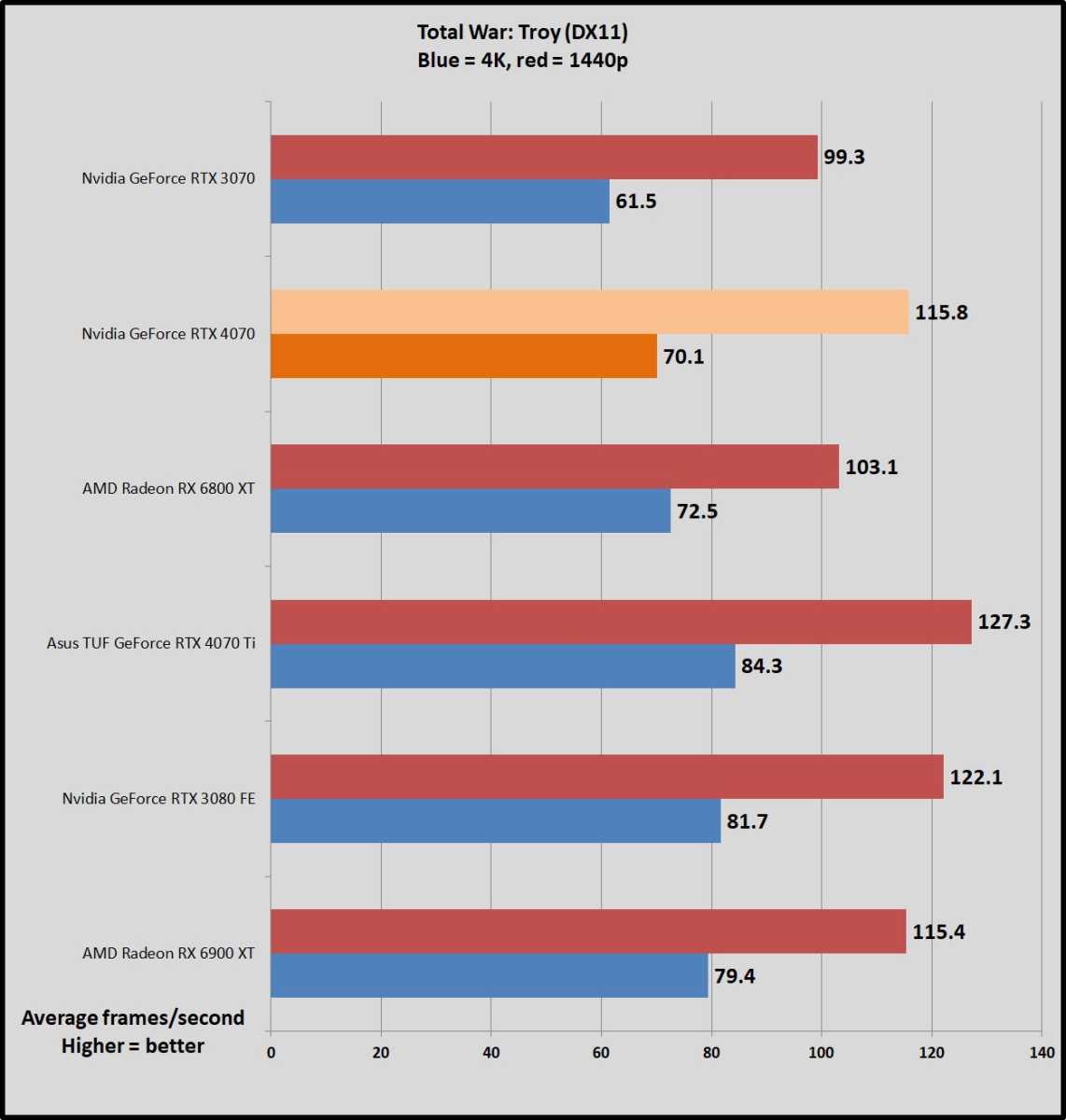 Brad Chacos/IDG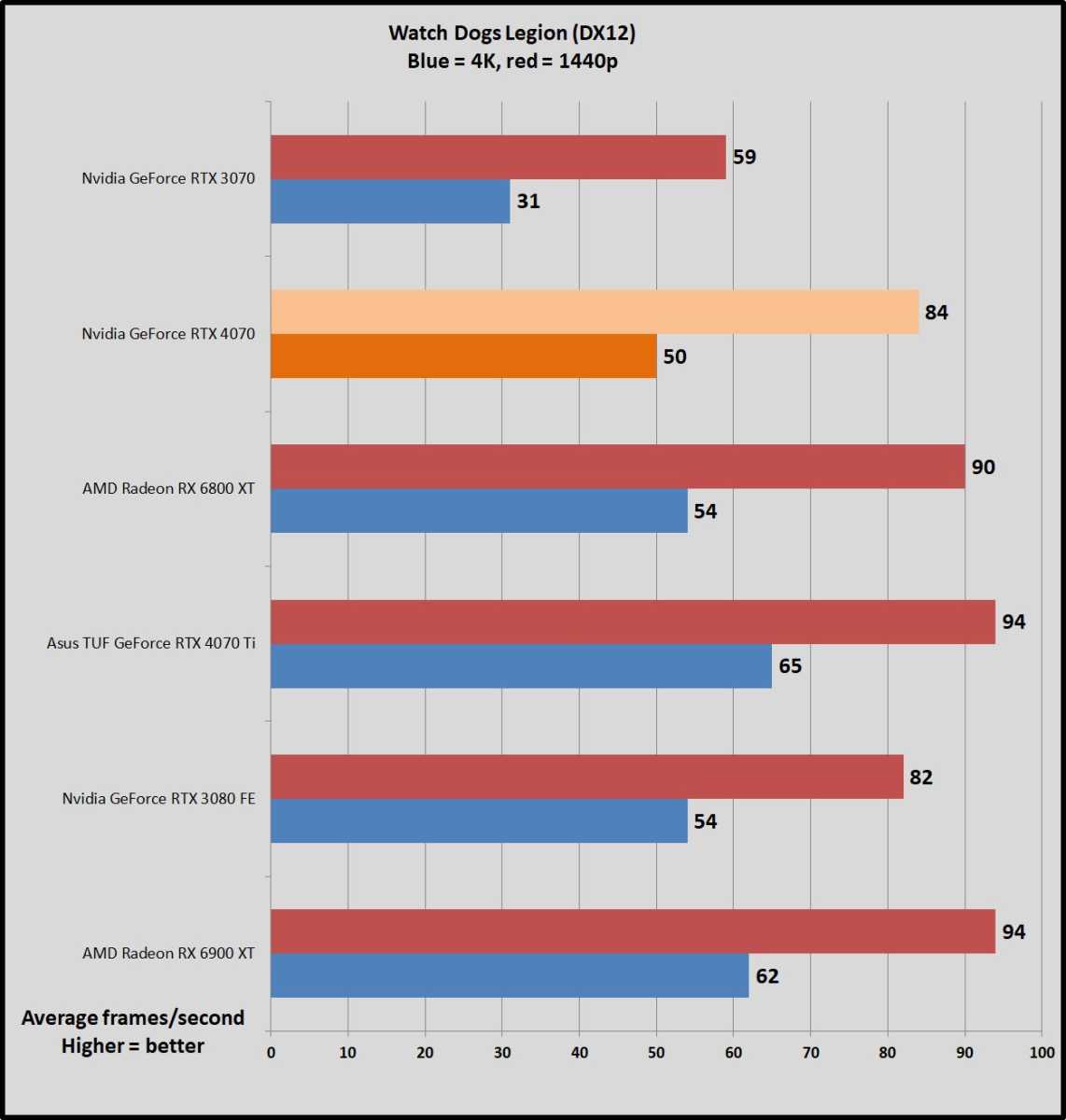 Brad Chacos/IDG
How is the RTX 4070's ray tracing and DLSS performance?
In addition to traditional gaming tests, we separately benchmark how graphics cards perform with ray tracing enabled at the highest possible settings (though we stick to Ultra, not Psycho, in Cyberpunk 2077).
Since ray tracing tanks frame rates, we also test how Nvidia and AMD's DLSS and FSR upscaling technologies, respectively, manage to claw back performance using their Balanced quality presets, which straddle the line between optimizing for better image quality and faster frame rates. We've also chosen benchmarks that show how Nvidia's new DLSS 3 Frame Generation can supercharge frame rates and visual smoothness even further by inserting AI-generated frames between every GPU-rendered frame. Nvidia says DLSS 3 is being adopted 7x faster than DLSS 2 was and it can deliver truly transformative visual smoothness in games that support it, but it's only available for new RTX 40-series offerings.
Note that DLSS and FSR both work by rendering a frame at a lower resolution, then scaling it to fit your screen using software smarts. They also have several different quality presets available. Comparing DLSS vs. FSR in raw frame rate isn't as apples-to-apples as comparing native gaming performance, in other words, but still worth examining as they're features most gamers will use in the real world. That warning goes doubly so for DLSS 3's radical AI frame generation, which can sometimes generate artifacts and other slight inconsistencies, as Hardware Unboxed's excellent video above shows.
The charts below show native 1440p performance; native 1440p with ray tracing ultra active; upscaled DLSS/FSR Balanced mode performance with ray tracing ultra active; and, for RTX 40-series GPUs only, DLSS 3 Frame Gen performance with ray tracing ultra active. You can also activate DLSS/FSR or DLSS 3 without ray tracing active for even faster frame rates but we only tested that scenario in Red Dead Redemption 2 because there are only so many hours in the day, y'all.
Brad Chacos/IDG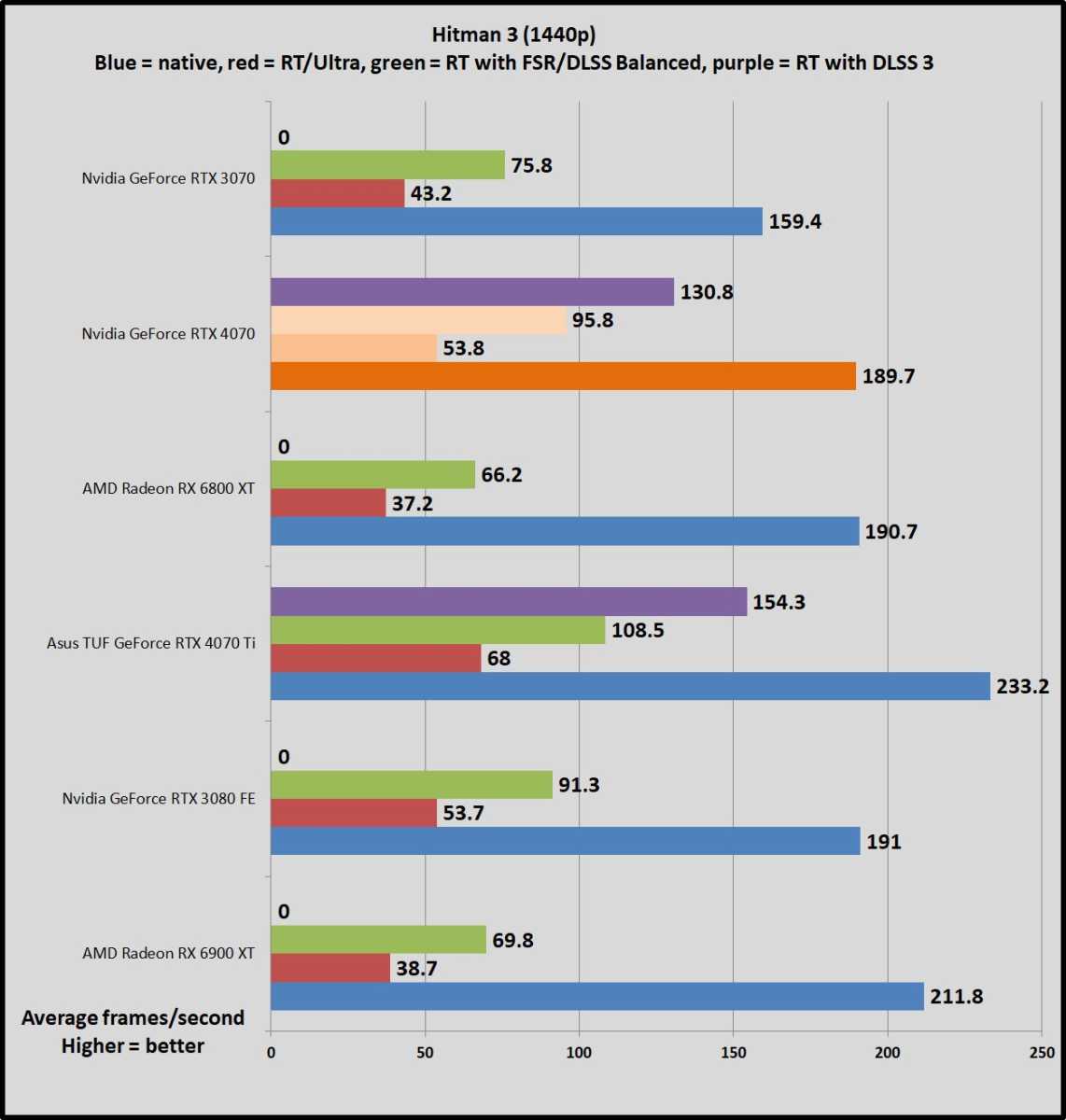 Brad Chacos/IDG
Brad Chacos/IDG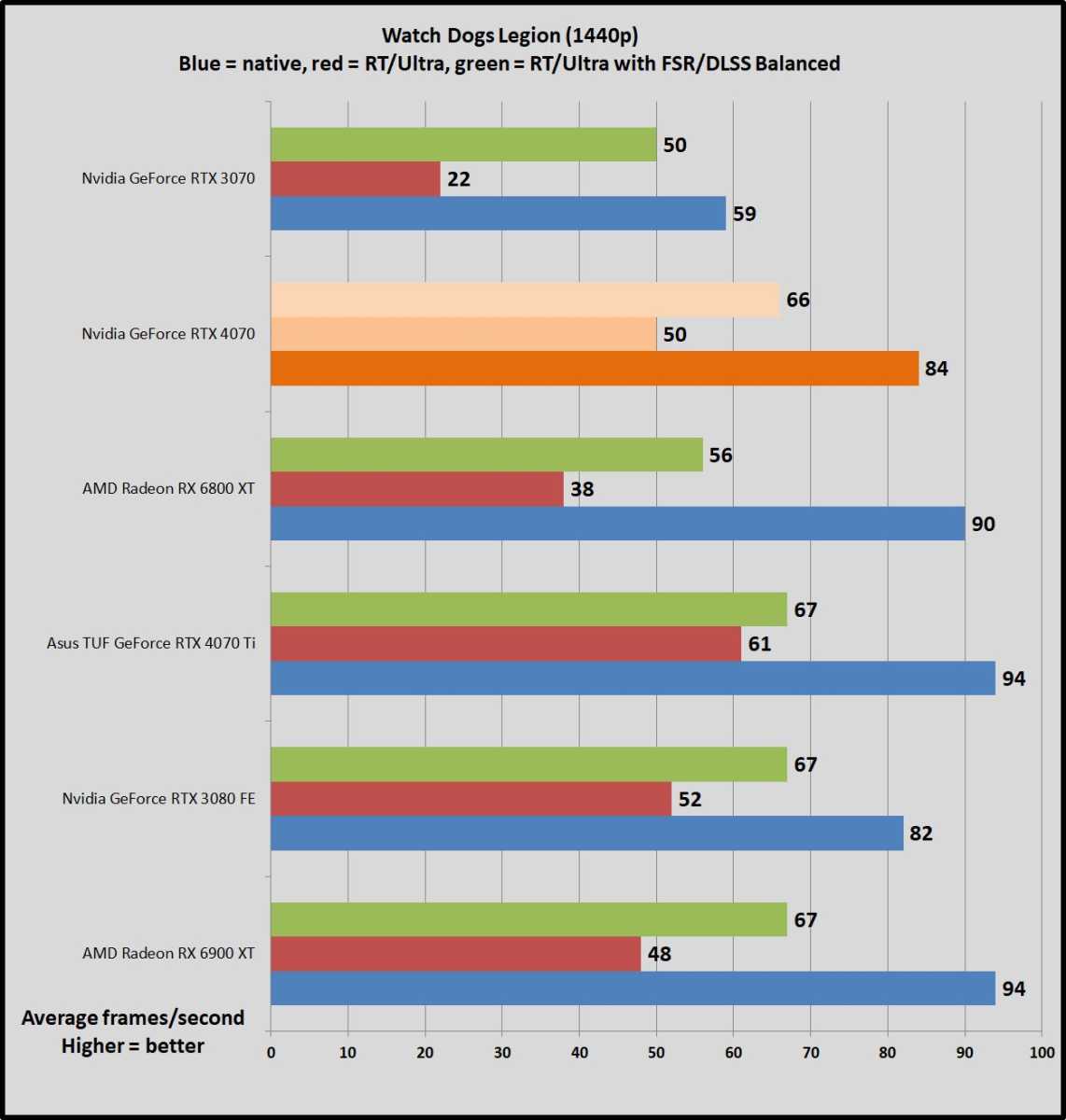 Brad Chacos/IDG
Brad Chacos/IDG
Is the GeForce RTX 4070 power efficient?
We test power draw by looping the F1 22 benchmark at 4K for about 20 minutes after we've benchmarked everything else (to warm up the GPU) and noting the highest reading on our Watts Up Pro meter, which measures the power consumption of our entire test system. The initial part of the race, where all competing cars are onscreen simultaneously, tends to be the most demanding portion. 
This isn't a worst-case test; this is a GPU-bound game running at a GPU-bound resolution to gauge performance when the graphics card is sweating hard. If you're playing a game that also hammers the CPU, you could see higher overall system power draws. Consider yourself warned.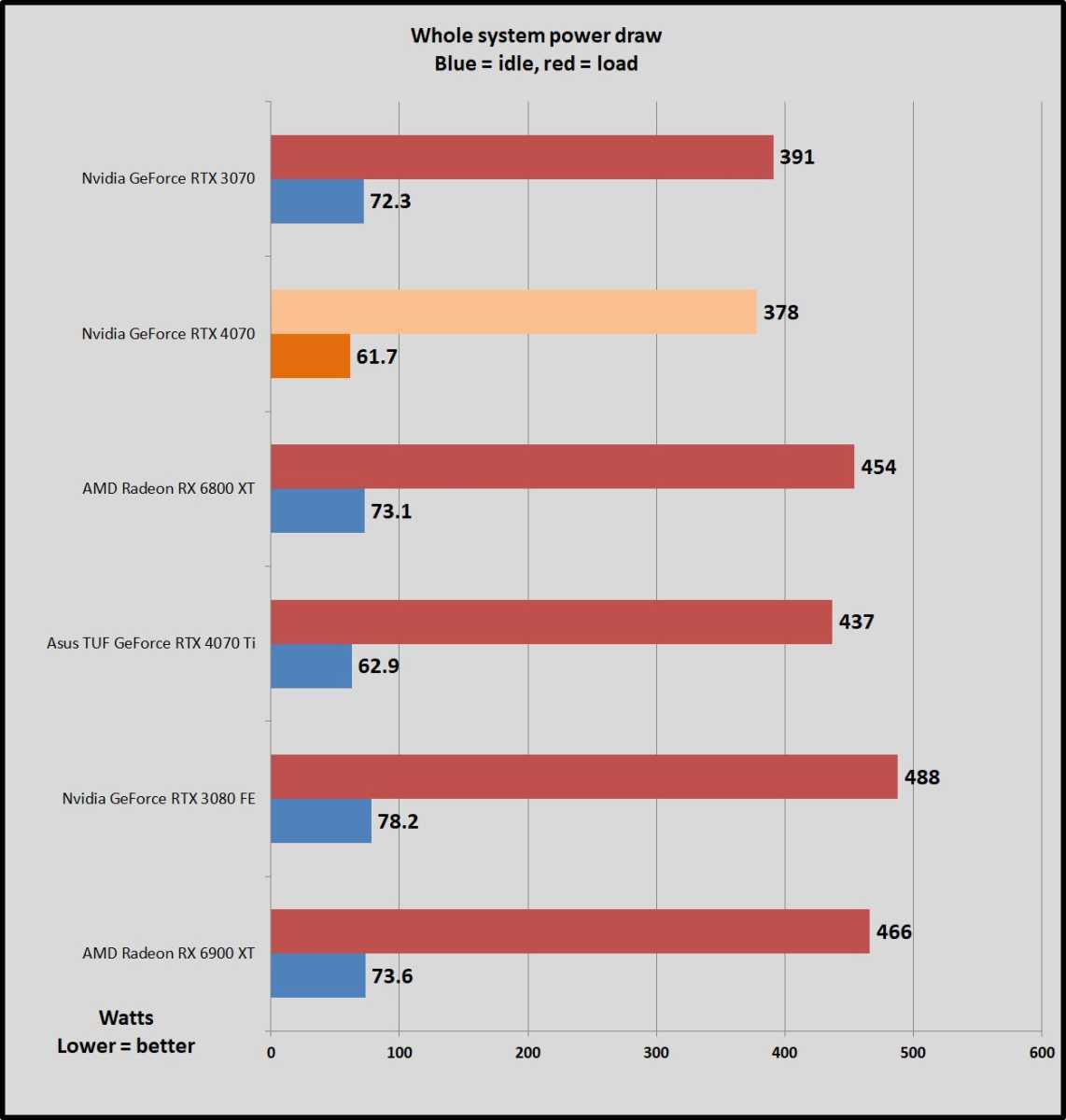 Brad Chacos/IDG
Despite flinging out fantastic frame rates, the GeForce RTX 4070 absolutely sips power. No complaints, just admiration.
We test thermals by leaving GPU-Z open during the F1 22 power draw test, noting the highest maximum temperature at the end.
That supreme power efficiency let Nvidia craft an adorably tiny Founders Edition model. It isn't the coolest or the quietest GPU around, and custom models will no doubt reach loftier numbers (albeit in much larger packages), but it's still plenty cool and plenty quiet. Again, no complaints.
Should you buy the GeForce RTX 4070?
It depends on what you want in a graphics card, and what you're willing to spend on it.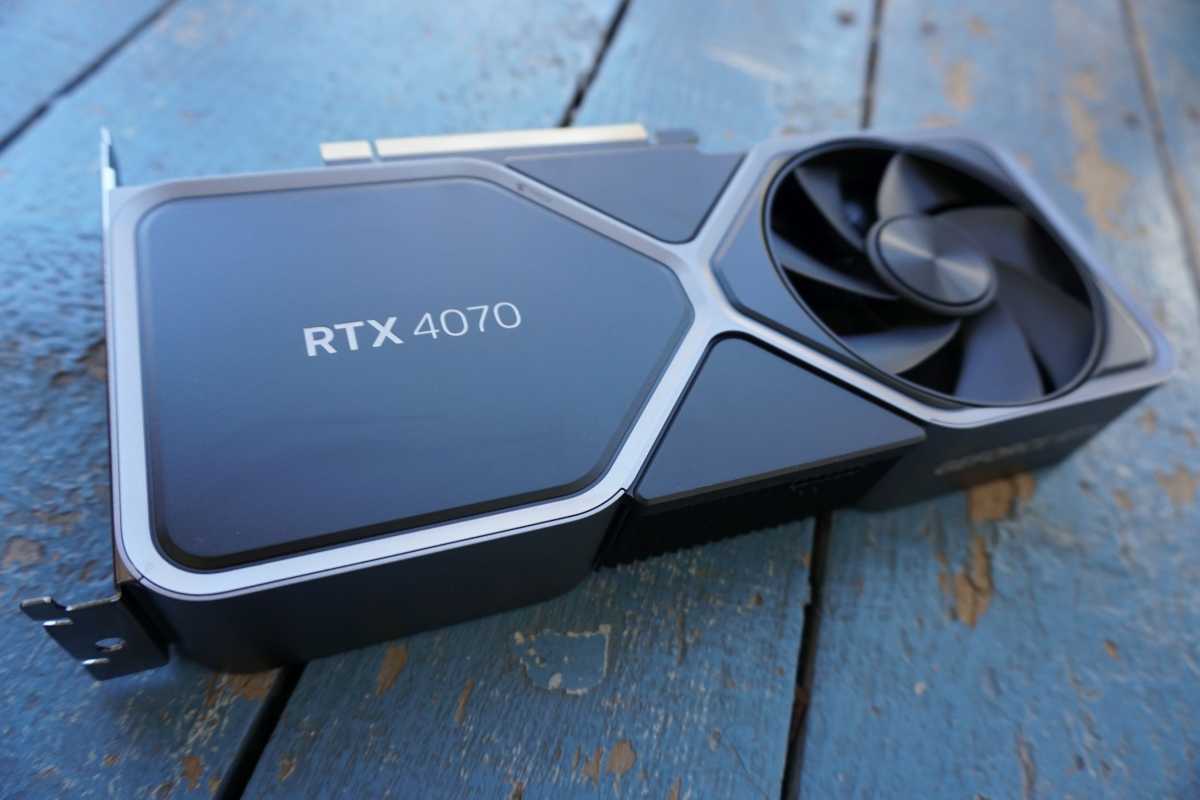 Brad Chacos/IDG
The GeForce RTX 4070 delivers exceptional 1440p gaming performance in even the most strenuous games, with best-in-class ray tracing performance if you want to turn those cutting-edge lighting features on. Nvidia's killer software stack enhances every aspect of the GPU, from creation to streaming to gaming, with features like Nvidia Reflex, Broadcast, RTX Video Super Resolution, and DLSS 3 Frame Generation truly improving your day-to-day experience. If you found yourself nodding along to our defense of the 4070 Ti by a 1440p gamer, you're the prime audience for the $200-cheaper RTX 4070.
The RTX 4070 also supports AV1 encoding, unlike previous-gen GPUs, while its incredible power efficiency let Nvidia make its Founders Edition model nice and tiny. It'll fit into most any system.  
It's not a slam dunk though. Nvidia's decision to equip the RTX 4070 with a 192-bit bus and 12GB of memory prevent us from being able to recommend it for long-term 4K gaming, especially with memory requirements only rising in modern games. (We applaud the bump in memory from 8GB to 12GB, but $600 graphics cards really should have 16GB or more in 2023.)
If you want a 4K graphics card around this price range, complete with more memory, consider AMD's last-generation Radeon RX 6800 XT or 6900 XT instead (or the 6850 XT and 6950 XT variants). Both come with 16GB of VRAM, wide memory buses, and run as fast or faster than the RTX 4070, especially at 4K resolution. Radeon GPUs also excel at esports frame rates. The 6950 XT can be found for as little as $650 these days, while the 6800 XT can be found around $570. Alternatively, the new Radeon RX 7900 XT is a potential consideration at $850. You give up AV1 encoding, DLSS, and Nvidia's excellent ray tracing chops and extra features, however. Avoid the $800 4070 Ti for 4K gaming.
You're giving up something with either side these days. It remains a fairly bleak time for $500-plus graphics cards.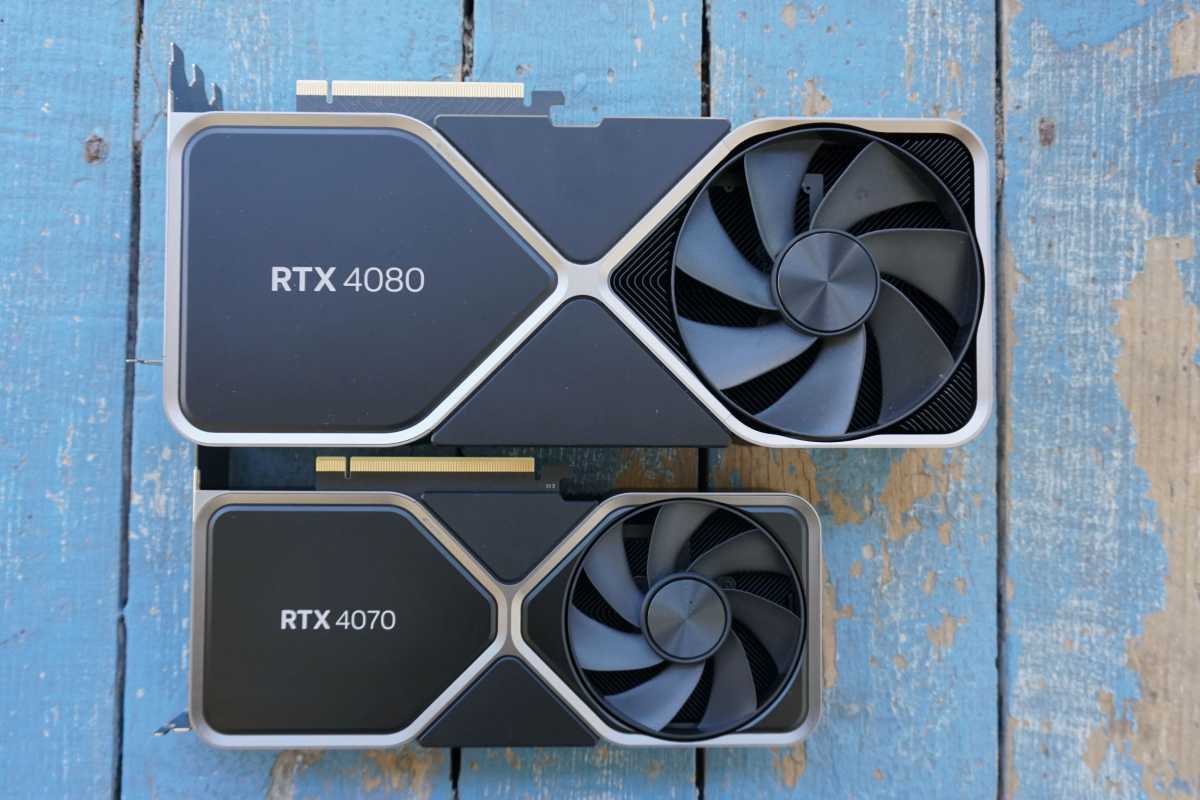 Brad Chacos/IDG
As I said right up top, the $599 GeForce RTX 4070 is the only current Nvidia 40-series graphics card potentially worth your money aside from the flagship RTX 4090. That's because Nvidia didn't jack its price as painfully as the $800 RTX 4070 Ti and $1,200 RTX 4080, not because it's a good value. The $599 RTX 4070 is $100 more than its predecessor, and $100 less than the RTX 3080. In most games, the RTX 3080 trades blow or is a handful of frames faster than the RTX 4070. Sure, the RTX 4070's power efficiency and DLSS 3 Frame Gen features are deeply impressive indeed, but in raw gaming performance, Nvidia's 40-series continues to offer stagnant gen-on-gen value, 2.5 years after the 30-series launched. Not every game will support features like DLSS or FSR.
Buy the GeForce RTX 4070 if you want a reasonably sized, highly efficient 1440p gaming beast, complete with access to all the latest and greatest Nvidia software features—and if you're willing to spend $600 on a graphics card like that. Avoid it for long-term 4K usage, and comparison shop before you buy as last-gen graphics cards may offer better value.