At a glance
Expert's Rating
Pros
File-level and image backup
Online storage and backup
Can back up to Microsoft VHD/VHDX virtual hard drive images
Quick copy function
Cons
No sync options
No support for third-party online storage services
Super-expensive online storage
Some glitches in backups
Our Verdict
While effective and reliable for both local and cloud backup, the cost of online storage beyond 5GB is prohibitively expensive for most end-users. Better suited for business.
Price When Reviewed
49.95 per year
Best Prices Today: NovaBackup
NovaBackup efficiently combines file backup, drive imaging, and online storage into one convenient package. It even offers continual data protection as granular as every minute. However, once you go beyond the "free" 5GB limit, online storage gets expensive in a hurry.
See our roundups of the best Windows backup and best cloud backup services to learn about competing products.
NovaBackup features and interface
The NovaBackup interface is efficient and well laid out, if a bit old-school in appearance. I do wish that imaging didn't require launching a separate module, but that's being picky. On the other hand, I love that NovaBackup supports creating Microsoft VHD and VHDX images. These formats can be opened and browsed using only Windows itself should you ever not have NovaBackup handy.
On the other hand, they lack some features available if you use NovaBackup's own proprietary image format, such as incremental (all changes since the last backup) and differential (all changes since the original backup), and compressed images to save space. In general, I tend to use imaging for complete (full) backups and file/folder backup for incremental changes—but people's tastes will vary.
As mentioned, NovaBackup supports both file/folder-level backup to container files as well as imaging of drives and partitions. It also has a handy plain-file (no container file is created) Copy function if all you want to do is quickly duplicate some data to another location.
If you utilize NovaBackup's online storage, you can select that as a destination, though you can't select both local and online targets for the same job. In that case, as with many programs, you simply duplicate the job and choose a different destination.
NovaBackup has far more options than the average user needs, showing its current IT bent. The short list includes: extremely precise filtering of files (wild cards, attributes, date, etc.), log printing and email notifications, blowfish and various levels of AES encryption, network credentials, as well as before and after run commands.
There's also scheduling with the ability to run the backup as any user. You may also set a maximum run time for a job so it won't compete with other tasks, though that's not likely an option the average user will need.
NovaBackup will also create a boot disc for disaster recovery, should that dire circumstance bite you. This is a much more straightforward process than it was last year when I first tested NovaBackup PC and you were required to visit Microsoft to download additional files. Now no such visit is required.
Note that NovaBackup doesn't give you the option of where to save the boot disc if you choose to create an ISO, instead burying it in its section of the ProgramData folder. Tip: Copy the location shown in the text field after creation, paste it into Windows Explorer, and copy the ISO image to a more common location.
How much does NovaBackup cost?
The pricing you see in the first image below seems fairly reasonable. However, 5GB is what you get for free from services such as Dropbox, Google, and Sync.com. Above 5GB, things get pricey in a hurry.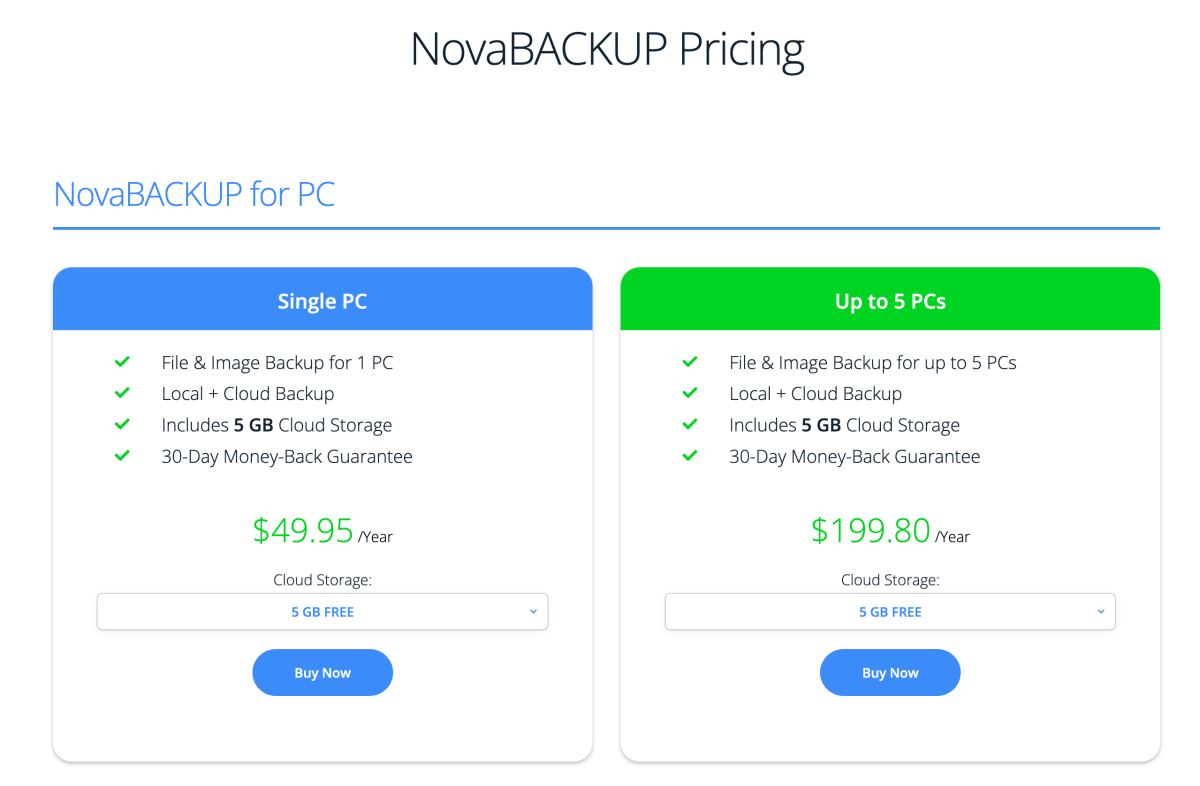 That is indeed our main issue with NovaBackup from a home-user/consumer perspective: 50GB of space is $99.95, 100GB is $169.95, 250GB is $349.95, 500GB is $649.95, and 1TB is a whopping $1,249.95 yearly. By way of comparison, Microsoft's OneDrive costs me $70 for 1TB per year and I get a full version of Microsoft Office to boot.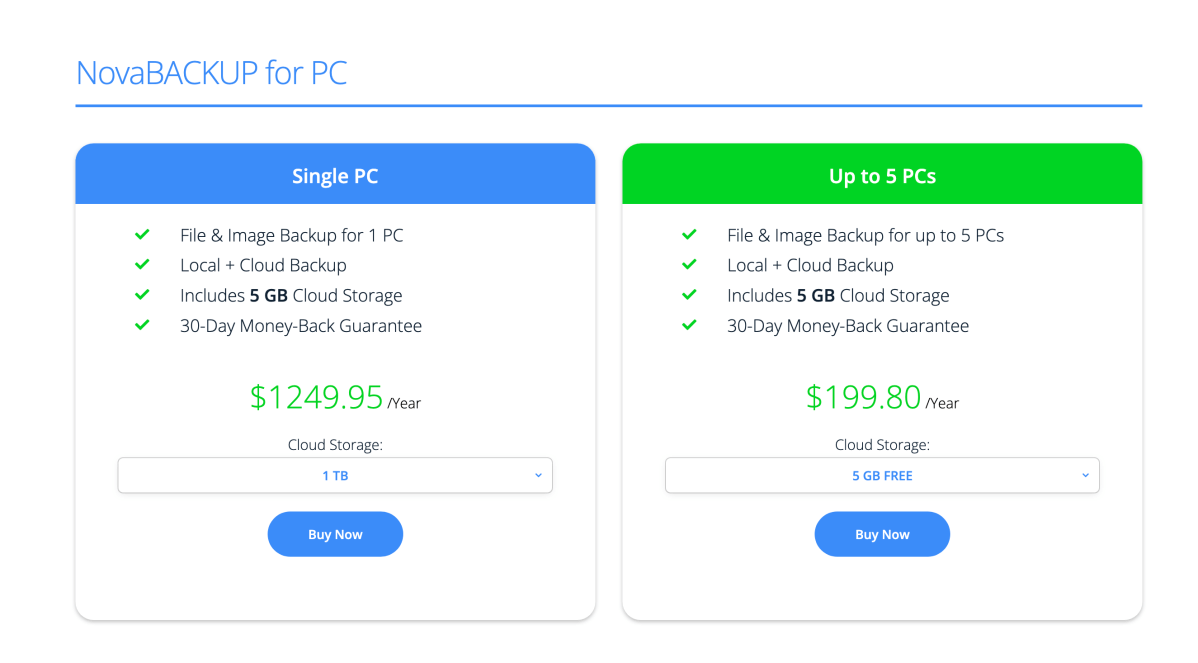 NovaBackup performance
I have had some issues with NovaBackup in the past. When I first looked at it a few months ago, image backups continually failed about 95 percent into the process. NovaStor sent me a beta that apparently corrected that issue.
Note also that I was informed there are several other backup programs that NovaBackup doesn't coexist with politely—Paragon Backup & Recovery being one, and as I later found out, Arcsoft's ShadowProtect SPX. Not many users will have multiple backup programs with background threads or schedulers running, but if you're in this minority, skip NovaBackup.
Fortunately, this latest iteration of NovaBackup PC was fast and largely reliable. I did get one file-system read error during a backup, but hitting Continue allowed the operation to complete. Both local and online file backups were fast and smooth, as was the plain-file copy function.
If you've read my other backup software reviews, you know I'm a big believer in glitch-free interfaces and performance. Such impenatribility gives you that peace of mind, that yes, the programmers are on the ball and your backup will actually restore properly if and when that's required. I can't say that NovaBackup PC currently gives me that 100 percent bulletproof feeling. It may well be, but…
On the other hand, NovaBackup PC's improvement from last year give me the feeling that programmers are diligently working to soon provide that super-secure feeling.
Should you use NovaBackup?
NovaBackup 2023 seems like a good solution for IT or small businesses that want integrated/bundled online storage. But home users who want to combine local and cloud backup have far cheaper and more capacious options such as OneDrive, Google Drive, iDrive, Sync.com, and others. Explore those.