AI text generation is the hot ticket right now, and Newegg is ready to jump on the bandwagon. In addition to using the popular ChatGPT program for generating website text like product descriptions and customer service chat, the PC-focused web store is integrating the AI system into its PC Builder tool, which first went live last year. Predictably, the tool was already suggesting builds for gaming desktops that were kind of ridiculous. The AI version of the tool doesn't seem to be any better.
As PC Gamer notes, the conversation-style text inputs make ChatGPT and Newegg spit out results that are, quote, "extortionate." A request for a PC that can play The Sims (which can run on most new laptops with integrated graphics) suggested a $1,500 desktop build with an RTX 3070. A request for a PC that could "rival a PS5 for the same price" gave a $1,300 result. Admittedly, that's about what it takes to build a gaming PC that can play at least some new games at 4K, but the chatbot missed a pretty crucial part of the instruction.
I gave it a shot myself. When I asked the AI to build the "best gaming PC for $500," it gave me two bundles as a result. One was $602, and the other was $984. Seems like the near-infinite combinations of parts on Newegg could have hit a little closer to the mark. I decided to go more specific. When I asked for a "mini itx build for fortnite under $1000," all three options used full-sized ATX motherboards and were over the price limit.
The prompt "cheapest sff pc for web browsing" recommended I buy a brand new Intel Core i5-13600K processor, an AsRock ATX Z790 motherboard, an RTX 3060 GPU (why is it even telling me to buy a discrete GPU?), 32GB of RAM, a CPU cooler with a 140mm fan, a full ATX Corsair 4000D case, and an 850-watt full modular power supply. The only remotely reasonable part in there is a 1TB M.2 SSD for fifty bucks. The full build, which is anything but "small," costs $1351.27.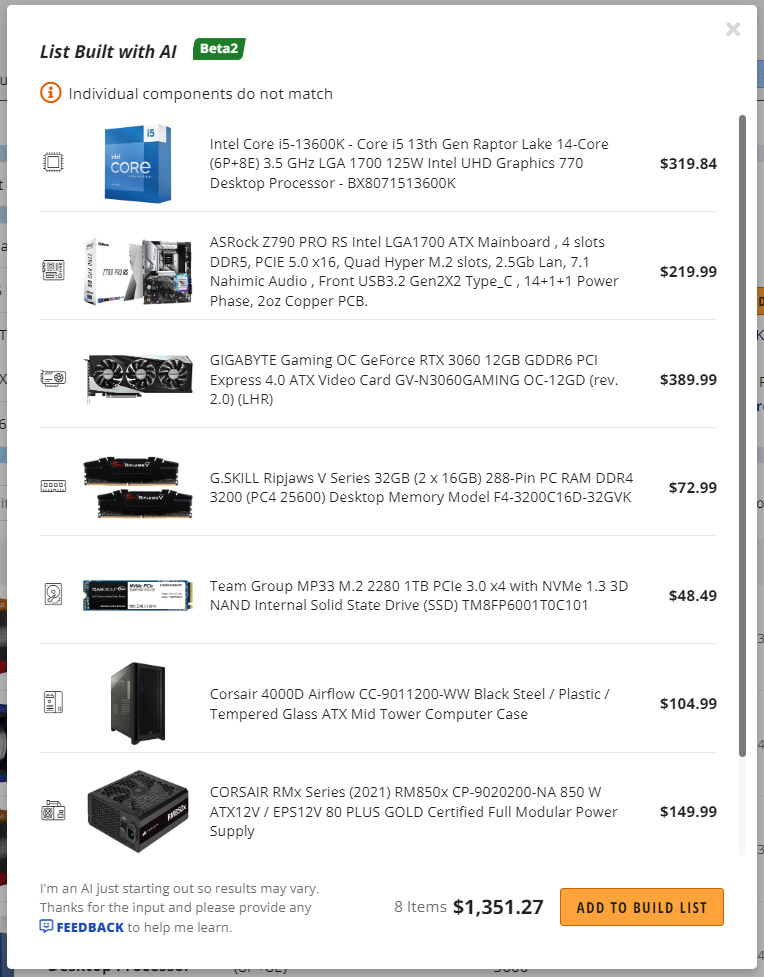 Newegg
Oh, and the RAM is DDR4, while the motherboard uses DDR5 DIMM slots. So this build doesn't work, which is something the tool recognizes: there's a little badge that says "Individual components do not match." Robot, if you know the parts don't work together, and you have hundreds of alternative options that do, why aren't you offering me any of those?
So yeah, even putting aside Newegg's vested interest in selling you expensive PC parts, the AI-powered suggestions seem to be flat-out broken. "I'm an AI just starting out," the tool says apologetically, "so results may vary." Tech writers and YouTube PC builders can breathe a sigh of relief for the moment.