Framework is trying to change the way we think about laptops, one big chunk of modular right-to-repair hardware at a time. The company has had a lot of success with its initial models, but now it's ready to expand its lineup even more. At a GDC presentation on Thursday, Framework announced that its newest revision, the Framework Laptop 13, will be available with both Intel 13th-gen and AMD Ryzen 7000 motherboard options. Even more impressive, the new Framework 16 model will offer discrete graphics, in the same modular style as the smaller designs.
The new Framework Laptop 13 is a refined version of the initial Framework Laptop, which got an upgrade to 12th-gen Intel chips and a Chromebook edition last year. This new version will offer a choice of either 13th-gen Core processors or an AMD Ryzen 7040 motherboard. The AMD variant will come with DDR5 memory and a specific Wi-Fi module for better compatibility, but will otherwise be identical to other Framework 13 laptops. Best of all, both the new Intel and AMD motherboards are compatible with older Framework Laptops — you'll be able to order the motherboards alone and slip them into your existing hardware for a cost-effective upgrade.
The Framework Laptop 16 is the company's first media- and gaming-friendly design. With the larger screen comes a larger chassis, roomy enough to fit discrete graphics cards into the laptop. But just like the smaller Framework designs, this will be offered in a modular system that can be swapped in and out as needed. The Expansion Bay system exposes a PCIe x8 connection, which means there are options that go far beyond just graphics cards. Extra M.2 storage, card readers, video capture devices — the possibilities are nigh endless, since the Expansion Bay is capable of adding both depth and thickness to the chassis if needed. Serious DIY creators can build their own hardware and 3D-print module casings, thanks to open source designs.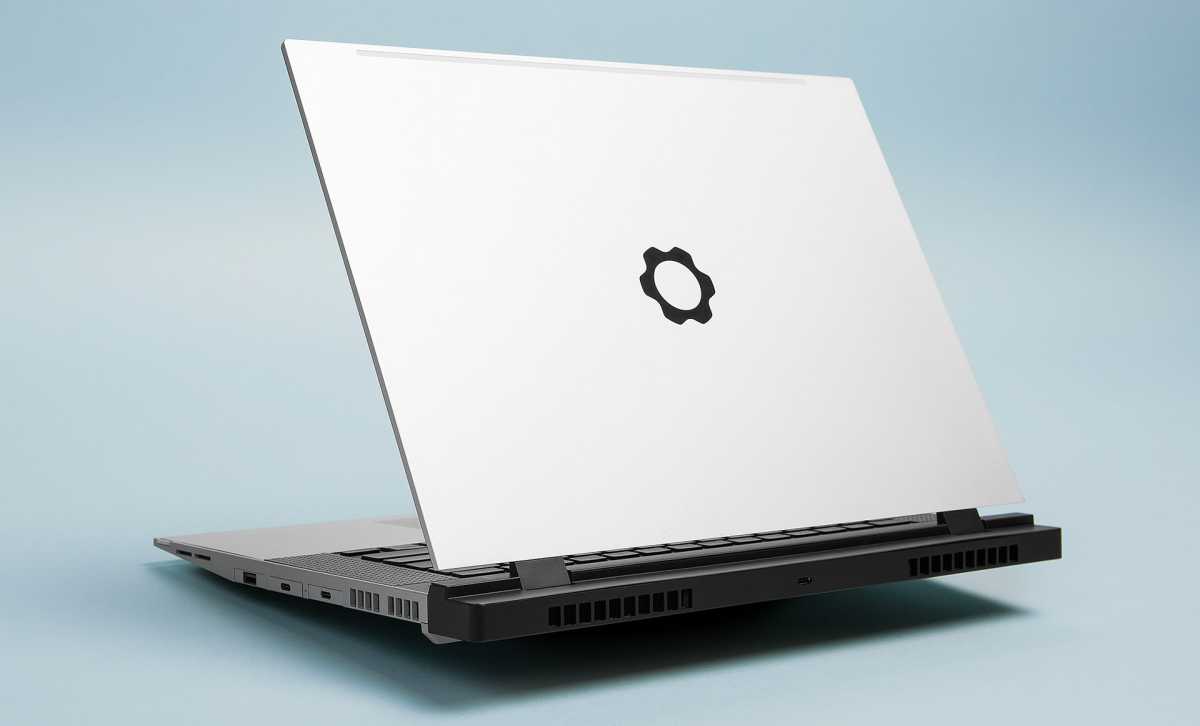 Framework
The Framework Laptop 16 also gets another modular expansion option: the keyboard deck. The keyboard area is split into three sections, which default to a standard laptop keyboard for the large module, an optional number pad for the medium module, and super-skinny aesthetic panels for the small module. But these are just the defaults: Users can mix and match as they desire, with proposed options for modules including secondary displays, e-ink panels, smart card readers, LED matrices, or even haptic input sliders. Again, the options are more or less endless thanks to open-source software and available 3D printing files.
Framework
The last goodie that Framework is announcing is a fun, easy way to put your older Framework motherboard to use. The company is teaming up with Cooler Master to release a custom plastic case that will turn the laptop's mainboard (complete with RAM and M.2 storage) into a Small Form Factor desktop PC. Just add a couple of Framework modules for video, wireless, and USB, and you're ready to go. The resulting mini-PC would make a great home theater machine or kid's computer.
The new Framework Laptop 13 Intel and AMD models should be available for pre-order on the Framework website later today, starting at $849 for a barebones design without RAM, storage, or OS. Fully-laden laptops will start at $1049, and will begin shipping in May. Replacement motherboards for existing Framework owners will be available at the same time. The larger Framework Laptop 16 will be available in late 2023, with pre-orders available sometime this spring. Pricing and full hardware options were not announced. The Cooler Master SFF case will be available sometime in the spring for just $39.