Today Microsoft launched the Surface Thunderbolt 4 Dock, noteworthy for one key absence: the Surface Connector, which has now been replaced with a standard Thunderbolt 4 interface.
Why is this important? For years, Microsoft Surface devices were driven and charged via the Surface Connector, a unique and proprietary charging port that transferred data and power to Surface devices. For Surface fans, this wasn't a problem: like early IBM ThinkPads, the charger and its proprietary charging port served as a convenient spare through successive generations. As laptops tried out different iterations of barrel chargers, the consistency was an advantage.
However, as the USB-C hardware port and the related Thunderbolt port protocol became more common, the need for a proprietary Surface connector diminished. Virtually all Thunderbolt docks now supply power as well as the standard 40Gbps of data, which satisfies both requirements. Microsoft's Surface Thunderbolt 4 Dock uses a 165W power brick, passing up to 96W to any connected laptops. And yes, we could see the writing on the wall—it rendered the older Surface Docks irrelevant.
One surprise, really, was that Microsoft waited on the more stringent Thunderbolt 4 spec, as opposed to debuting a Thunderbolt 3 dock, instead. Some even wondered whether Microsoft would just wait for what's informally known as the 80Gbps Thunderbolt spec, which Intel has already shown off. We now know the answers to both questions.
Microsoft's Surface Thunderbolt 4 Dock certainly qualifies as a dock, though Microsoft chose the route that's sometimes associated with Thunderbolt hubs: There are no dedicated display ports. Instead, there's a front-facing Thunderbolt 4 port to connect to the PC (plus a 31-inch Thunderbolt 4 cable) and two rear-facing Thunderbolt 4 ports as well. That implies that you'll either need a USB-C (Thunderbolt) to DisplayPort cable, or else bet on Thunderbolt displays becoming a thing. So far, Thunderbolt inputs are usually only associated with high-end displays. Otherwise, you'll need a second Thunderbolt dock or USB-C dongle to route the signal.
Microsoft
The Surface Thunderbolt 4 Dock uses Microsoft's dock aesthetic: a black brick. It also includes a front-facing 10Mbps USB-A port (supplying 7.5W to charge your smartphone) and two identical USB-A ports on the rear. There is also a 2.5Gbps Ethernet port, a 3.5mm audio jack, and a screw nut for a desk mount. (If the USB-A ports don't supply enough power for your phone, you can use a free Thunderbolt 4 port and its 15W of power.)
Otherwise, the Surface Thunderbolt 4 Dock is optimized for the Surface Laptop 5, Surface Laptop Studio, Surface Pro 8, and the Surface Pro 9—though only the Intel version, and not the Surface Pro 9's Arm variant. It's compatible with devices that include a USB-C port, but not Thunderbolt: the Surface Pro 9 with 5G, the Surface Pro 7+, and earlier devices. The difference between the two is essentially the number of supported displays: USB-C ports without Thunderbolt can support a 1080p or single 4K display, while a Thunderbolt port has enough bandwidth to support a pair of 4K displays at 60Hz for optimum productivity.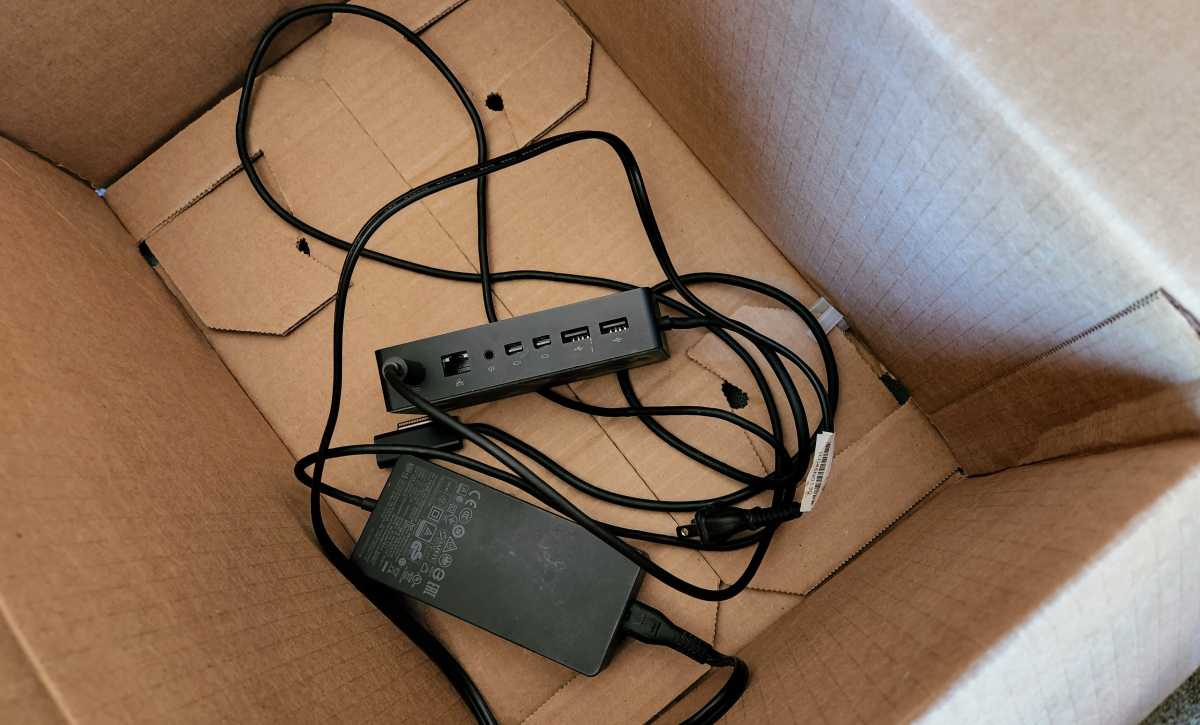 Mark Hachman / IDG
What does this mean for future Surface devices? The implication is that the Surface Connector is on its way out in future devices, though Microsoft hasn't confirmed this.
"We designed Surface Thunderbolt 4 Dock as the optimal dock for Surface devices with USB4/Thunderbolt 4 support," a Microsoft representative said in a statement. "Surface Dock 2 will continue to be available to support non-USB-C devices."
Microsoft will sell the Surface Thunderbolt 4 Dock through Microsoft.com, for a fairly standard price of $299.99. We expect to eventually test it as part of our roundup of the best Thunderbolt docks.