Microsoft launched its AI for Work initiatives on Thursday, a way of applying artificial intelligence to work tasks like automating the creation of PowerPoint presentations and other tasks where AI can step in, directed by your commands. It looks awesome.
Microsoft chief executive Satya Nadella introduced its vision for the future of work as a "symbiosis" between human and machine. Microsoft announced Microsoft 365 Copilot, with AI embedded in Word, PowerPoint, Teams, and more. Business Chat will serve as an assistant to that. Microsoft also applied AI to its Power Platform, a little-known tool for actually writing code — something Bing and rival ChatGPT have already shown that they can do.
Microsoft previously launched AI as a consumer initiative, revealing the AI-powered Bing chatbot at the beginning of February. While Bing was originally subject to a waitlist, it now appears that the waitlist has disappeared. Microsoft also placed Bing AI conversations under strict limits. After going through some growing pains with reports of weird content and worse, Microsoft migrated Bing Chat to the Microsoft Edge browser sidebar with its Edge Copilot, using Bing as a content-creation tool.
"Today we are at the start of a new era of computing and another step on this journey," Nadella said. "You can say that we've been using AI on autopilot and now moving from autopilot to copilot," he added.
That was the point of Microsoft's event: To move Bing and its AI powers from a search tool to a content-creation tool. PCWorld was one of the first publications to get hands-on access with Microsoft Designer, which uses generative AI art in conjunction with text to create flyers and the like. Rival Canva has launched a similar product, with a Magic Write tool that can generate text for blog posts, or supply text for flyers and the like. Microsoft has also used Microsoft Editor as a subtle AI tool to improve your writing.
AI has simply exploded across the Internet, with multiple generative art sites and even generic chatbots. Actual chatbot integration, though, has been more limited. Slack is one of the few that has integrated chatbot plans, and Google lurks on the horizon, too.
Microsoft, though, was pretty up-front: Microsoft 365 Copilot may still be "usefully wrong," so that you'll still need to check your work.
Microsoft 365 Copilot will essentially serve as a copilot for your productivity, with Business Chat supplementing Bing Chat in the workplace.
The company showed how Copilot will live in the taskbar at the top of apps like PowerPoint, excel, OneNote and more. You'll be able to interact with Copilot in the sidebar of the app, asking Copilot questions, directing it to create copy, and so on. Executives showed off how it can be used to expand text, shorten it, and add images too.
In Word, Copilot can create copy, managing the copy by lengthening it or changing the tone.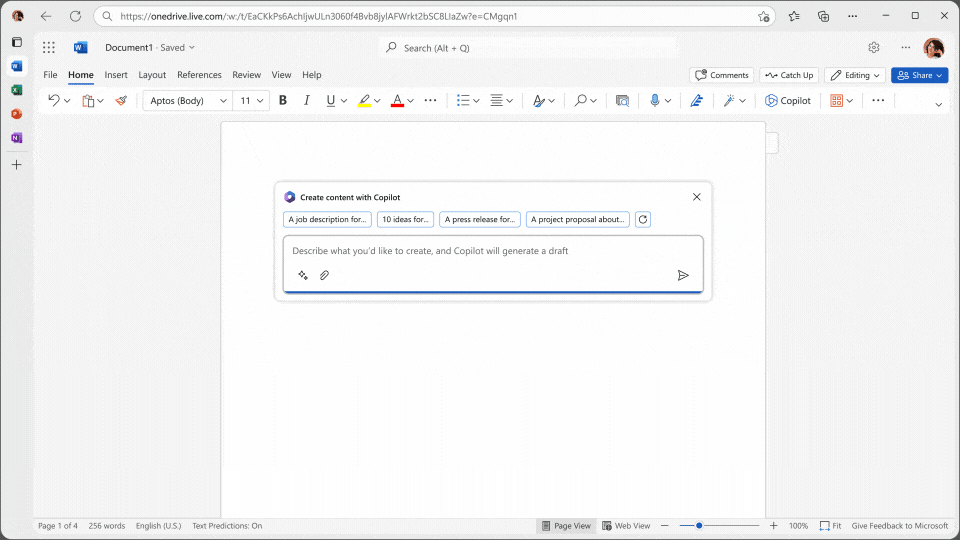 Microsoft
Copilot with Business Chat also understands what you're doing and what documents are relevant to you, pulling in related materials you are working on as appropriate. In PowerPoint, Copilot can be used to design slides, adding animations and images, and even create speaker notes.
In Excel, you can ask questions of the data, creating a "playground" to interact it with in a new sheet, executives said. Natural language can be applied to highlight specific cells, without referring to them by name. Naturally, you can ask it to add a graph to the data, too.
In Outlook, Copilot can summarize a string of emails, and respond to them as well.
In Teams, Copilot can even perform summarization in real time, highlighting who said what, and interacting with interactive Loop documents, according to Charles Lamanna, the corporate vice president in charge of the Power Platform.
Lamanna also showed off how the Power Platform, specifically Power Automate, could be used to write an "app" that would alert you of a problem with a client, and summarize the problem.
"In the months ahead, we're bringing Copilot to all our productivity apps—Word, Excel, PowerPoint, Outlook, Teams, Viva, Power Platform, and more," according to Jared Spataro, the corporate vice president of Microsoft 365.
What is Microsoft 365 Business Chat?
Business Chat "works to apply all your data into knowledge," said Spataro. Think of it as a private, personal Teams or Slack channel devoted just to you. Within Teams, the Copilot channel can be used to prep you on what happened at recent meetings, and what you need to prepare for upcoming meetings, too. Like Bing Chat, it even annotates the information with its sources.
The natural language powers were impressive, as an executive asked it for "upcoming risks." (It also showed an error, which the user corrected.) You can then apply the changes in PowerPoint.
"This new tool will usher in a new era of computing," Spataro said.