Among image editors, Adobe Photoshop dominates. Despite the many competitors that have sprung up, it remains popular with professionals and central in the public eye. (We all refer to altered images as "photoshopped.") 
But, this juggernaut comes with a sizable price tag, too—subscriptions start at $21 USD per month (or a little over $250 per year) for access to the Photoshop apps for desktop and iPad. Over time, the cost adds up.
And yet, few rivals match both the breadth and depth of Photoshop. You may find yourself wondering if you actually need that feature set at your fingertips, or if your needs could be met by a cheaper solution. Let's run through the pros and cons, as well as the alternatives.
Looking for even more free Photoshop rivals? Check out our list of five free alternatives to Photoshop for Windows.
Pros of using Adobe Photoshop
Tons of editing tools
Photoshop reigns supreme for a reason—you'd be hard-pressed to find a single app that packs in the same number of tools. Whether you want to make light touch-ups, radical tweaks, or even video clips, the program handles all that and far more.
Wide file support
Opening JPEG, PNG, GIF, and Photoshop Documents is just the tip of the iceberg. You can open and save in many other formats that span audio, video, and graphic files. MP3, MPEG-4, HEIF/HEIC, TIFF, and PDF just a part of the lineup, though some formats are import only and others export only.
So much educational material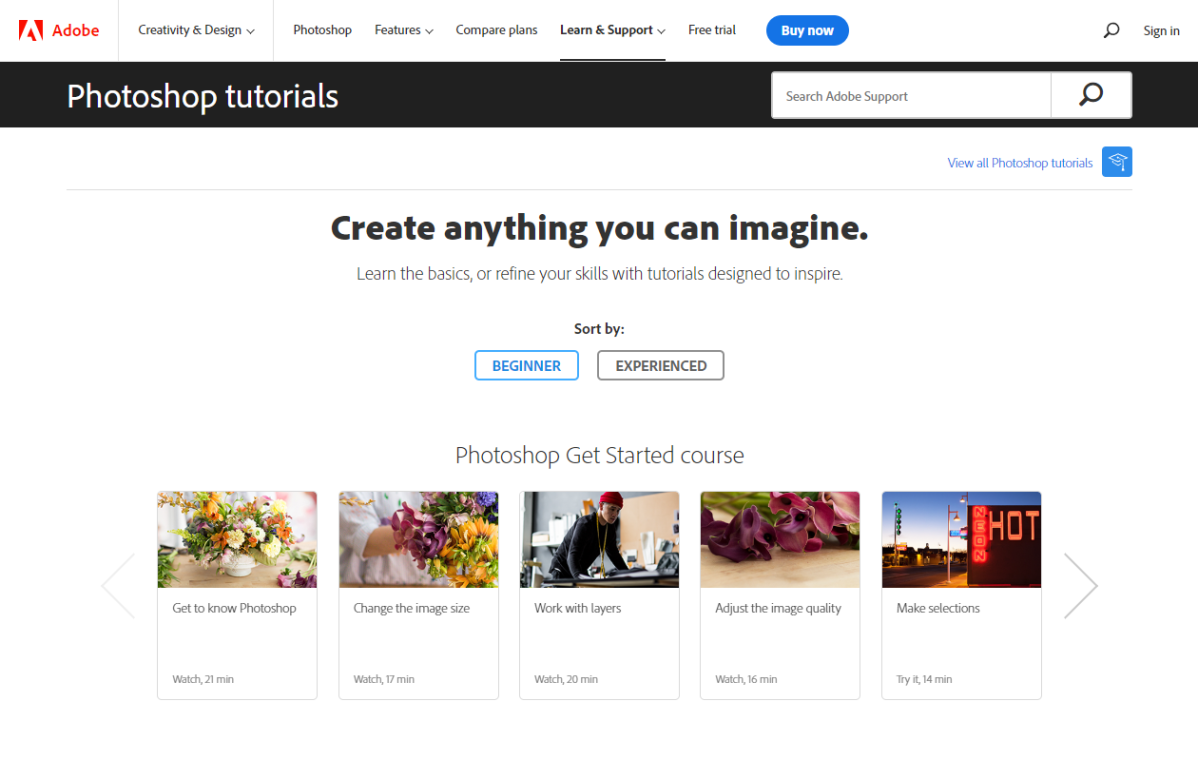 With how popular Photoshop is—and how deep it goes—plenty of educational courses and material exists for those seeking to master its features. You can go the old-school route and take actual classes at community colleges, rely on long-established sites like LinkedIn Learning, or learn from detailed books. Or you can instead hop into YouTube to get immediate instruction on the one specific task you want done.
Basic video editing
Did you know that Photoshop supports basic video editing? While it's no replacement for Premiere Pro, it's not uncommon for people to use it to create motion graphics, animation renders, picture in picture effects, and other elements that can stand on their own or be imported into a more full-fledged editor later on. 
Integration with other Adobe apps
As part of the Adobe Creative Suite, Photoshop integrates seamlessly with Adobe's other production apps like Lightroom, InDesign, Premiere Pro, and Illustrator. You can easily jump between them to make edits and tweaks to files, thereby applying the right tools for the job at hand. For example, while Photoshop can do light video editing, its tie-in with Premiere Pro lets you switch to a more robust video editor when needed and leave Photoshop for manipulating stills.
Cons of using Adobe Photoshop
So many editing tools
Adobe's greatest strength is also its greatest weakness. With so many tools available and an interface that requires a moderate learning curve, getting started can be hard. The app also doesn't offer fast, easy fixes for simpler edits—everything is geared toward doing things manually. A one-button adjustment in another program could require the application of several layers, masks, and opacity tweaks in Photoshop.
System requirements
Adobe Photoshop's hardware requirements ask for a faster, more powerful PC compared to some rivals. People running older hardware with slower graphics cards and smaller storage drives will definitely feel the pinch of setting aside 20 to 50GB for working in the program, especially if you have a much older or cheaper laptop with a 256GB or even 512GB SSD.
That price (and that subscription model)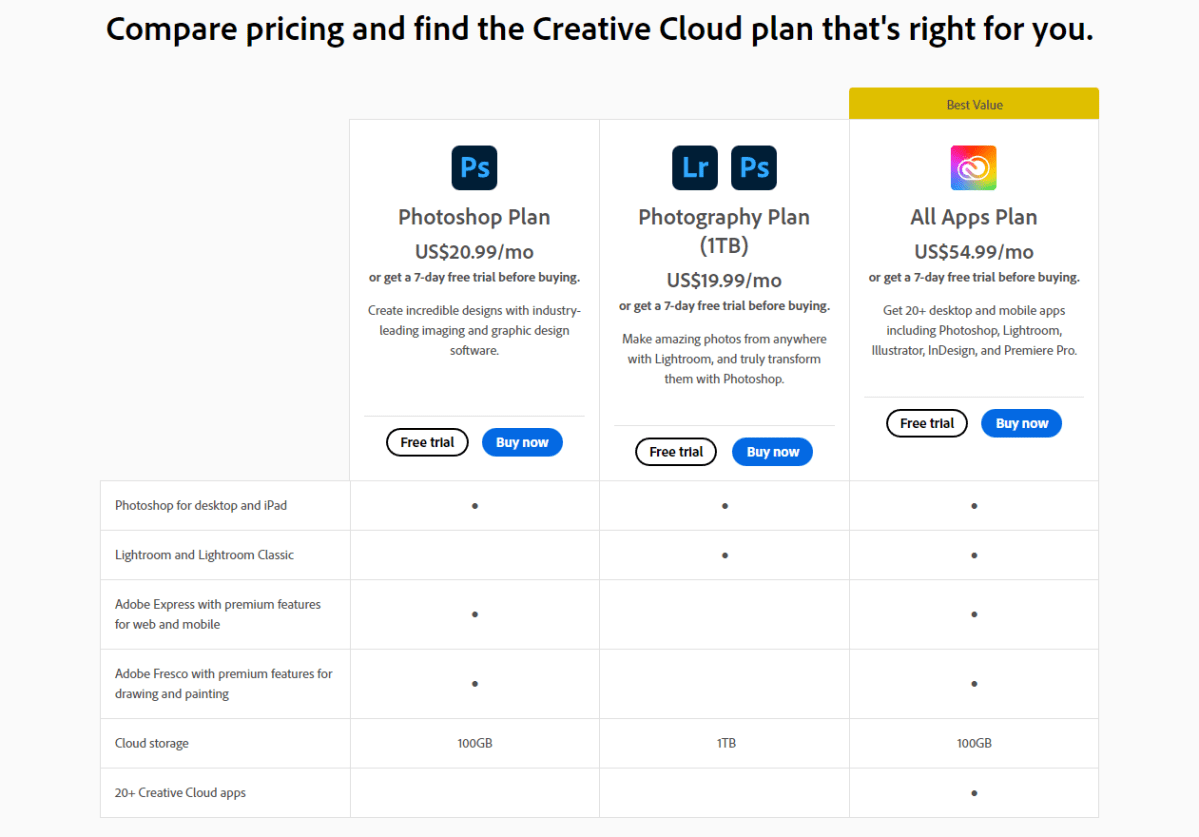 Photoshop isn't cheap. You'll pay $250 per year for just Photoshop, and if you need any other Adobe apps, the costs rise quickly. Should you need more than two apps, the all-inclusive Creative Cloud subscription becomes most cost effective and that plan runs $55 per month or $600 per year. Unless you have access to educational discounts, you may be far better off by paying a one-time fee for an alternative or going with a free option.
Installation limitation
Rather than owning copies of the software, you're merely renting access from Adobe and its licenses are fairly strict. You can only install the software on up to two machines, with only one active system at a time. If you bounce between PCs frequently (say, a home computer, a laptop, and a work machine), this can add a layer of logistical juggling that slows your workflow.
Software bugs
Adobe pushes out releases to Photoshop on a more frequent basis than many other rivals. While these updates often include new features, they can also introduce new bugs and other performance hits. Sometimes the experience can feel akin to two steps forward and three steps back.
Alternatives to Adobe Photoshop
Adobe Photoshop Elements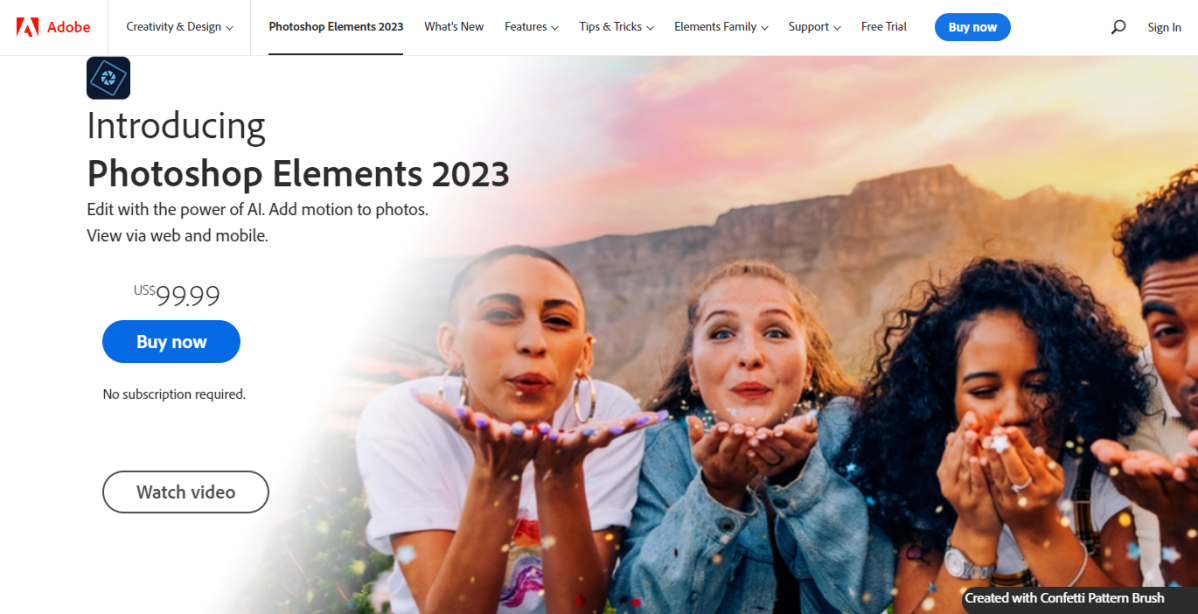 This one may sound like cheating, but Photoshop Elements is a separate product from Photoshop. Sold as a one time purchase, this pared-down image editor offers much more hand-holding for basic edits—e.g., removing elements from the background, portrait touch-ups, and one-click selection of items in an image. Elements is also often on sale for $60 or $70, making it just a quarter of the cost of a one-year Photoshop subscription.
Photopea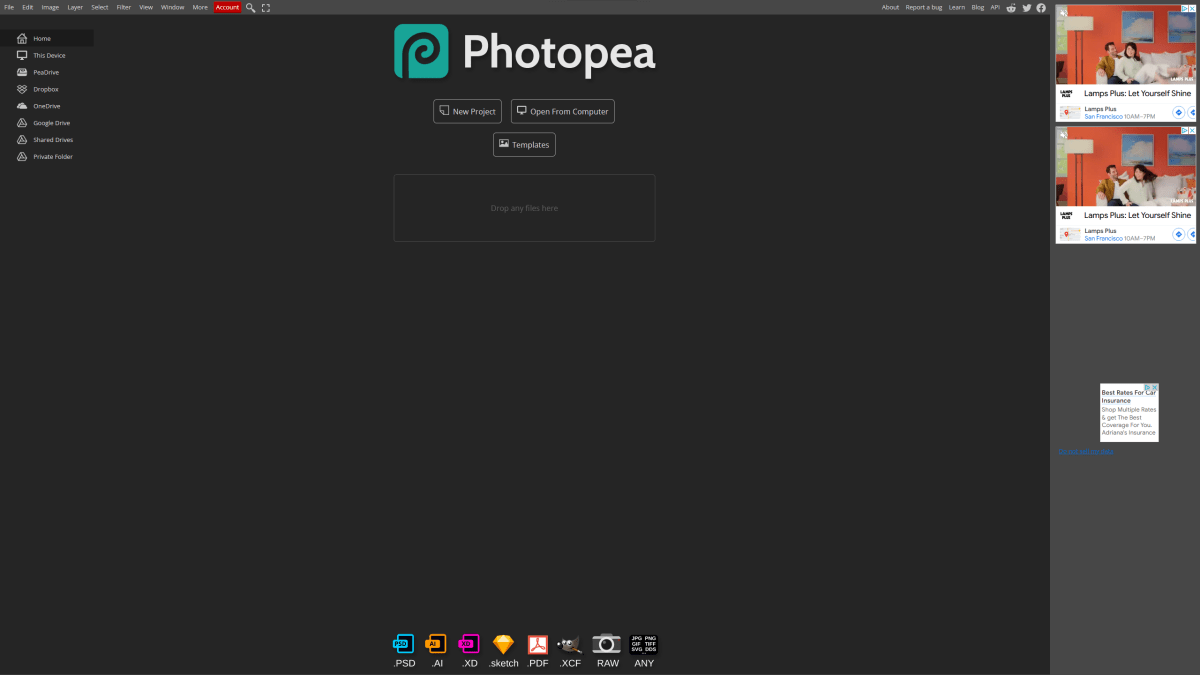 Are you a returning Photoshop user, but can't stomach the subscription model? Photopea is a web-based image editor that's surprisingly robust and, more importantly, it's free, fully accessible without a login, and uses the same keyboard shortcuts as Photoshop. You can pay to kill ads and get an longer history for your edits, but you don't need to.
Gimp
One of the OG alternatives to Adobe Photoshop, this free, open-source software can handle quite a bit, despite not asking much of your system resources. If you have the patience to dig in and learn its ins and outs, you can do a lot with this program—and there are plenty of YouTube tutorials about Gimp dedicated to helping others get up to speed.
Paint.net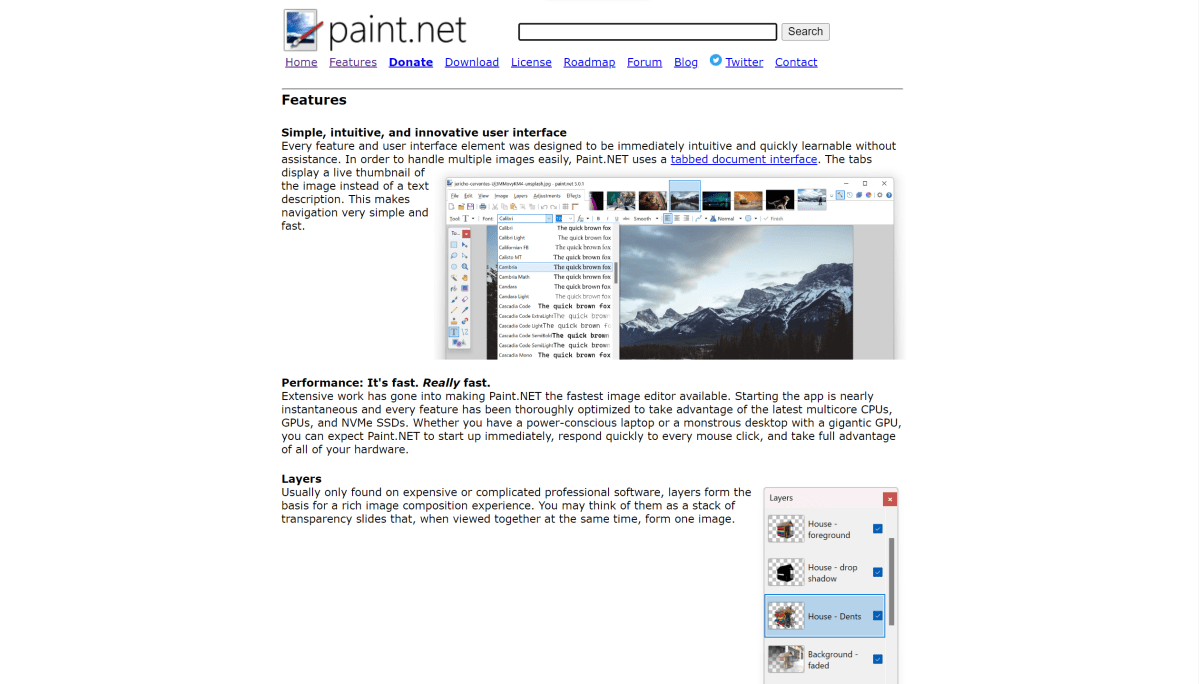 For those who find Photoshop and Gimp too intimidating, Paint.net offers a middle ground between Windows' charmingly elementary Paint app (please never kill it, Microsoft) and something more full-fledged like Photoshop and even Gimp. It's a good way to become familiar with layers and other more powerful tools while not being overwhelmed by endless menu options. The layout is more user friendly than Gimp, too. Oh, and it also costs $0.
Affinity Photo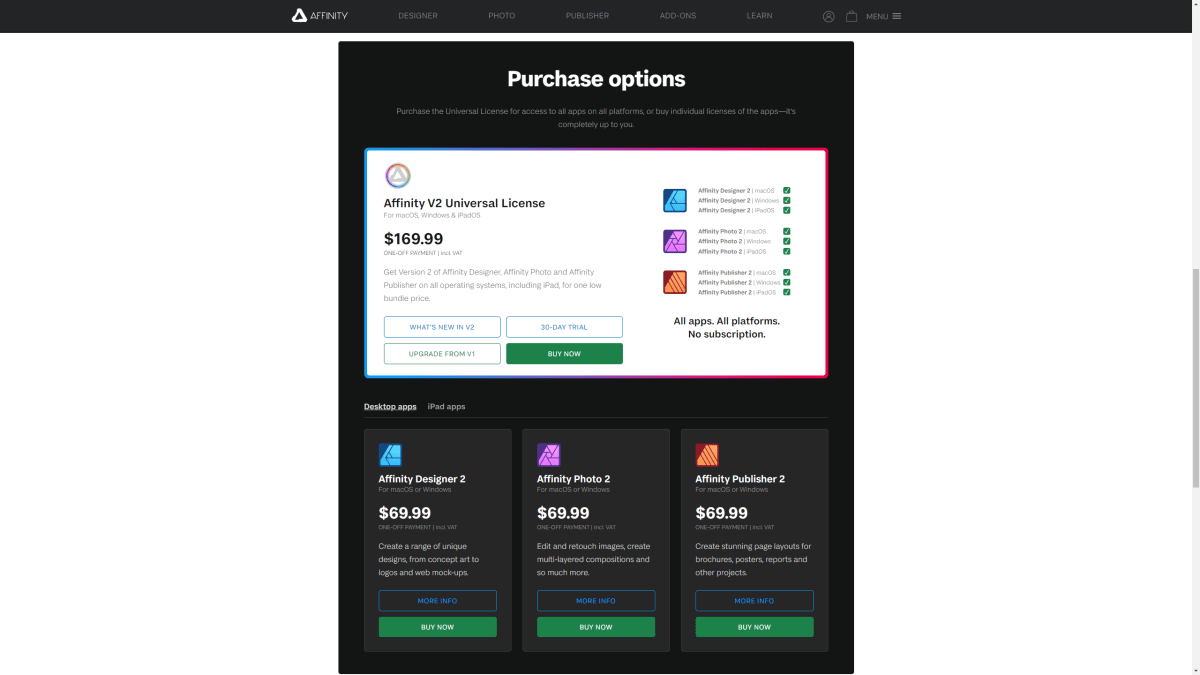 Photoshop isn't the only full-featured image editor that slots into an overall lineup of content-creation apps. Affinity Photo is a capable image editor that pairs with Serif Ltd's Affinity Designer (vector graphics software, akin to Adobe Illustrator) and Affinity Publisher (page layout software, akin to Adobe InDesign). And, unlike Adobe, Serif charges just a relatively low one-time fee for its software and sometimes even offers discounts, like during Black Friday.