At a glance
Expert's Rating
Pros
Rugged metal body
Quiet performance
Can be left plugged in
Modular expansion
Cons
Very slow charge rates over AC with included charger
App is a little barebones
Not enough AC ports
USB-C limited to 60-watt output
Our Verdict
Goal Zero's Yeti 1500X offers solid fundamentals from the oldest name in portable power stations.
Price When Reviewed
$1,799.95
Best Prices Today: Yeti 1500X
Goal Zero is the company that largely created the portable power station category almost 15 years ago, including making the first lithium-ion based unit that kicked off the current solar-generator war.
Category leaders, however, often find themselves trailing hungrier competitors in features, and that fact was evident in Yeti's 1500X portable power station.
Further reading: See our roundup of the best portable power stations to learn about competing products.
Goal Zero Yeti 1500X design and specs
This beefy, well-built unit boasts a hefty 1,500 watt-hour capacity in an aluminum-bodied shell. For those who need just a little more oomph to carry you through a power outage or camping trip, 1,500 watt-hours is perhaps the ideal capacity, if you ask us.
You get up to 50 percent more capacity than with typical 1,000 watt-hour power stations, but still keep the bulk to a luggable weight of 45 pounds. Once you get to the much-higher 2,000 watt-hour or 3,000 watt-hour models, you start looking for a cart with wheels and a second person to move that "portable" power station around.
In ports, the Yeti 1500X features what you'd expect in a mix of DC and AC ports. For DC output you get a 12 volt "cigarette" power plug, a pair of 6mm DC outputs, as well as a set of Powerpole connectors supporting up to 300 watts of output.
To charge your small devices, the Yeti 1500X features a pair of USB-A ports and a pair of USB-C ports. One of the USB-C ports supports QuickCharge 3+ for up to 20 watts while the second supports USB Power Delivery for up to 60 watts. That's fine for most thin-and-light laptops such as a Dell XPS 13 or MacBook Pro 13, but more power-hungry laptops such as an XPS 15 or MacBook Pro 16 will charge at a slower rate since the Yeti 1500X doesn't support the USB-PD 100-watt charge rates. The good news is you can just plug the laptop's AC adapter into the AC inverter, but 60 watts is low for the category.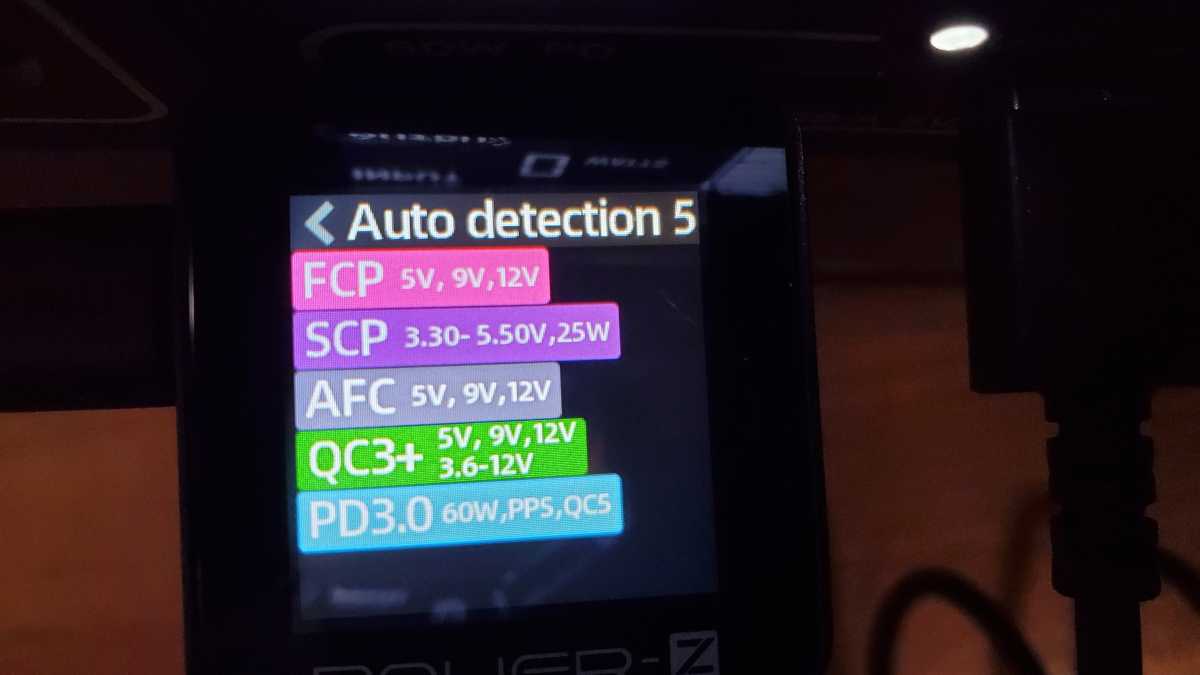 Gordon Mah Ung
For AC, you get a pair of familiar standard Type A wallplugs running off the pure sine-wave inverter. That's also a bit on the sparse side for plug count as comparable competitors typically feature more. Yeti slightly makes up for the lower port count by at least supporting a higher standard output of 2,000 watts with a surge rating of 3,500 watts. Competing models from EcoFlow, Jackery, and Bluetti offer a mix of three to six AC wall plugs, but typically at 1,800 watts.
Some of those competing models also offer advanced higher-wattage limits too. For example, the EcoFlow Delta 2 and Bluetti's new AC180 have modes that enable continuous operation at 2,700 watts by lowering the voltage output. Those modes, however, are best suited for items that aren't sensitive to running on lower voltage, such as a space heater, or electric kettle.
For charging ports, the Yeti 1500X features two DC in ports as well as Anderson Powerpole. All ports actually support multiple inputs for charging from a variety of solar or AC.
How does the Goal Zero Yeti 1500X perform?
In our tests, we recorded a decent 83 percent efficiency, or 1,267 watt-hours, out of the Yeti 1500X under a 200-watt constant load. Efficiency, however, drops under a heavier 800-watt load, to 1,093 watt-hours, or 72 percent. That's roughly in line with EcoFlow's Delta 2—not great, but not terrible. Both units are bested by Jackery's new Explorer Pro 1500, which we recorded at 81 percent under the 200-watt load, and an even better 83 percent under the 800-watt load. All told, it's about average for efficiency.
The Yeti 1500X supports both Bluetooth and Wi-Fi connectivity, and the app experience is decent but not quite as feature-packed as competitors. You can't, for example, change when the unit automatically shuts off ports when not in use. You can update firmware using the app, though, which is critical for future updates.
IDG
How long does it take to charge the Goal Zero Yeti 1500X?
We found no surprises with the inverter, which displayed a beautiful pure sine wave on our oscilloscope. Where the Yeti 1500X really gets outshined is in its charge circuit. Unlike most of its big-name competitors that integrate charge circuits, the Yeti 1500X uses an external laptop-style power brick that supports charging at up to 120 watts. The charger can be used outside of the unit or actually tucked into a handy storage compartment on top (where an additional charging port is located too.)
If 120 watts doesn't sound like a lot, that's because it isn't. Taking the unit from empty to full can take a full 12.5 hours of charging using the stock charger. Goal Zero sells a heftier 600-watt charger ($200) that cuts charging to about three hours, but even so, it's still slower than its competitors.
The EcoFlow Delta 2, for example, charges at up to 1,200 watts (1,600 with its Delta 2 Extra Battery attached), as does the new Jackery Explorer 1500 Pro. Bluetti's new AC180 can push up to 1,440 watts in its Turbo mode if needed. That basically means competing units can go from empty to full in about an hour or so when running off the AC. For an extended outage where you can drive to your office or relative's house with power to recharge, it means much shorter wait times than the Yeti 1500X.
Solar charging, however, is in line with the competition with a maximum charge rate over solar of 600 watts.
We also found that among power stations we've tested, the Yeti 1500X exhibited perhaps the highest self-discharge rate, with power dropping a few percent in a month of sitting. The good news, however, is that Goal Zero recommends you keep the Yeti 1500X plugged in at all times, if possible. That's actually quite different than competitors, who usually recommend disconnecting from the wall once the unit is charged, and not to leave them plugged in permanently. That means that rather than a battery at 50 percent or worse when an emergency comes, the Yeti 1500X can be left in a full-state at all times.
What kind of battery does the Goal Zero Yeti 1500X use?
The battery chemistry in the Yeti 1500X could also be seen as a negative compared to newer offerings. Using lithium-ion NMC cells, the Yeti 1500X is rated at 500 cycles to 80 percent capacity, which sounds paltry compared to the Jackery Explorer 1500's 1,000 cycles (also using NMC chemistry). It's even worse when compared to units such as the EcoFlow Delta 2 or Bluetti AC180, which use lithium iron phosphate, or LFP, batteries, and are rated at 3,000 cycles to 80 percent.
Before that scares you off too much, you should consider that most people rarely cycle any power station that heavily in normal use. If you're like most and buying it for emergencies, camping, or the occasional need to run power equipment away from a wall plug, the Yeti 1500X will still give you many, many years of service. Indeed, you should expect its life to exceed that of your laptop or phone, which use similar battery chemistry under far harsher charging cycles. That said, people who do plan to heavily cycle a power station, such as in a full-time off-the-grid van-life situation, then yes, a battery with longer duty cycles might be the better option.
Is the Goal Zero Yeti 1500X worth it?
If all this sounds like a disadvantage compared to the upstart competitors, let us point out where Goal Zero's experience pays dividends. 
For example, we appreciate that the top opens to reveal a cavernous storage compartment. It's big enough to fit the included 120 watt charger cable as well as additional cables for solar panels or USB devices or any other doodads you don't want to lose. We wish competing units would follow suit. And while the compartment is large enough to fit the nicely documented manual, we really appreciate that Goal Zero knows those manuals are going to get lost, so it also includes critical specs and some basic instructions you might need to know in the field printed on the bottom of the lid.
Gordon Mah Ung
That compartment can also be reconfigured to take a Goal Zero Expansion Module Port that lets the Yeti 1500X connect one of the company's affordable YetiTank Expansion Batteries. Those YetiTank batteries use less exotic chemistry and are bulkier, but sealed lead acid batteries also mean far less cost per kilowatt-hour. For example, while a 3,500 watt-hour power station using lithium ion batteries might cost you $3,500, a 4,800 watt-hour YetiTank will set you back $2,000. With the 1,500 watt-hours of the Yeti 1500X, that's enough to actually run critical (not counting HVAC) systems in a typical home.
Even better, rather than running extension cables through your home, Goal Zero actually sells a Yeti Home Integration Kit that an electrician can add, and from which you can run your entire home. That's a fairly advanced feature if you're willing to pay the expense.
One last area that shows Goal Zero's long experience is the noise, or lack of it. Very compact, very power-dense power stations that charge quickly often entail annoying fan noise even under light loads (we're looking at you, EcoFlow).
The Yeti 1500X has two fans, but we rarely heard them ever kick on, which we can't say for some competitors. So if you want to run your CPAP machine in blissful silence at night—the Yeti 1500X will do it just fine.
In the end, the Yeti 1500X may not quite have some of the fancy features of the competition but when the fundamental thing you need is to power up your fridge during an outage or charge laptops in the field, the Yeti 1500X brings solid performance, a rugged build-quality, some impressive modular features, and the rock solid reliability of literally the oldest name in portable power stations.