Cyberpunk 2077's Overdrive Mode with full-blown path tracing (rather than select ray-traced effects) dropped this morning as a technology preview in the game. As expected, it's stunningly beautiful, and it will absolutely melt your graphics card—unless you're running a modern GeForce RTX 40-series GPU, that is. Even then, it can be rough sledding, as our benchmarks show.
Nvidia worked with CD Projekt Red to create Overdrive Mode, which showcases the glorious experience that moving to fully path traced visuals can provide. Cyberpunk 2077 already looked stunning. With Overdrive Mode, it's drop-dead gorgeous.
Full-blown path tracing is extraordinarily strenuous on graphics cards. There's a reason that it was reserved for the likes of Minecraft, Quake II, and Portal 2 up until now. But ray tracing and AI advancements that Nvidia baked into the bones of the RTX 40-series—namely Shader Execution Reordering and the AI-supercharged DLSS 3 Frame Generation—allows GeForce's latest and greatest cards to run Cyberpunk 2077 in path-traced glory.
Further reading: How DLSS 3 uses AI to supercharge gaming frame rates
You need that 40-series grunt, too. In its release notes for the patch that added Overdrive Mode (along with Nvidia DLAA, Intel XeSS, and a revamped benchmark screen), CD Projekt Red says "it requires the highest-performing hardware available to run it properly." Only the RTX 40-series lineup is technically supported, along with last-generation's RTX 3090 flagship—and that former titan is only rated to hit 30 frames-per-second at 1080p resolution, per CDPR. Gross. Wonderfully gross!
Other users have discovered that Overdrive Mode actually runs on other graphics cards—even integrated Radeon graphics in Ryzen chips!—but the new feature brings even AMD's flagship Radeon RX 7900 XTX to its knees.
And that's with FSR 2, AMD's DLSS rival, active. Oof.
I've spent the morning playing around with Cyberpunk 2077's Overdrive mode on all of Nvidia's current RTX 40-series cards, to give you an idea of what to expect in terms of performance when you flip path tracing on. Here's a video showing what it looks like, courtesy of an early Digital Foundry preview:
You'll find Cyberpunk 2077 Overdrive Mode performance results for the $1,600 GeForce RTX 4090, $1,200 RTX 4080, and $900 RTX 4070 Ti below. They were all tested on our usual GPU benchmarking system, which runs on a Ryzen 9 5900X processor paired with 32GB of memory.
We only tested with Overdrive Mode active, at both 1440p and 4K resolutions, using the new Overdrive preset. Playing the game without path tracing enabled results in much higher frame rates, as our previous GPU reviews show. We then tested the game with DLSS on and manually set to Performance mode. (You can get slightly higher frame rates using Ultra Performance mode, but it made the upscaled image look terribly aliased and glitchy in our testing. Performance looks fine). Finally, we flipped on DLSS 3 Frame Generation as well to see just how fast this puppy can go.
Here are the results: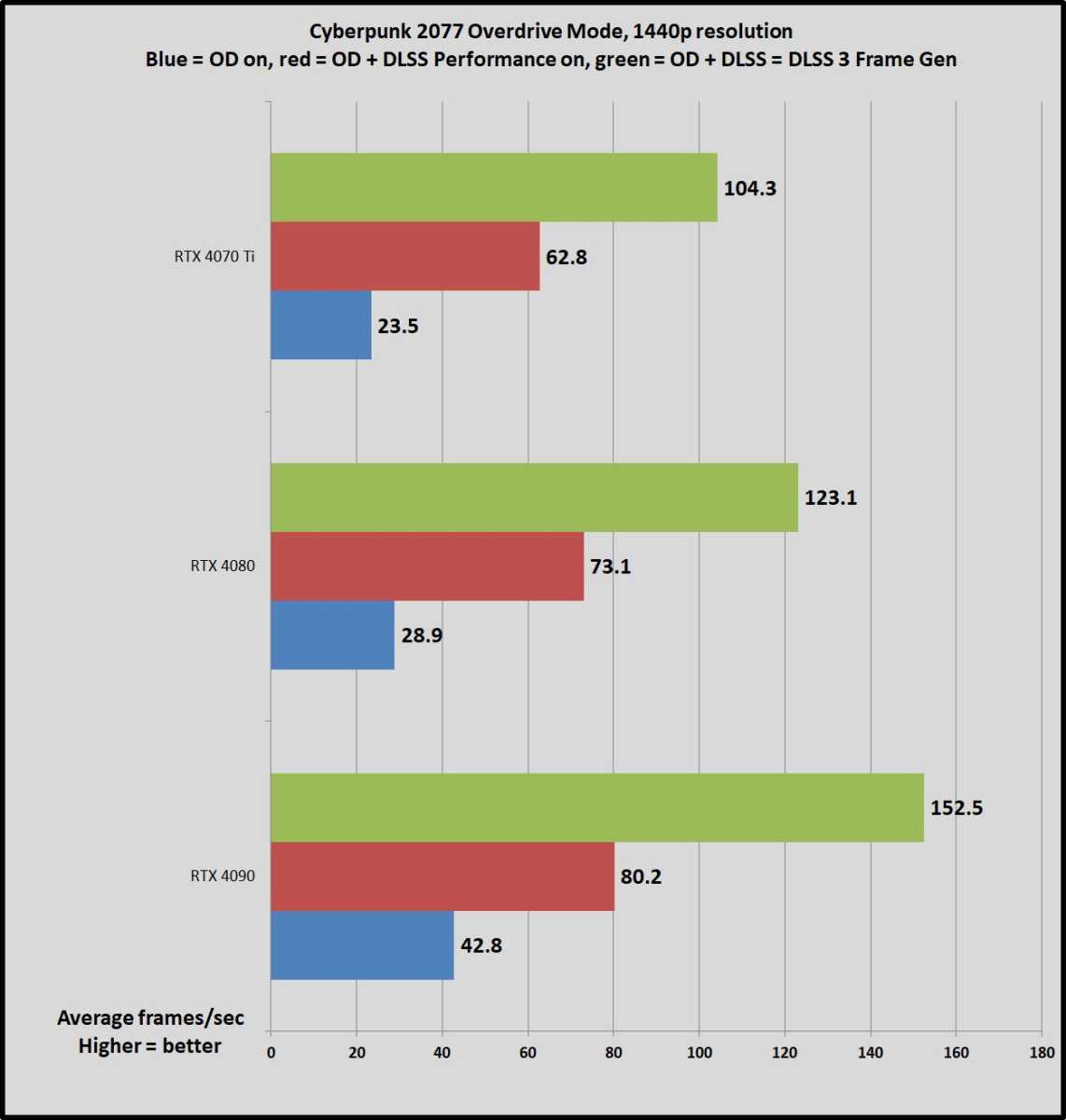 Brad Chacos/IDG
Nvidia and CDPR aren't joking when they say Cyberpunk 2077's Overdrive Mode can bring even these monstrous GPUs to their knees. Without DLSS active, even the RTX 4090 struggles to spit out 20 frames-per-second at 4K, with the 4070 Ti hitting single digits. Ouch. Flipping on DLSS Performance mode alone gets you to the 60fps gold standard at 1440p resolution, but these results drive home a harsh truth: You need DLSS Frame Gen to hit smoothly playable frame rates in Overdrive Mode, especially at 4K resolution.
That said, if you're a fiend for drool-worthy gaming pics, CDPR tossed you a bone. From the patch notes:
"For other ray-tracing-capable PC graphics cards with at least 8GB VRAM, we included an option to render path-traced screenshots in Photo Mode. This is possible because it means rendering just one frame, as opposed to rendering several frames every second (i.e. FPS), which would happen when playing the game…

If your graphics card has more than 8GB VRAM and this option is still greyed out, it means you need to lower your in-game resolution. Note that the higher the resolution and the less powerful the GPU is, the longer it will take to take a screenshot (between a few seconds to several minutes). You can enable Path Tracing for Photo Mode in Settings > Graphics in the Ray Tracing section."
So, there you have it. Cyberpunk 2077's redemption story continues with Overdrive Mode, one of the most truly impressive technical feats ever pulled off in gaming graphics. Driving around Night City for a bit made my jaw drop—and my graphics card sweat. If you have an Nvidia GeForce RTX 40-series GPU, you absolutely need to see it in action.
Just remember to flip on DLSS 3 Frame Generation!