At a glance
Expert's Rating
Pros
Incredibly immersive gaming experience
Huge 45-inch ultrawide OLED panel can be adjusted from flat to 800R curve to suit your setup
Exceptional image quality, contrast, color performance, and HDR
Elite motion clarity on a 240Hz panel
Abundant connectivity with USB-C hub and power delivery options
It made four people who walked into my office stop and say "WHOA" like Keanu Reeves
Cons
Poor text clarity and general sharpness for productivity work
Very expensive
No swivel or tilt options, stand can't be replaced
Bending mechanism feels clunky and mildly terrifying at first
Enabling HDR mutes desktop contrast and vibrancy
Our Verdict
Corsair's Xeneon Flex is a huge, bendable OLED ultrawide monitor with blistering speeds, impeccable image quality, and elite motion clarity. It offers an immersive gaming experience like no other, though productivity workers should consider other options.
Price When Reviewed
$2,000
Best Prices Today: Xeneon Flex
$1,999.99
$2000
There are lots of fancy numbers and specs you can use to describe Corsair's radical Xeneon Flex 45WQHD240 monitor. Roughly 5 million individually lit pixels, each capable of flipping off at a moments notice to deliver the deep, inky blacks OLED is famous for, paired with HDR capabilities. An immersive 3440×1440 ultrawide resolution, stretched across an even more immersive 45 diagonal inches—this is a big display. Blazing-fast 240Hz refresh rates, bolstered by near-instantaneous pixel response times for the ultimate in motion clarity. And did I mention this is the world's first bendable display, allowing you to fine-tune the perfect curve for your individual setup (or no curve whatsoever)?
All of that matters, and the Xeneon Flex wouldn't be the Xeneon Flex without it. But the second I booted up Forza Horizon 5 and witnessed lush Mexican hills stretched out before me, exotic supercars roaring past in perfect motion as the vibrant sun slowly settled into a pitch black night, none of those numbers and specs mattered. What mattered was my monkey brain shutting off and whispering: Whoa. What mattered was the experience.
The Corsair Xeneon Flex delivers a vivid, truly immersive gaming experience unlike any I've had before—and I play a lot of games on a lot of monitors. A couple of those spec choices prevent this beast from being a truly do-it-all display—discerning spreadsheet warriors will want to look elsewhere—but if you're willing to spend $2,000 for jaw-dropping immersion and image quality, the Xeneon Flex will leave you grinning from ear to ear.
Just be sure to wipe the drool off your chin when you shut down Steam.
Further reading: See our roundup of the best ultrawide gaming monitors to learn about competing products.
What are the Corsair Xeneon Flex specs?
Okay, fine, we really should talk about the numbers. They're damned impressive. Virtually any gaming-related spec you could ask for is supported (and often maxed out):
Display size: 45-inch ultrawide
Native resolution: 3,440 x 1,440 (21:9 aspect ratio)
Panel type: Bendable LG OLED with matte coating
Refresh rate: 240Hz
Adaptive-Sync: AMD FreeSync Premium, Nvidia G-Sync Compatible
HDR: Yes, HDR10, rated for up to 1000 nits
Ports: 2x HDMI 2.1, 1x DisplayPort 1.4, 1x USB Type-C with DP Alt-Mode, 2x USB-A, USB Type-C with upstream (for powering USB ports) on rear | 2x USB-A and 3.5mm audio on front
Stand adjustment: Tilt only
VESA mount: No
Speakers: No
Price: $2,000 MSRP
This is a big, badass panel—almost staggeringly so. You're going to need a hefty desk to house it. (In fact, it's so big that I couldn't easily take pictures of the display in my tiny office, so I've had to use Corsair-supplied pictures throughout this review.) It measures about 42 inches wide and 22 inches tall when flattened, or a bit less when curved, with a thick, sturdy stand that houses much of the display's electronics and comes with a substantial footprint—both wide and deep—of its own. Brace thyself.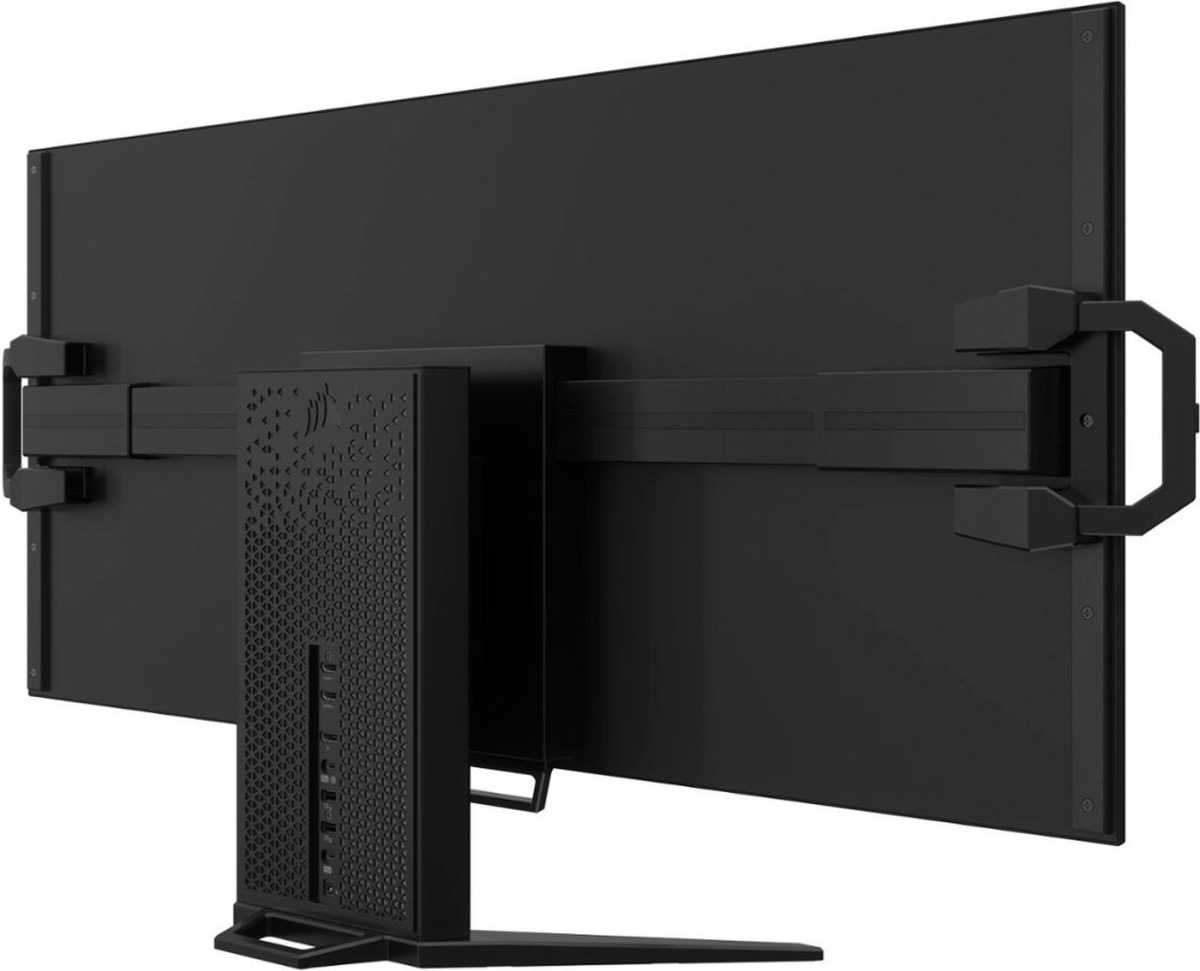 Corsair
One of the Xeneon Flex's highlights has to be its namesake flexibility. In a radical move, Corsair designed its OLED stunner to bend to fit your needs. It ships flat, but you can pull a pair of plastic handles out from the sides, adjust the screen up to an aggressive 800R curve, then slide the handles back into place to lock in your chosen form factor.
It's a bit of a terrifying prospect—doubly so because you need to apply some force to wrestle it into place, while the handles feel cheap and wobbly, and did I mention this monitor is $2,000?—but it works well in practice. Corsair rates the Xeneon Flex for 10,000 to 15,000 bends. Even if you adjust the panel a few times a day, that means it should last years without issue (in theory).
The bendable display is an exceptional feature, however.
Corsair
I work on my monitor all day and game on it all night. When I'm working in Office, editing photos, or have multiple windows open for general productivity work, I prefer a flat display, as curved monitors produce some distortion. That's especially true with the Xeneon Flex. Its curve isn't quite uniform, seemingly from the mechanisms needed to support bending the display—it's flatter in the middle and curves more aggressively towards the edges. It doesn't bother me, but I could see it infuriating some folks—and it reinforces my desire to handle my work with the screen flat.
But when it comes to gaming, nothing beats the immersion an ultrawide monitor can provide—and that goes doubly so with the huge, all-encompassing OLED panel on the Corsair Xeneon Flex. I felt like David Bowman in 2001: A Space Odyssey the first time I gamed on this thing, with OLED's inky blacks and HDR's vibrant lights only adding to the effect. I quickly found myself flattening the panel during working hours, then bending it to my ideal ratio (about 75 percent of the possible curve) and flipping on HDR to game and watch movies and TV shows by night. (Activating HDR mutes normal Windows desktop colors on most machines, so I prefer to leave it off when I'm slinging spreadsheets.) It's a wondrous capability, and one that lets you find the perfect curvature for you—even if it's none whatsoever.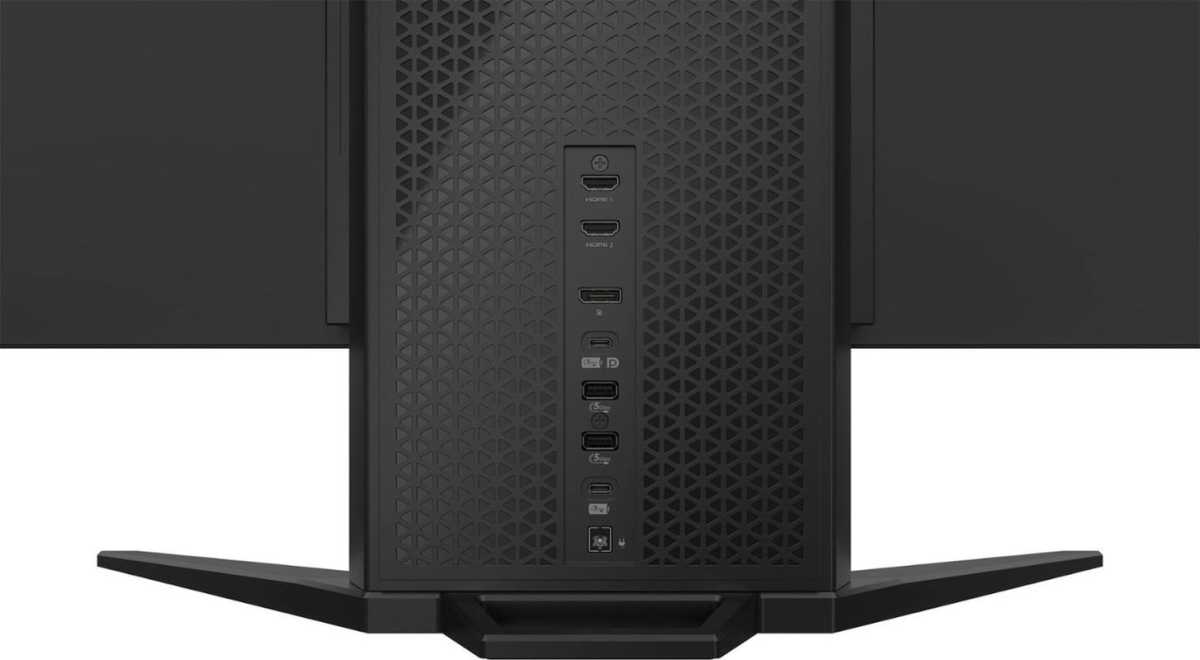 Corsair
Corsair also loaded the Xeneon Flex with connectivity. The rear inputs include dual HDMI 2.1 connections (perfect for connecting modern consoles), DisplayPort 1.4, a USB Type-C connection with 30W of power delivery DisplayPort Alt Mode support for use with USB-C monitors, and a USB-C input/upstream port for sending USB signals to and from your computer. That upstream port powers two USB-A cables on the rear and two more in the front of the stand, for a total of four. You'll also find a handy-dandy 3.5mm audio jack up front, alongside the power button and other monitor controls.
Further reading: Best USB-C monitors 2023: These displays have a hidden talent
Having the controls integrated in the front of the hefty stand is a nice ergonomic touch that prevents you from needing to reach around the back of the monitor to make adjustments, like you do with most displays—an endeavor that could be tricky with the big, wide Xeneon Flex.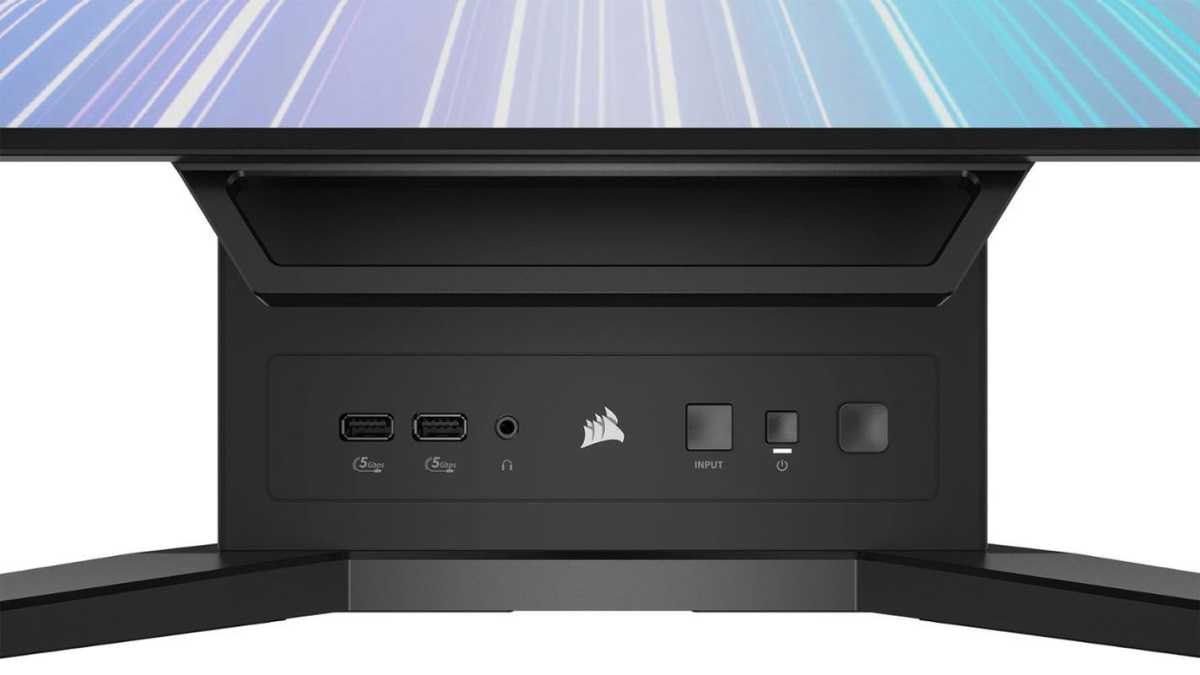 Corsair
Packing so much functionality into the monitor's stand somewhat limits its adaptability, however. You can't adjust the height or swivel, and can only tilt the monitor by 22 degrees. You also can't remove the stand and mount the Xeneon Flex to a VESA monitor arm. This is best used as a singular primary display. Fortunately, the default height should feel comfortable for most people, though plopping a webcam atop the massive monitor results in an oddly high (but pretty good!) viewing angle. Folks of average height will need to slightly crane their necks to look directly into a top-mounted webcam, which can prove fatiguing during especially long videoconferencing calls.
But who cares about Zoom meetings? This is a gaming monitor through and through, and it rocks for that.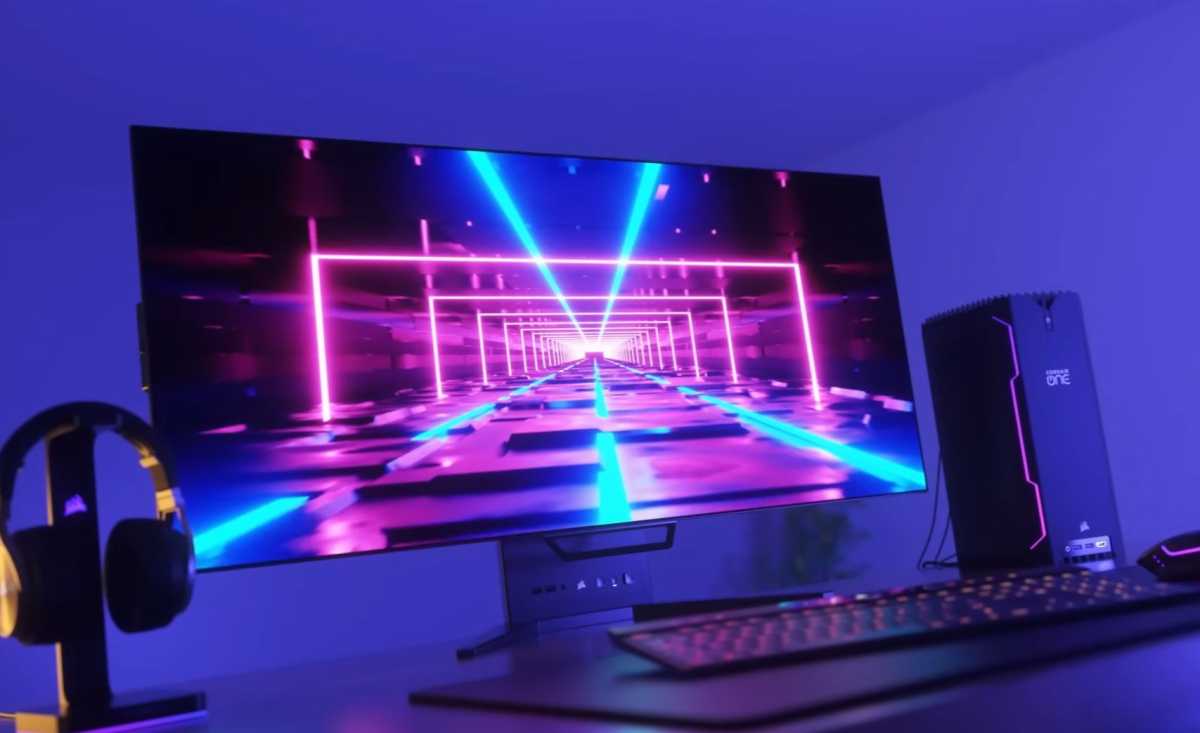 Corsair
All those fancy numbers and specs align in a truly special way once you start gaming on the Corsair Xeneon Flex. This luxurious display offers image-quality and immersion excellence.
It starts with the form factor, of course. Having a 45-inch ultrawide panel engulf your field of view is a truly engrossing experience. Of all the monitors I've ever tested, this is the only one that ever prompted friends and family to express sheer amazement at the panel—and four different people had such a reaction. Playing games like Forza Horizon 5 and Star Wars: Squadrons on the mammoth display feels truly immersive in ways you can't get short of spending thousands upon thousands to build a dedicated sim station. And you can see so much of the map in XCOM 2.
But it's about more than raw size. This is an OLED monitor, with all the benefits that technology provides. The most striking benefit is the wonderful contrast and deep, inky blacks provided by OLED's per-pixel light dimming. Dimming pixels individually rather than relying on backlighting results in virtually perfect black levels, with no "light bloom" halos appearing around bright objects on dark backgrounds, like you can witness on standard displays. It makes games like Cyberpunk 2077 and Ghostwire: Tokyo look more delicious than ever, while atmospheric titles like Metro: Exodus and Blair Witch absolutely dripped with deep, dark vibes.
Cyberpunk's neon lights dazzled as much as the darkness thanks to the Xeneon Flex's exceptional color performance. The panel covers 100 percent of the sRGB color gamut, 97 percent of the DCI-P3 color gamut, and 92 percent of AdobeRGB, and comes pre-calibrated from the factory with certification paperwork (complete with performance graphs) in the box. It's also a 10-bit display, so it can display a wider color range than typical 8-bit panels.
But that's not all. Thanks to the panel's blistering 240Hz refresh rate (remember to manually change it in Windows!) and the virtually instantaneous gray-to-gray pixel response times OLED provides, the Corsair Xeneon Flex offers truly elite motion clarity. Even fast-paced games like Forza Horizon 5 look crystal clear on this beast, and fine text like character names looked impeccable in Dota 2 at high speeds. (MOBAs are a common trouble area for motion clarity, and often used by GPU vendors to showcase motion clarity improvements.) I set up a 120Hz ultrawide with an identical resolution next to the Flex and the difference was apparent.
Corsair also equipped the monitor with AMD Free Sync Premium Pro and Nvidia G-Sync Compatible certification. Paired with the excellent motion clarity, gaming on the Xeneon Flex is as smooth and impressive as it gets.
Corsair
Corsair didn't get a VESA DisplayHDR certification for the monitor but claims it supports up to 1,000 nits. In practice, the Xeneon Flex didn't hit anywhere near that peak brightness, appearing a bit dim with the lights on in my room. Smaller areas of brightness do manage to hit vivid levels, especially with the lights off, but its HDR performance excels nonetheless thanks to OLED's inky blacks and per-pixel dimming. The contrast in HDR movies, shows, and games looks absolutely amazing, though the limited brightness does hold it back slightly.
The one area where the Xeneon Flex doesn't quite nail image quality? Sharpness. By stretching the standard 3440×1440 ultrawide resolution out to a massive 45 inches, up from the usual 34 inches, sharpness takes a bit of a hit. It's not something you'll notice while gaming or watching videos in motion, especially if you're running antialiasing (as most games should), but I noticed it a bit on far-away stairs in Call of Duty: Modern Warfare 2's Embassy level. It's a bigger problem when you're working on the desktop, though.
How is the Corsair Xeneon Flex for productivity?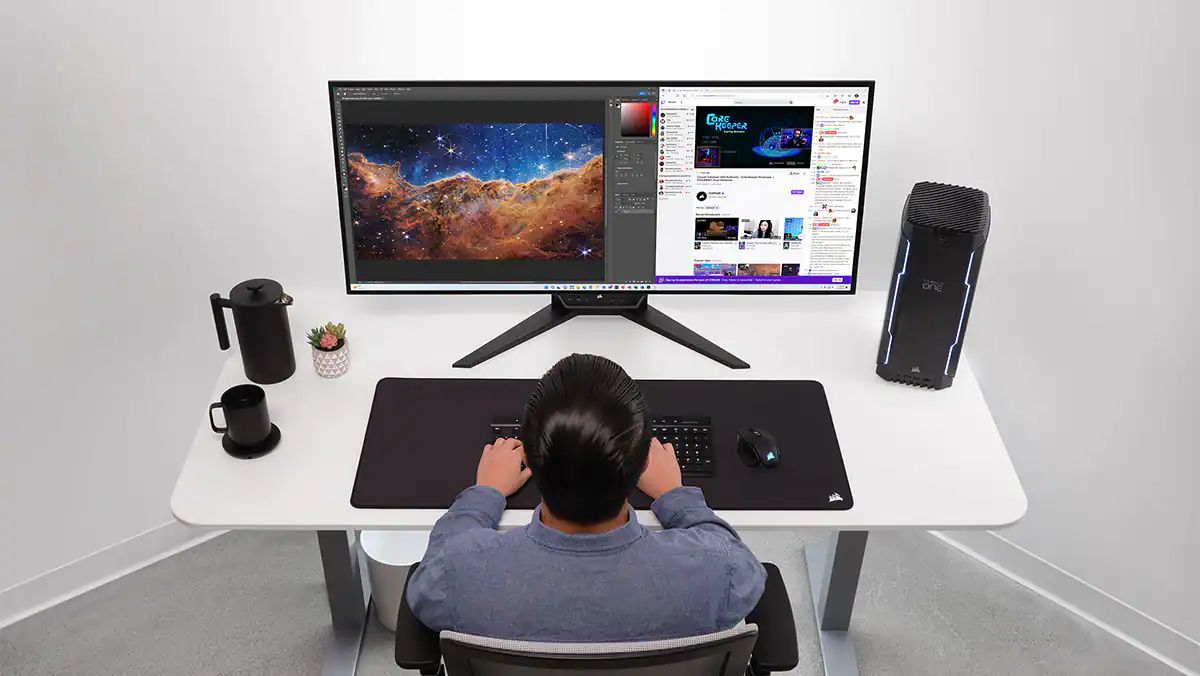 Corsair
The Corsair Xeneon Flex isn't a bad productivity monitor by any means—looking at a spreadsheet stretched out on this thing is awe-inspiring—but a couple of those specs and numbers that make it so majestic for gaming make it less appealing for people who work on their computer all day.
The biggest issue is sharpness. The massive LG-made OLED panel sticks to the standard 3440×1440 ultrawide resolution despite its humongous size, giving it a paltry 82 pixels per inch. That's roughly comparable to a 27-inch 1080p monitor, which don't provide the crispest images. By comparison, Philips' new 44.5-inch ultrawide bumps the resolution up to 5120×1440 for a tighter 119ppi, which is comparable to most high-end gaming monitors. It's unfortunate for general-purpose tasks that LG (and thus the Xeneon Flex) didn't follow suit, especially given the panel's superb color accuracy.
Those sharpness concerns are exacerbated by LG's decision to opt for a RWBG subpixel layout rather than the standard RGB. As we've explained before, using non-standard pixel layouts causes Windows to freak out and harms text clarity. Fine text on the Xeneon Flex looks a bit spindly and pixelated, and you can often see some red or green "ghosting" around many characters, especially larger ones, as shown in the slideshow above. My eyes adjusted to it a bit after a couple weeks of daily use, but I still notice it. My standard dual 4K monitor setup provided a much crisper productivity experience, and the Xeneon Flex's ultrawide resolution couldn't scale across software quite as well, even using Windows Snap to segment different applications around the spacious screen.
Further reading: Ultrawide vs. dual monitors: Which should you choose?
Corsair also applied a matte anti-glare coating to the panel, and some people loathe matte displays. That said, it's a fairly good application that looks great in bright rooms, without much diffusion or blur, but you can notice the grain if you look closely. It didn't bother me at all.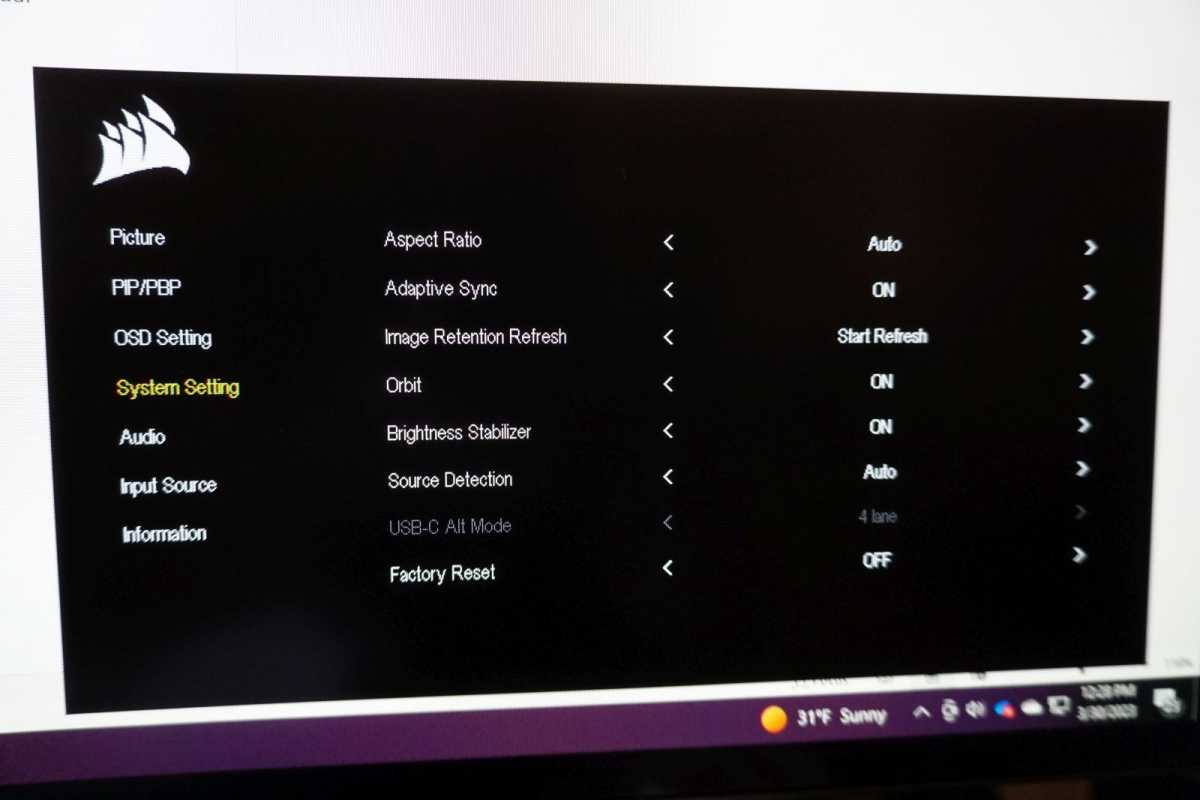 Brad Chacos/IDG
What did irk me was the aggressive way the Xeneon Flex handles luminance stability on the desktop. Moving or resizing light-colored windows results in drastic brightness fluctuations, which drove me absolutely mad while working. I wound up enabling a brightness stabilizer option in the monitor's menu and it fixed the issue, albeit while also darkening the display. Enabling HDR also reduces the color gamut and contrast when you're on the desktop. That's a common problem with Windows and HDR displays, but these tweaks meant that each day before work I needed to disable HDR, enable the brightness stabilizer, and bend the monitor flat before work, then reverse the actions for an optimal gaming and video-watching experience at night.
Pixel burn-in is also a concern for OLEDs, and it may give people who work more than play pause, since productivity programs and the Windows desktop hold much more static imagery than games and movies. Corsair imperceptibly shifts on-screen imagery and offers a three-year zero burn-in and zero dead-pixel guarantee to alleviate potential concerns, but between this and the overall sharpness and text-clarity issues, people who need to spend all day being productive should look elsewhere.
Is the Coresair Xeneon Flex 45WQHD240 worth it?
The Corsair Xeneon Flex 45WQHD240 immerses you in ways that tangibly elevate the PC gaming experience. I've never played on a monitor that made me feel truly inside game worlds the way this one does. Its delectable combination of blisteringly-fast speeds, elite motion clarity, sterling image quality, perfect blacks, and lush HDR will make your jaw drop, especially enveloped within the custom-tuned curvature of its uniquely bendable display. The connectivity is top-notch, too.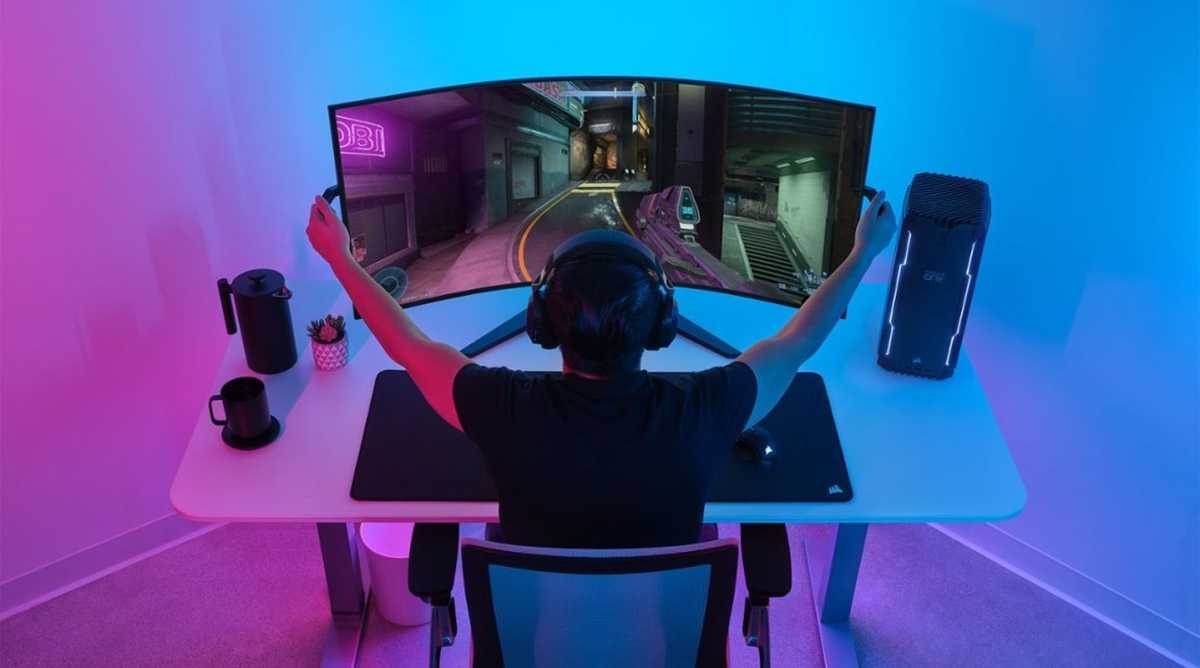 Corsair
Yes, its $2,000 price tag (currently discounted to $1,800) might make you clutch your chest. But if you're already rocking a GeForce RTX 4090 and a Ryzen 9 7950X3D, the Xeneon Flex will be the ultimate cherry on top. Sticking to a standard 3440×1440 resolution means less powerful hardware can also put this drool-worthy panel to good use.
A couple of design decisions from Corsair and panel-maker LG keep the Xeneon Flex from being the ultimate do-it-all display, though it comes so close. Below-average sharpness and text clarity prevent us from being able to recommend it for heavy productivity use, especially since you need to tinker with software settings to achieve acceptable brightness on the desktop. (As an office worker I can attest that it's definitely fine enough for productivity, though.) The massive stand, steep price, and lack of VESA mounting options may serve as roadblocks to others, though I consider them minor. The mechanism (and handles) used to manipulate the bendable display could also feel sturdier and easier to use.
Don't let that dissuade you if you're a deep-pocketed enthusiast who wants one of the pinnacle PC gaming experiences when you come home at night, though. When it comes to multimedia, this monitor oozes excellence. The Corsair Xeneon Flex is one of the very best gaming monitors we've ever seen, full stop. The idea of sending it back to Corsair is already making me sob.
If any of those drawbacks—including the price—are dealbreakers for you, there are plenty of other superb ultrawide gaming monitors available today, including compelling OLED options like the $1,100 Alienware AW3423DWF. But don't get it twisted: The Corsair Xeneon Flex's blend of colossal size, elite speed, impeccable image quality, and customizable curvature are unmatched by any other display, though LG's 45-inch UltraGear OLED (which uses the same panel) does everything but bend for $1,700. If you want to enjoy the best immersion possible in PC gaming, you'll need to pay up for this fantastic bleeding-edge display.