B2B social media marketing may not be your first thought when we're talking social marketing.
But digital is B2B's future. These days, sales meetings, conferences, and business decisions happen online. Social media can help build connections that can bring in lucrative contracts.
If you don't have a social media plan for your B2B business, you're missing out. It's one of the best ways to build your brand and find your audience.
Here's how to build a better B2B social media marketing strategy for more effective digital marketing, social selling, customer service, and more.
Bonus: Get a free social media strategy template to quickly and easily plan your own strategy. Also use it to track results and present the plan to your boss, teammates, and clients.
B2B stands for business-to-business. B2B social media marketing uses social channels to market products or services to business clients and prospects.
Marketers at B2C companies use social channels to reach consumers and influence purchases. Effective B2B marketing, though, requires a different approach. B2B marketers have to think more strategically to reach business owners and decision-makers. They then nurture relationships that can lead to large purchase agreements.
All social channels can have a place in B2B marketing. But the balance and type of content will look different for a B2B social media strategy than a consumer-focused plan.
Before we dive into how to create a B2B social media plan, let's look at some key numbers. Here's why and how B2B marketers are using their social media accounts.
B2B companies should allocate 2-5% of revenue to marketing.
B2B product brands will spend 14.7% of that marketing budget on social media in the next 12 months.
B2B services businesses will spend 18.3%.
31.3% of global Internet users use the Internet for business-related research.
22.7% of internet users use social media for work-related networking and research.
96% of B2B content marketers use LinkedIn for content marketing.
Twitter is next at 82%.
89% of B2B marketers use LinkedIn for social media B2B lead generation.
80% of LinkedIn members drive business decisions.
Social media is the top distribution method for B2B content marketers, with 89% using social tools.
B2B buyers spend 27% of their purchase consideration time conducting independent research online. Compare that to only 5 to 6% with any sales rep.
In fact, 44% of millennial B2B customers would prefer not to interact with a sales rep at all.
83% of B2B content marketers use B2B social media ads and/or promoted posts, up from 60% last year.
40% of B2B content marketers increased their investment in social media and online communities in response to COVID-19.
76% of B2B organizations use social media analytics to measure content performance.
By 2025, 80% of B2B sales interactions will occur on digital channels.
U.S. B2B businesses will spend an estimated $1.64 billion on LinkedIn ads in 2021, $1.99 billion in 2022, and $2.33 billion in 2023.
Source: eMarketer
You need a solid B2B social media strategy plan for both short-term gains and long-term growth.
60% of the most successful B2B content marketers have a content marketing strategy. Compare that to only 21% of the least successful.
Let's get you into that "most successful" category. Here's how to craft a B2B social media plan for your business.
Align goals with business objectives
Just like a good B2C strategy, every B2B social media plan should answer the following two questions:
What are the company's business objectives?
How will B2B social media marketing help achieve them?
But the similarities end here. B2B and B2C social media marketers use social platforms for different purposes. B2C social media campaigns drive sales, while B2B social is more "top of funnel." Social media goals for B2B marketers should likely focus on longer-term business objectives.
In fact, the top 3 overall goals for B2B content marketers are:
Create brand awareness (87%)
Build trust and credibility (81%)
Educate audiences (79%)
Generating sales or revenue comes in at number 8.
Those top three goals all contribute to social media B2B lead generation. Successful B2B marketers also use content marketing to nurture subscribers, audiences, or leads (60%).
Our blog post on goal-setting can help you establish the right goals and objectives for your B2B social media plan.
Don't forget to include internal objectives and goals within your plan. According to recent research in the Journal of Business Logistics, social media can help account managers increase both product and competitor knowledge.
Identify social opportunities
A solid B2B social media plan outlines where the opportunities lie.
Try using the S.W.O.T. framework. It identifies the strengths, weaknesses, opportunities, and threats within your competitive landscape.
Source: Hootsuite
Social listening is an excellent way to learn what's happening across social networks within your industry.
Pay attention to your customers
All marketers should know who they're trying to reach. B2B social media marketing is no different. But only just over half (56%) of B2B content marketers use personas to guide content creation.
This gives you an easy opportunity to put yourself ahead. Incorporate B2B social media marketing best practices and create audience and buyer personas.
Your corporate structure probably already caters to various client personas. Or, at least, different client categories.
For instance, a design firm might work for commercial, public, and residential customers. It likely has team members or verticals that specialize in each category.
Your B2B social media marketing should do the same. Focus on building fleshed-out buyer personas of your ideal customers. These will allow you to create social content that speaks to real people.
B2B social marketing will likely become even more personalized in the future. Account-based marketing (ABM) will become the norm. In ABM, sales and marketing teams work together. They personalize outreach and marketing to decision-makers at target companies.
Social media is a prime tool for ABM.  Social listening allows you to keep tabs on your most important prospects.
Use the right social media platforms
As a general rule, you should be where your customers are. Not sure where that might be? Start with the overall social media demographics. Then, dive into some audience research.
Almost all B2B content marketers (96%) use LinkedIn. They also rated it as the top-performing organic platform.
Source: Content Marketing Institute
For paid social posts, the picture is similar but not identical. LinkedIn again comes out on top (80%). But Facebook outranks Twitter and Instagram outranks YouTube.
Source: Content Marketing Institute
Separate channels may also be relevant for different verticals, products, and markets. Depending on the industry and size of your business, you might want to consider:
Or any other account that speaks to a specific audience within your niche. Make sure you're delivering the information your audience wants in the right place and at the right time.
Find a new angle for B2B content
B2B social media is about starting conversations and building relationships that lead to sales in the long term. That "long term" part is key, though. Followers aren't going to stick around if your content doesn't interest them. So don't let B2B's reputation for boring content hold you back.
Sure, it can be appropriate to share technical information and new product specifications from time to time. But this should not be the primary focus of your social media channels.
Think about ways you can make your followers' (work) lives easier or more enjoyable. Provide content and resources that delight them in some way. Think how-to information, industry news, trends, tips, strategy, and so on.
Thought leadership is particularly important. 75% of potential buyers say thought leadership helps them create their vendor shortlist. And 49% of business owners and decision-makers say thought leadership has directly led them to do business with a company.
But remember that you're not just talking to CEOs and purchasing officers. Younger people will move up the ranks and be making purchasing decisions within a few years. It pays to nurture relationships with industry pros at all stages of their careers.
One simple way to break out of the boardroom with your content is to get your employees involved. Tell their stories. Highlight their accomplishments. Real people make your social media presence and brand voice appear more human and boost your recruiting efforts.
Be sure to incorporate video content – it drives five times higher engagement than other content.
Use analytics to measure your efforts
Almost all (94%) of the most successful B2B content marketers measure their content performance. Compare that to only 60% of the least successful.
This makes sense. How can you know how well your social content performs if you don't measure with clear metrics and KPIs?
What metrics and data should you monitor? It depends based on your business goals. You might focus on response time, impressions, engagement rate, conversions, sales, and more. The important thing is to set benchmarks and achievable goals.
Don't ignore barometers like customer satisfaction ratings, qualitative reviews, and your Net Promoter Score. Look at reductions in recruitment and customer support costs as well. All of this contributes to return on investment.
Be realistic about what efforts you'll have hard numbers for and which will be trickier to quantify. Remember, just because you can measure something doesn't always mean you should. And just because you can't measure something (easily) doesn't mean it's not worthwhile.
If you want to be successful, you need to use the right tools. Make sure your brand is equipped with the best B2B social media marketing technology.
Google Analytics
Get the full picture of your B2B social media efforts with Google Analytics. Track where your visitors come from and what they do when they visit your site. Draw from these insights and adjust your strategy accordingly.
UTM parameters
Put code to work for you and prove your social ROI. Track the links you share by adding UTM parameters. These snippets work in tandem with analytics programs to provide deeper details on your traffic sources.
Hootsuite
Social media publishing and analytics tools are the second-most common technology tool for B2B content marketers (81%). Web analytics tools (88%) are number one. Hootsuite is both.
Multiple team members can manage multiple accounts in one place with Hootsuite. Track customer queries and assign messages so that the right person on your team can respond to them, whether a community manager or sales rep. The Hootsuite dashboard also makes it easy to analyze social media performance, find the right post times, and prove your ROI.
Hootsuite's content library is also an important feature for B2B marketers. You can use the library to store pre-approved content and brand assets.
Provoke Insights found that 24% of U.S. B2B marketing and sales pros found it hard to integrate brand identity into marketing collateral. Why? Because of a lack of pre-approved assets.
Brandwatch
With more than 95 million online sources, Brandwatch gives you a complete picture of the online conversation. Track mentions, competitors, customer sentiment and more.
Then, use your analysis to inform everything from product development to other business decisions.
Salesforce
The Salesforce integration with Hootsuite allows you to incorporate social insights into prospect and customer profiles.
Then, you can build stronger relationships with potential purchasers. You can qualify leads through a lead scoring model, and create customized contact lists based on social data.
Sparkcentral
B2B customers tend to be high-value, so it's important to offer them customer service options that work for the way they do business.
Sparkcentral allows you to manage customer service through social accounts, live chat, WhatsApp, and SMS. So, when that important client sends a text, you'll have the full context of their contact through all support channels.
You'll have all the information you need to give them an up-to-date, accurate answer to their inquiry, fast. This will keep them coming back when it's time to renew their contract or upgrade their plan.
Learn from the pros. Here are some of the top B2B companies leading the way with great social media content.
Adobe
Adobe uses stories and insights from staff, clients, and interns to make their social content more personal and exciting. Sure, they highlight the brand's awards and accolades. But their stories of real people make Adobe an engaging follow.
In the spring of 2020, Adobe had to pivot their Adobe Summit conference from in-person to digital. A strong presence on LinkedIn helped them make this change. Adobe promoted the event through a LinkedIn Live, along with organic and paid posts, and beat their pre-event registration goal by 300 percent.
Google
Don't think of Google as a B2B brand? Search engines generate revenue from ads, and other businesses buy those ads.
Think With Google is a set of valuable resources for marketers. It highlights insights from Google's vast data and knowledge banks. Their social accounts then share those insights through social content and informative graphics.
Slack
You'll find plenty of product update info and customer success stories on Slack's social channels. They deliver this content using a tone that's a little more casual than most B2B accounts, though.
(We'd bet most B2B style guides don't include the phrase "comin' at ya" or nearly so many emojis.)
If you're new to Slack and not sure where to begin, don't fret! We have a whole thread of videos comin' at ya specifically geared toward beginners. Join us, won't you?👇

— Slack (@SlackHQ) August 26, 2021
But the tone is consistent and works with Slack's brand.
In case you haven't heard it lately, you're doing great.

Now it's your turn to share the love: Tag someone who helped make this week a little bit better. ❤️ pic.twitter.com/31ZIaqNUlw

— Slack (@SlackHQ) September 3, 2021
Twitter
It's easy to forget that Twitter dabbles in B2B marketing, too. Follow @TwitterMktg for an example of how B2B social communication can be playful as well as informative. Switching things up is a great way to spark engagement.
favorite thing about being a marketer? wrong answers only

— Twitter Marketing (@TwitterMktg) August 20, 2021
IBM
IBM does a great job of tailoring content to different social platforms instead of simply cross-posting. For example, here are posts from Twitter and Instagram. Both use a throwback image of a computer from 1981 to show how the company has impacted the world.
Some brands can get a little lazy and post the same content across their accounts. Instead, IBM tailored the copy in each post to the specifics of each platform.
The IBM 5150 turns 40 years old today. 🎂

Learn how our first personal computer and its 16-bit microprocessor changed the world: https://t.co/Aix5HTWKjC pic.twitter.com/dD1ELcPTQq

— IBM (@IBM) August 12, 2021
Plus, they did a great job of hopping on a current meme in a brand-appropriate way:
Did it hurt? When you figured out the missing semicolon fixed all your code errors?

— IBM (@IBM) September 2, 2021
Gartner
Gartner uses LinkedIn Live video events to connect with its target audience. They use the hashtag #GartnerLive to show highlights from events and interviews with industry experts.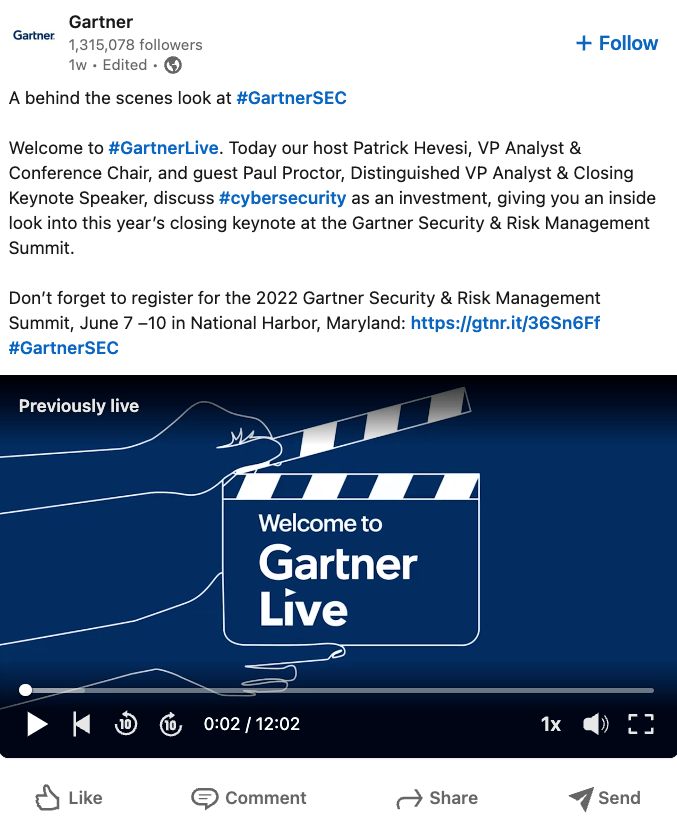 Source: Gartner on LinkedIn
They also share helpful infographics. These can grab attention and motivate LinkedIn connections to click through to their blog.
Easily manage all your social media profiles using Hootsuite. From a single dashboard, you can schedule and publish posts, engage your followers, monitor relevant conversations, measure results, manage your ads, and much more.
Get Started
Do it better with Hootsuite, the all-in-one social media toolkit. Stay on top of things, grow, and beat the competition.
ENGRMKS & CO – #Build #B2B #Social #Media #Marketing #Strategy
Published: 2022-05-09 17:00:01 ,