When the Razer Phone created the "gaming phone" market in 2017, it rolled out with unique features rarely—if ever—seen in smartphones: a high refresh rate screen, binned processors, copper vapor chambers, and in-your-face "gamer" aesthetics. But in the years since, many of those "gaming" features have trickled down to mainstream phones from companies like Samsung, OnePlus, and many more. Don't be fooled: Despite the mainstream adoption of some of their features, fire-breathing enthusiast devices like the new Asus ROG Phone 7 Ultimate continue to innovate and offer unique experiences.
Here are three key features that helps the Asus ROG Phone 7 Ultimate stand out from the mainstream masses, and one feature that falls far behind.
Adam Patrick Murray/Foundry
The Asus ROG Phone 7 Ultimate's audio rocks
As an audio engineer by trade, I've always put great sound at the forefront of my purchasing decisions. Unfortunately, most major smartphones sacrifice on audio. Phones rarely have great speakers, digital to analog converters, or even a headphone jack. On top of that, many people have moved to Bluetooth headphones and prefer slim bezels to big, booming built-in speakers anyway.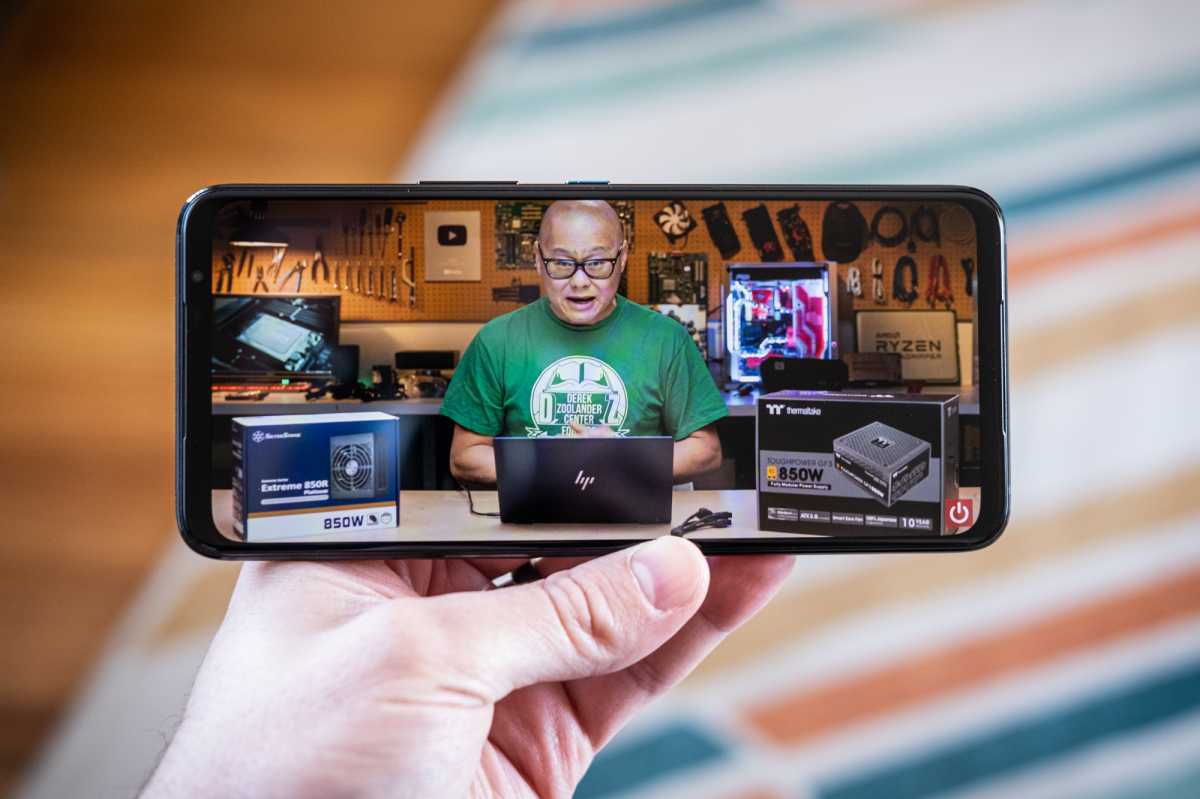 Adam Patrick Murray/Foundry
Then there's the Asus ROG Phone 7 Ultimate. It sacrifices the thinnest bezels for front-facing stereo speakers that will make your ears quiver. The sound that comes out of this phone blows my mind compared to normal smartphone speakers. And even though I have plenty of headphones, sometimes I don't always want to put something in or on my ears.
The rich-sounding speakers and genius tuning of the ROG Phone is perfect for us audio nerds no matter whether you're gaming or watching videos. Even better, the ROG Phone stubbornly clings to the timeless 3.5mm headphone jack, and with the attached AeroActive Cooler 7 you get another headphone jack available for use in landscape mode.
Control it your way
For serious gaming sessions I don't always want to use the touch screen, pair a Bluetooth controller, or strap on a device like the Razer Kishi. Good news! The Asus ROG Phone 7 Ultimate offers so many extra control options that it makes my head spin.
The phone features 14 specific control inputs via touch-sensitive buttons as well as 10 different motion control options. Strap on the AeroActive Cooler 7 and you actually get four physical buttons along the back side.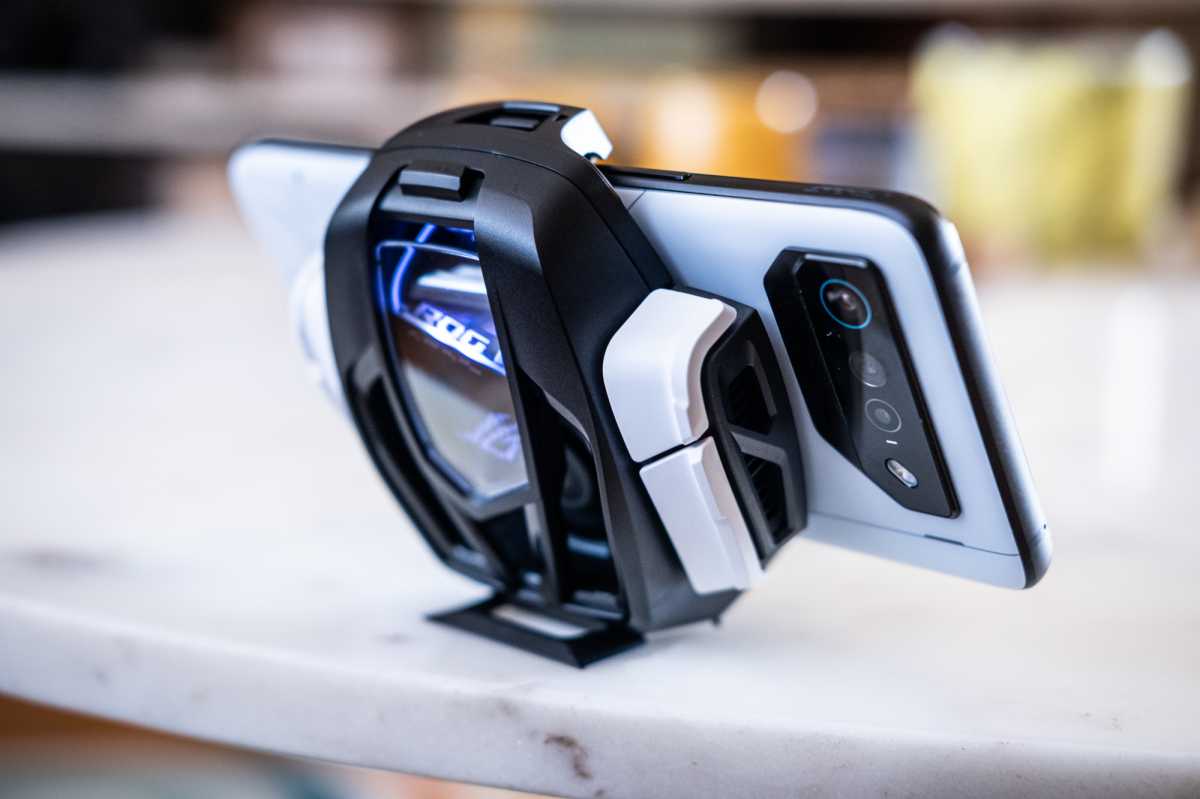 Adam Patrick Murray/Foundry
Having those extra inputs can make all the difference when you're playing games like Call of Duty: Mobile or Fortnite. Some games don't support controllers whatsoever, or limit them to specific uses, so gaming phones provide a definite advantage as opposed to relying on touchscreen-only methods.
For example, in a typical game of COD: Mobile I map reloading, crouching, aiming down the sights, and firing to four different button presses. This frees up my thumbs to focus on moving my character and aiming on the screen. Without those extra inputs I would have to pause movement with either thumb to press a button to do something like fire, making me a much easier target. So while I don't actually use all of the options available to me it's awesome to have them in the first place and can allow for super customized setups.
The Asus ROG Phone 7 Ultimate is cool as a polar bear's toenails
Most flagship phones are more than capable of playing the latest games, of course, but they just aren't optimized for it from a cooling standpoint. Keeping that beastly Snapdragon 8 Gen 2 chip running cool is essential to get maximum performance during gaming.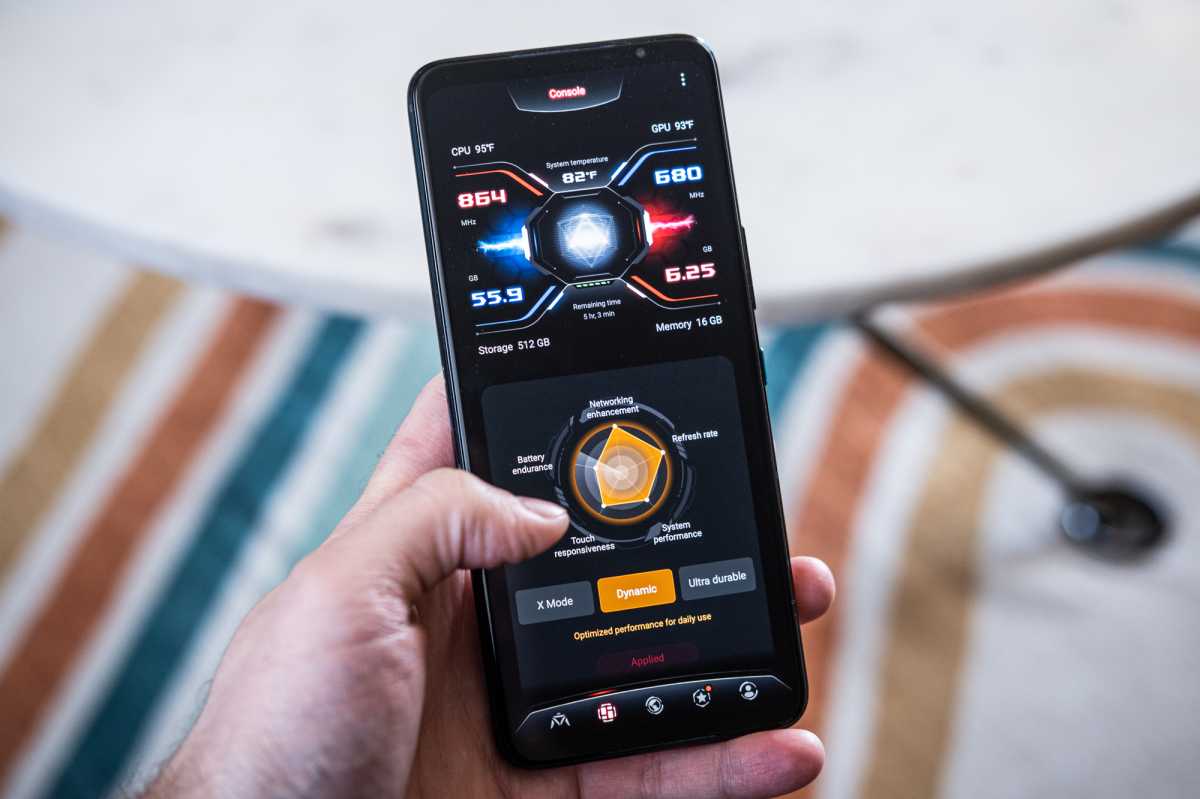 Adam Patrick Murray/Foundry
Asus prioritizes performance by continuing to innovate its cooling system in the ROG Phone 7 Ultimate and doing things like placing the hottest components in the center of the device. This spreads heat across the whole phone for more even cooling, while also maximizing the cooling potential (and thus performance) when attaching the AeroActive Cooler 7 to the back of the device.
That upgraded cooler now features a Peltier cooler as well as an AeroActive Portal that further helps the heat dissipation. The upgrade to a Peltier cooler actually makes the AeroActive Cooler 7 a viable accessory compared to past iterations, and uses active cooling to wick away heat from the back of the phone. The AeroActive Portal (only available on the Ultimate version) opens up when the Cooler is attached and allows for more direct airflow to the hottest components. (It's also super fun to watch open.)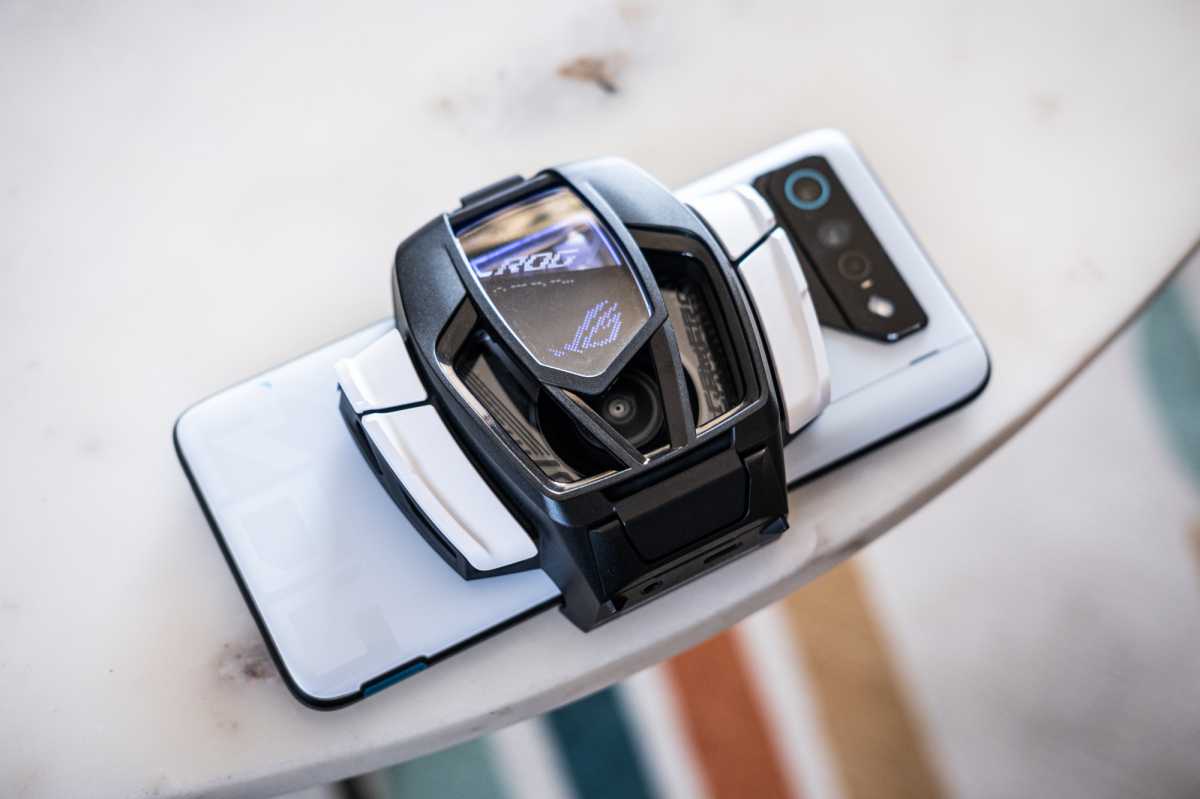 Adam Patrick Murray/Foundry
The cooling solutions inside of the ROG Phone 7 Ultimate itself have also been upgraded, specifically with new designs around its vapor chamber and graphite sheets. Improvements with snazzy names like Liquid Return channels and Wick Column Structures honestly go beyond my level of comprehension, but at the end of the day I do notice that this phone stays cool even after long gaming sessions. I know I can push this phone hard and have it not lose any performance despite how long I play. I also know that I don't have to worry about my hands getting hot and sweaty from holding a hot slab for an hour. The same certainly can't be said for every flagship smartphone on the market.
The camera isn't great though
With so much to love about the beastly Asus ROG Phone 7 Ultimate, could it really have an Achilles' heel? Unfortunately, it does possess one major downside that would keep me from using this phone daily: the camera.
As a professional photographer and video producer I just can't rely on this camera system to take photos and video the way I would like. While the camera hardware is more than capable, it's the processing that lags behind and just can't keep up with my needs. The photos coming out of the ROG Phone 7 just don't feel natural to life, suffering from things like poor white balance readings, over processed HDR, and liberal amounts of sharpening.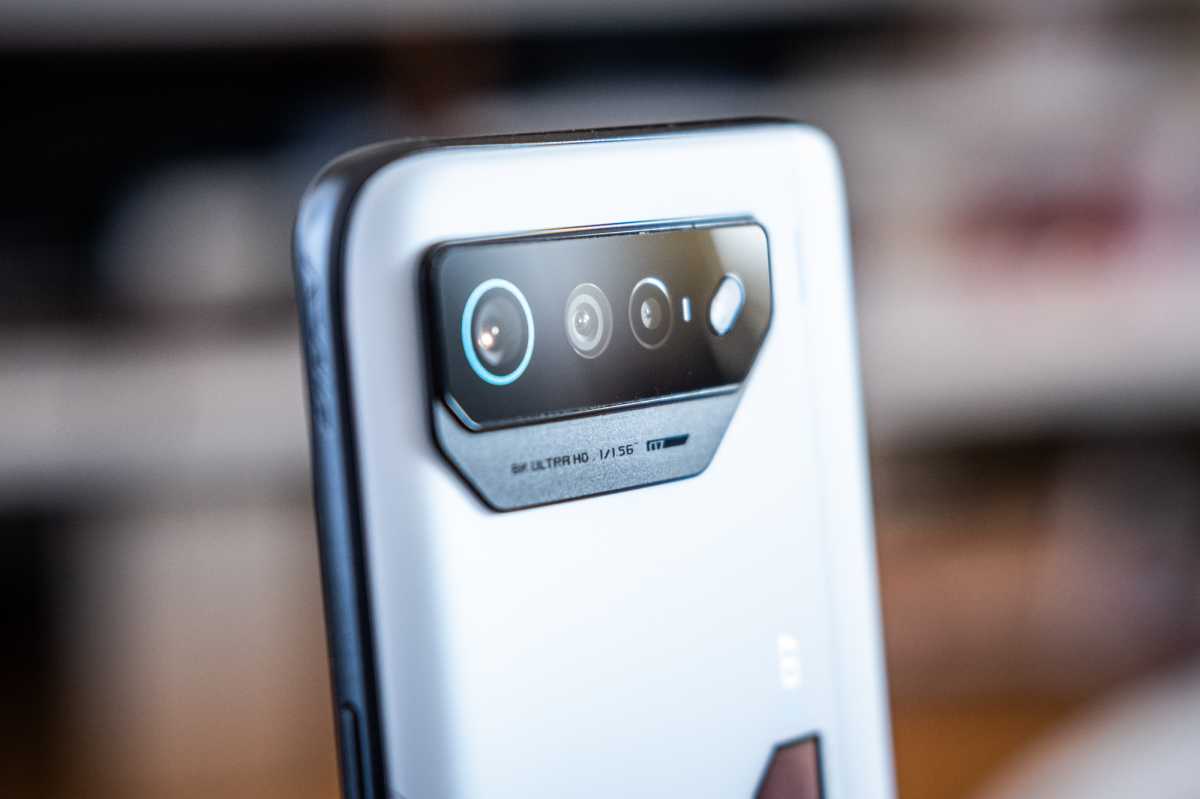 Adam Patrick Murray/Foundry
To be fair, the photo quality of the ROG Phone line has improved over the years. It's not a horrible camera—it just doesn't come close enough to the other flagship smartphones in its price range and sticks out as a glaring weakness amidst a whole heap of awesomeness. And of course, it really depends on how much you personally care about camera performance in your phone, but it bums me out and I really hope Asus can continue to improve on it.
Regardless of the weak camera performance, the rest of this phone is a beast. The Asus ROG Phone 7 Ultimate stands out from the crowd with cutting edge features. That's the key, really. Fully loaded, enthusiast-class gaming phones like this help push the entire mobile ecosystem forward, and I'm thrilled that manufacturers like Asus continue to innovate in the space. Mainstream phones might not have adopted features like vapor chambers and high refresh rate screens as quickly if gaming phones didn't blaze the trail first.
Now if only we could get at least one headphone jack back on other phones…